Description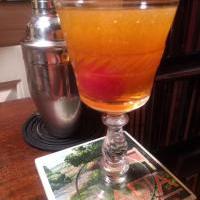 This is a merry widow, with ulterior motives!
This is a fascinating sweet cocktail of the type that may end the evening unexpectedly...
It's really rather too sweet for my tastes. I think it works best as an after-dinner drink.  
Preparation time
5 minutes
Instructions
Shake with ice and strain into a cocktail glass. Garnish with a cherry.