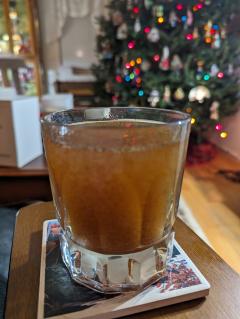 Here's another great winter warmer, especially for those first frosty nights in November when you still have fresh apples. It's just bourbon mixed with applesauce and hot water, but it's delicious!
This recipe is for two drinks, and it includes baking one apple and making fresh applesauce from it. You can save half an hour by using good-quality store-bought applesauce: use a heaping tablespoon of that for a single drink.
This would look nice with a cinnamon stick garnish if you can get three or four-inch cinnamon sticks.