Description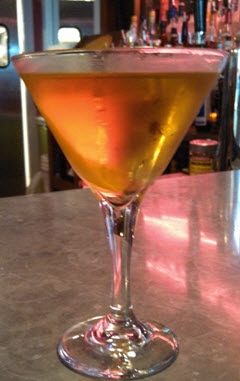 I invented this for my sister at her request on the occasion of a big birthday. Like her, it is three parts Irish to one part Italian, with a little bitters to balance the natural sweetness...
Her friend Lesli called it a blonde Manhattan, and that's a pretty good description. It's a summer-weight cocktail made with Irish Whiskey and Carpano Bianca Vermouth (that's a bianco vermouth, not a dry or a sweet vermouth).
Preparation time
5 minutes
Instructions
Combine all ingredients and shake with ice. Strain into a cocktail glass and garnish with a strip of orange zest.
Notes
Bianco vermouth is a loveley summertime aperitif with soda and ice, and maybe a dash of bitters. This one was made by Oriana at Bubala's in Provincetown. She helped me to develop the recipe, too. Angela knows how to make it too.