Description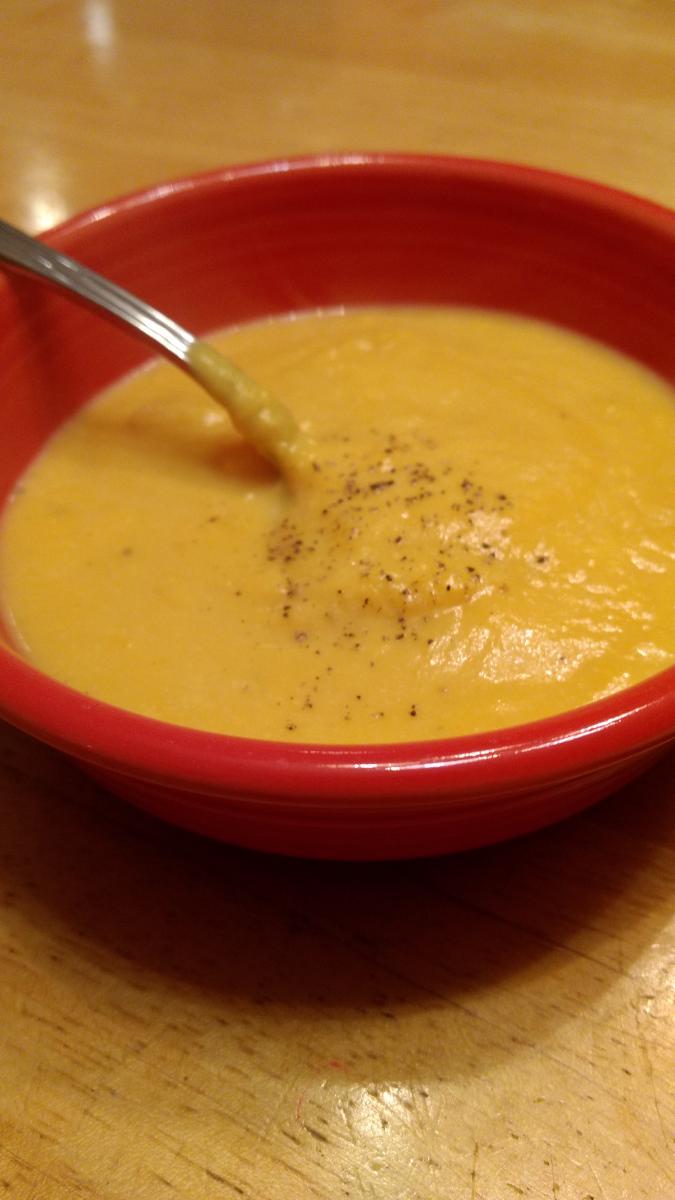 Cold weather is soup weather, especially soups of the rib-sticking variety. 
This is a tasty accompaniment to many fall and winter dishes. You can use canned pumpkin, but roasted pumpkin has a different and (I think) superior flavor. When sugar pumpkins are available, they are inexpensive and very delicious. I encourage you to use them if you can.
This recipe uses sampe as a thickener (see the notes). I think it brings a great flavor and texture, but if you can't get sampe, don't fret. The recipe is very forgiving, and it rewards exploration.  
Preparation time
2 hours, 30 minutes
Instructions
Slice the onions, carrot, celery, and garlic thinly and saute in the butter in a heavy enameled pot until soft.
Add the water and bring to a boil, then reduce heat to a simmer.
Stir in the sampe and stir frequently as it thickens the stock. Be careful that it does not burn to the bottom of the pot.
Add the bay leaf and sage. Keep stirring.
After the stock has thickened, about 15 minutes, add the roasted pumpkin and the spices.
Cook until the pumpkin has softened and absorbed some flavor, then remove the bay leaf and sage leaf and puree the soup.
Serve hot with an interesting garnish.
Notes
Sampe is a coarse cornmeal used in Wampanoag (Native Americans of Plymouth) cooking. It is a tasty thickener in Sobaheg, a Wampanoag stew. You can get it at some markets in Plymouth, MA, and from the Jenney Grist Mill in Plymouth center: http://www.plimoth.org/mill