Description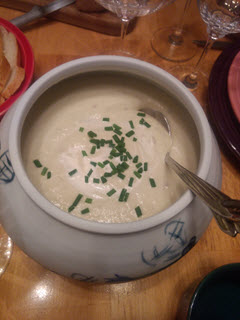 This classic chilled summer soup is simple to make and full of delicate summer flavors. The recipe is simple, but it allows for infinite artistic expression. 
This is one of those recipes that can be made vegetarian or not (you can use chicken stock or vegetable stock), but the vegetarian version is in no way inferior.  
Instructions
Chop the leeks finely.
Peel and chop the potatoes finely.
Combine chopped leeks and potatoes in a heavy-bottomed pot with the water or stock.
Cook everything until tender, about 30 minutes.
Let it cool, then blend it in a blender or food processor until smooth.
Stir in the cream. Mix well and chill in a soup tureen.
When cool, add salt. See notes. Be generous and creative!
When serving, top with minced chives or parsley.
Notes
Salt: This recipe is simple, delicate, and rewarding to good local fresh ingredients. Use good salt, and be generous. Chilling the soup means more salt will be needed. Potatoes always need salt. But excellent sea salt or Himalayan salt or unrefined sea salt from Brittany - they all make a difference.