Description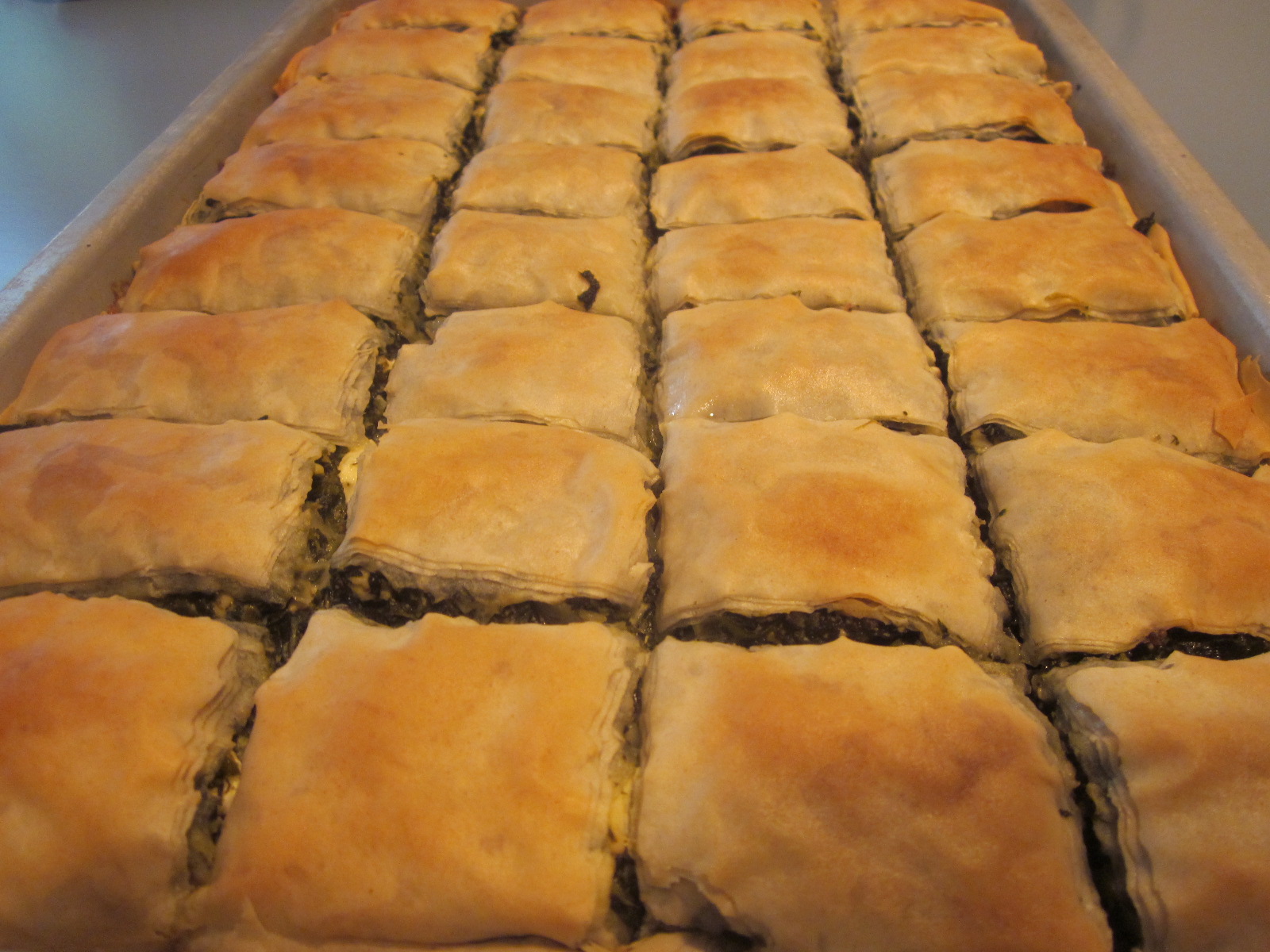 This is my version of the classic Greek spinach pie. I make this for many, many events, especially those at which vegetarians may be present. It's a great crowd-pleaser, it's good hot or at room-temperature, and it can be a finger-food.
I always include plenty of Dodonis Feta cheese from [[nodetitle:Bahnan's Market]] in Worcester.
Instructions
Thaw the fillo according to package directions.
Make the filling: In a large, heavy pot, saute onion in butter until quite golden.
Add the spinach and herbs, and cook a bit.
Add chopped feta and mix well. It does not have to melt.
Let cool a little, then add beaten eggs.
--- This filling can be stored until later ----
Prepare the pie: Preheat oven to 375. Melt the stick of butter. 
Lay out 4 fillo sheets one at a time, brushing each with butter.
Add the filling. Do not spread - instead, set it out as if making drop cookies, spoonfuls evenly spaced until it's all used up. Then pat it out to make it even.
Sprinkle with Lemon Juice, and salt and pepper as needed (remember the feta is salty).
Lay out 4 more fillo sheets, brushing with remaining butter.
Very important: Trim the edges and cut the pie BEFORE baking! Cut it into sizes preferred by your diners, larger for dinner, smaller for appetizer.
Bake for about 30 minutes, or until top is golden brown and you can smell it in the kitchen. 
Let cool in the pan. Serve warm or at room temperature.
Notes
You can experiment a lot with this. Many recipes do not call for oregano and lemon, some do not call for dill. I always use the Dodonis Feta, which I find far superior to all other varieties. I make this for many events and it is always a crowd pleaser.
Source
my take on a traditional Greek recipe