Description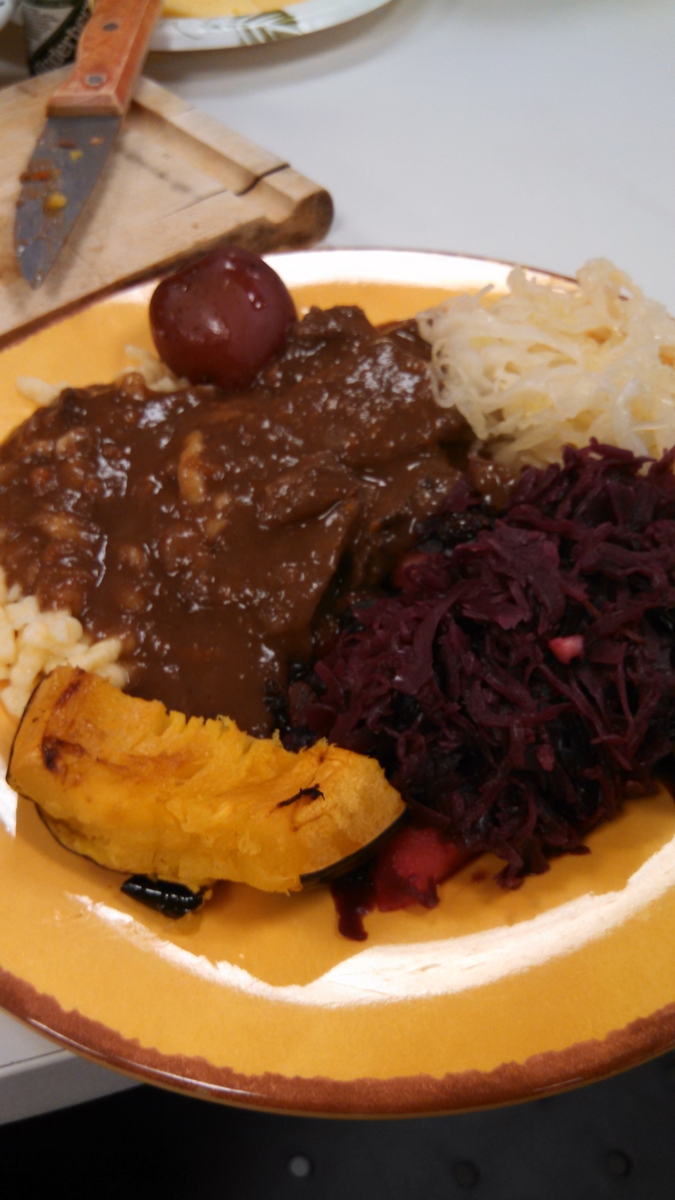 This tender, flavorful German pot roast is a great way to add some variety to your winter cooking. The gravy always gets happy comments!
The whole process takes at least 4 days because the roast must first marinate. Then it is slow-cooked in the strained marinade until it is fork-tender. Finally you make a gravy and thicken it with gingersnaps(!) It's really delicious served with piquant Festive Red Cabbage as shown here.
Instructions
Prepare the marinade by bringing the wine, vinegar, and water to a boil along with the bay leaf and spices.
Let the marinade cool, then add the beef. Marinate for 3-5 days.
To make the pot roast, remove the meat from the marinade and dry it with paper towels. Strain and reserve the marinade, but discard the vegetables.
In a heavy enameled Dutch oven, heat the butter and brown the meat on all sides. Put it on a platter.
Stew the mirepoix (diced savory vegetables) until the vegetables are soft and aromatic.
Sprinkle the flour onto the vegetables and stir well, then stir in the strained marinade.
Gently return the meat to the pot. If it is not at least 3/4 covered, add hot water.
Cook on low heat or in a slow oven for two hours or until the internal temperature reaches 185 F.
When the meat is easily pierced with a carving fork, remove it from the pot.
Stir the crushed ginger snap cookies into the pot and cook for 5 minutes, stirring all the time. The sauce will thicken.
Transfer the sauce to a food processor and pulse it to puree the cooking vegetables.
Serve hot with spaetzle or boiled new potatoes and red cabbage.
Notes
The slow approach to the high temperature is what makes the beef tender. If it seems entirely counterintuitive to cook beef to 185 degrees, read about it in Pot Roast.