Description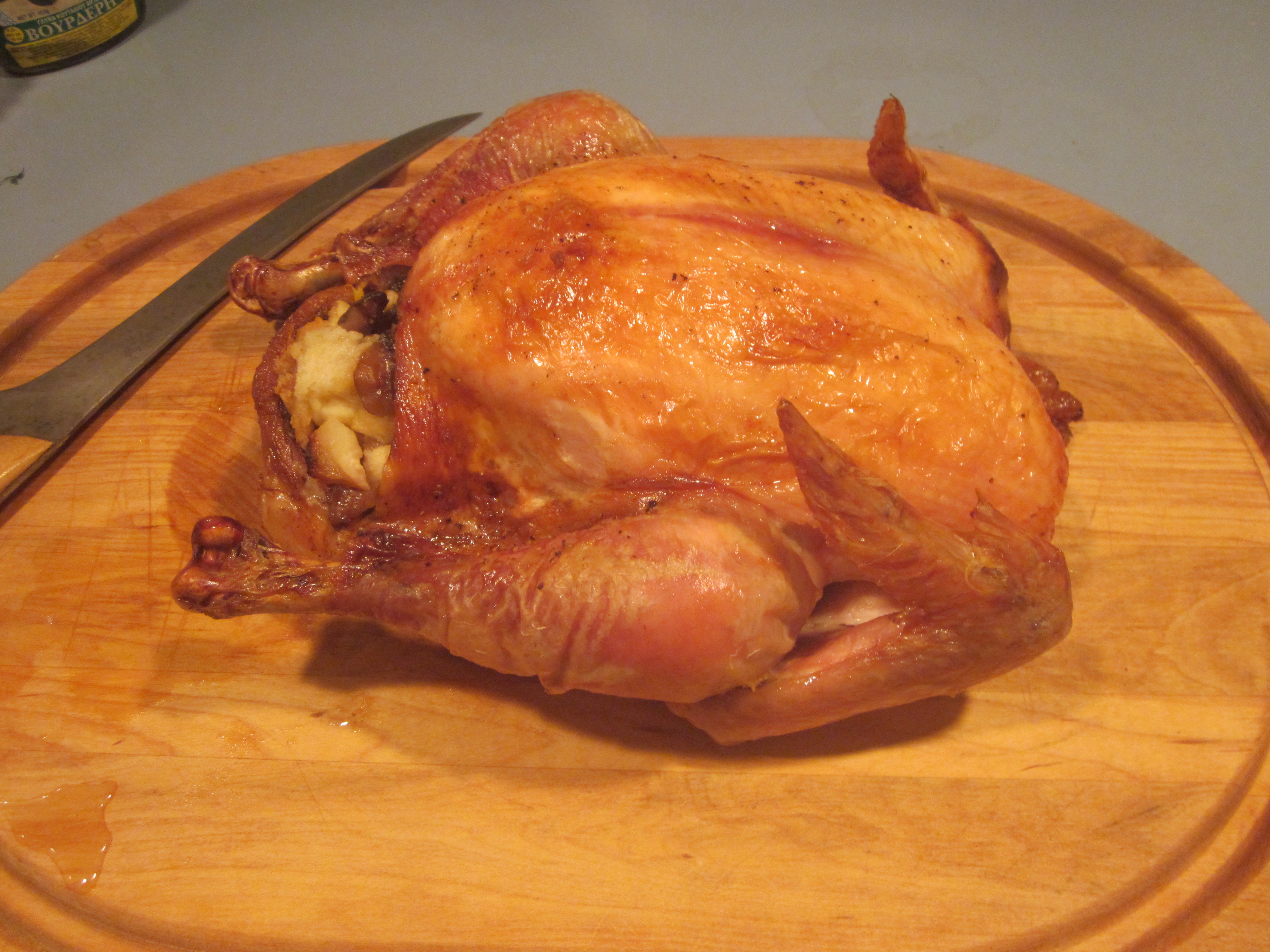 This unusual and delicious creation was served at [[nodetitle:Annette's Fancy French Birthday]].
It's unusual on two counts: the Capon is not something we see every day, and the stuffing is loaded with cooked fruits!
Instructions
Preheat the oven to 325.
Rub the capon inside and out with Kosher salt.
Prepare the stuffing by combining the cubed bread with the chestnuts, fruits, egg, and brandy. Toss lightly.
Stuff the bird, then lay the bacon across the breast to protect it.
Roast the bird for 25 minutes/lb + 10 minutes.  
An hour before the bird is done, add any vegetables to be roasted in the pan. Put the rest of the stuffing in the oven in a covered dish if you want some extra.
10 minutes before the bird is done, take the bacon off and broil the bird until the breast is nicely browned.
Set the bird on a carving board. Unstuff it and allow it to cool while you make the sauce.
Make a pan gravy with the beef stock. Serve in a gravy boat beside the carved capon and stuffing.
Notes
The original recipe called for cooked or canned fruits. I use canned fruits to good effect.
The stuffing recipe makes more than enough for the bird so you can bake the rest separately.  
This is a peculiar recipe to pair a wine with. We tried a bordeaux (2005 Chateau Haut-Beausejours St. Estephe) but I think it would go better with a spicy, black-fruity Chateauneuf-du-Pape.
Source
St. Francis Hotel Cook Book