Description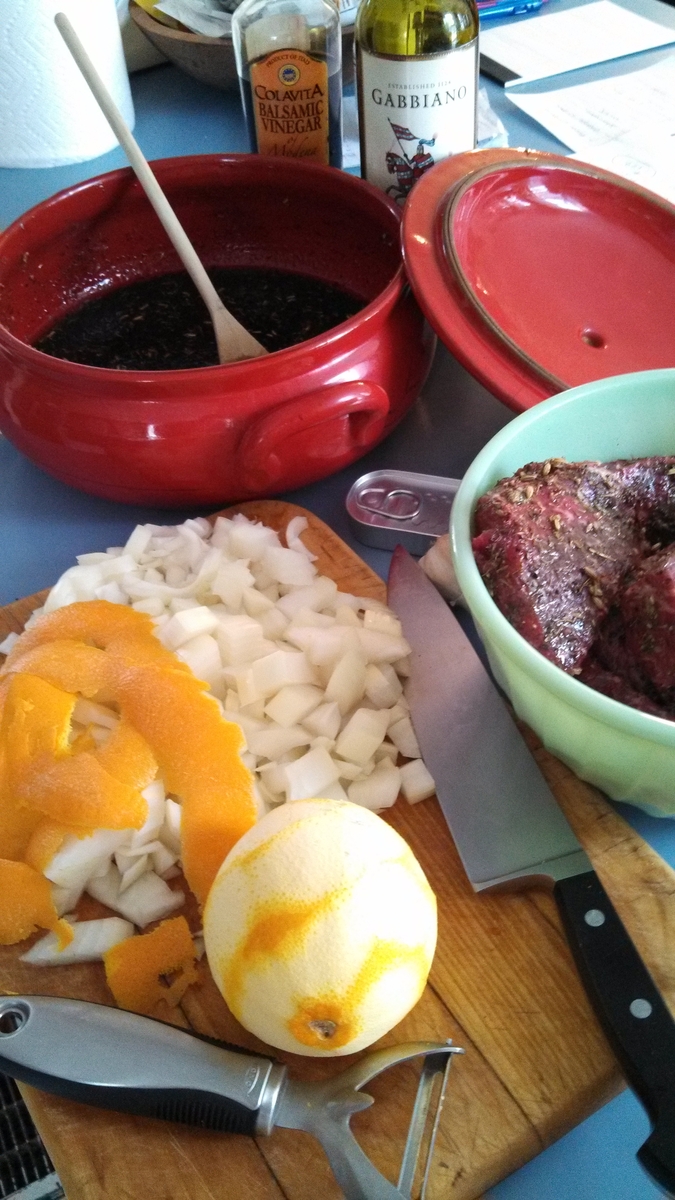 This hearty, rich, piquant, and utterly fabulous beef stew adds a splash of brilliant Provencal sunshine to a winter dinner. It never fails to please. I make this at least twice every winter.
The ingredients that give it the special Provencal zest are herbes de Provence accompanied by orange zest, capers, and anchovies instead of salt. It simmers for a few hours in a mix of red wine and balsamic vinegar. 
Instructions
Cut the beef into 8 equal pieces. Rub all over with the herbes de Provence and the black pepper, then put in a Zip-Lock bag with half of the garlic and half a cup of the olive oil and refrigerate overnight.
The next day, preheat the oven to 300.
Combine the remaining garlic with the onions and the orange zest. Put it and the beef with the marinade into a heavy dutch oven. Add the vinegar and the wine.
Cover the pot and cook slowly for three hours or more, until the meat is fall-apart tender. The internal temperature of the meat should reach 190.
When the meat is ready, mash the anchovies into the remaining 1/4 cup of olive oil.
Take the pot from the oven and uncover it.
In a saucepan, heat the olive oil and add the flour to make a thick roux.
Using a ladle in one hand and a whisk in the other, whisk the cooking liquid from the beef into the roux to thicken it. It may be easier if you can put the meat into a new serving dish. You don't have to get all of the liquid.
Bring the roux-liquid mixture to a boil, then stir in the capers and pour the whole thing back into the pot with the meat.