Description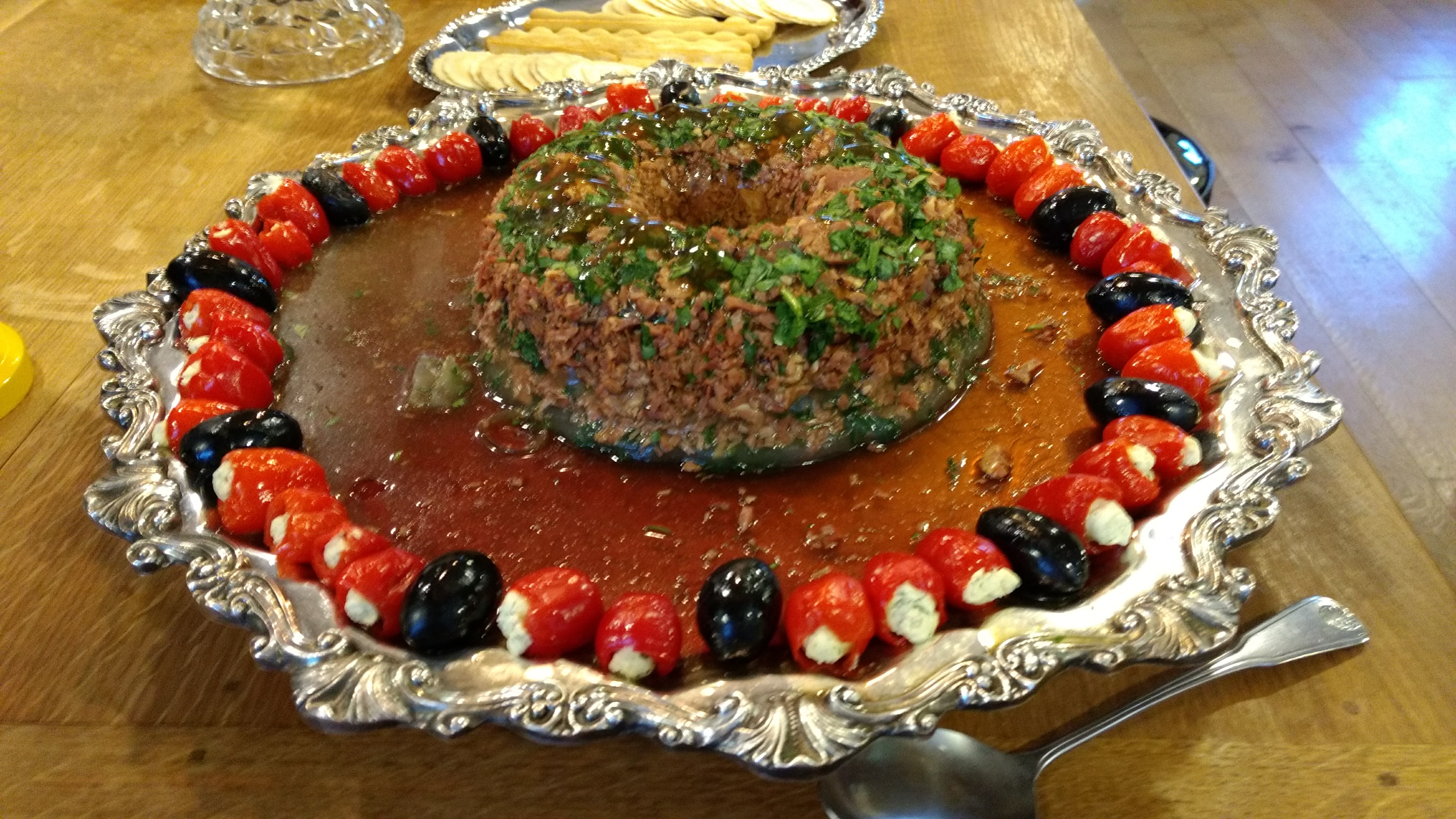 This is a specialty of Burgundy. It has a light, sparkling flavor that dances in your mouth as the jelly melts, full of wonderful flavors!
I read about the Jambon Persille in Jane Grigson's [[nodetitle:Charcuterie]] long ago, and I wanted to try it ever since. Then last year while touring Burgundy on our big vacation, I got the opportunity to have it for lunch in Dijon! 
Once I knew how it was supposed to be, I could make it with confidence. Here's my recipe. 
Instructions
Put the ham bone into a large stockpot full of cold water. Any other soup bones will help, if they are not too beefy. Chicken bones are OK.
Bring to a simmer and maintain the simmer for five hours. The liquid will form a rich gelatinous stock.
Put the ham and the onion studded with the cloves into a smaller pot full of white wine.
Bring to a simmer and maintain the simmer for three hours. The ham will become falling-apart tender.
Shred the ham as for pulled pork. Store it in a plastic bag or in a covered bowl in the refrigerator.
Strain the wine-stock into the ham-bone stock, along with the vinegar.
Strain the stock into a clean, somewhat narrow vessel and let it cool. You want it cold enough that it forms a stiff jelly, and you can pick the fat off the top.
Scoop out some jelly and set it on a plate for 15 minutes to see if it holds its shape. If the jelly is not stiff enough, you can stiffen it some unflavored gelatin - melt the jelly over low heat, bloom the gelatin on the melted jelly, and after a few minutes heat just to the boil and then allow to cool somewhat.
Coat a chilled mold with the jelly and cool it in the refrigerator. Do this a couple of times to coat the mold.
Chop the parsley.
Add another layer of jelly and sprinkle half of the parsley into it to make a green layer. Cool again.
Stir the remaining parsley and some of the jelly into the chilled ham, then put the ham into the lined mold.
Pour in the remaining jelly to just the top of the ham. Chill the whole mold again until everything sets, at least an hour.
When the jelly has chilled through and firmed up, unmold the jambon persille onto a decorative platter and serve with bread or crackers.
Source
[[nodetitle:Charcuterie]]