Description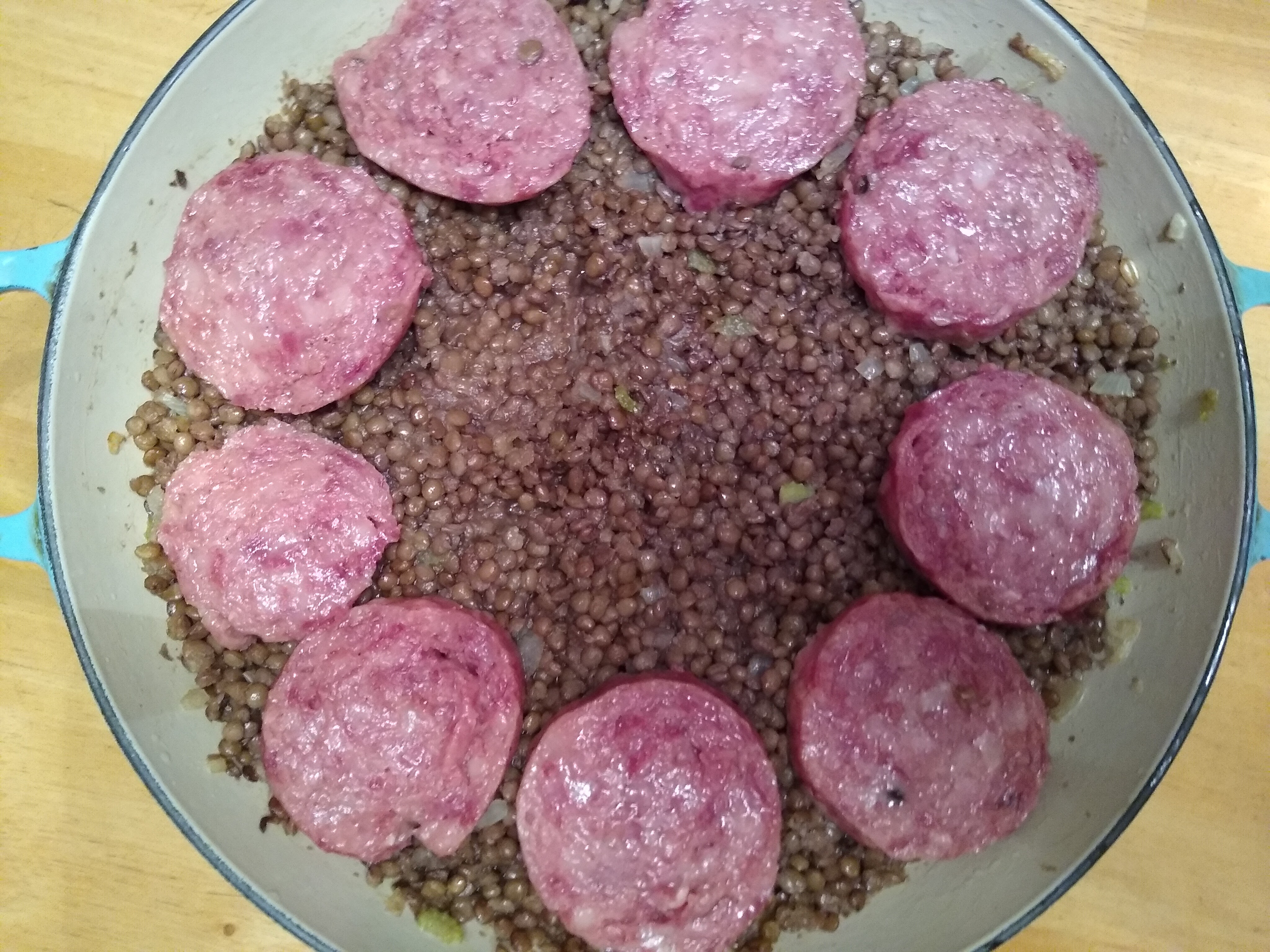 Here's a traditional New Year's Eve dish eaten all over Italy! The lentils are supposed to remind you of an abundance of coins, suggesting prosperity in the coming year.
Cotechino is an ancient variety of fatty pork sausage that goes very well with lentils. Fresh cotechino are hard to come by, but you can buy shelf-stable vacuum-packed precooked cotechino from Levoni - that's what I used here and it was delicious.
Instructions
Put the lentils, one of the onion halves, and one rib of celery in a pot and cover with cold water. Bring to a boil and simmer for 45-50 minutes until tender.
Warm the cotechino in simmering water until heated through, about 30 minutes or so (read the packaging).
When the lentils are tender, chop the remaining onion and celery and saute in the butter and oil in a skillet for about 5 minutes, until they are soft.
Drain the lentils and discard the onion half and the cooked celery rib. Add the cooked lentils to the skillet and stir well.
Remove the cotechino from the water, discard the packaging, and slice it thickly.
When the lentils have been mixed well with the onion and celery and heated through, move them to a serving dish and arrange the cotechino slices on top.
Serve hot.
Notes
There are many varieties of lentils. Italians consider the thin-skinned green-brown Castelluccio di Norcia lentils grown high in Umbria to be the best. These, like the famous green-gray French lentils of Puy do not need to be soaked before cooking. I used La Colfiorito, a rival brand grown the same way but at half the price, and they worked out great.