Description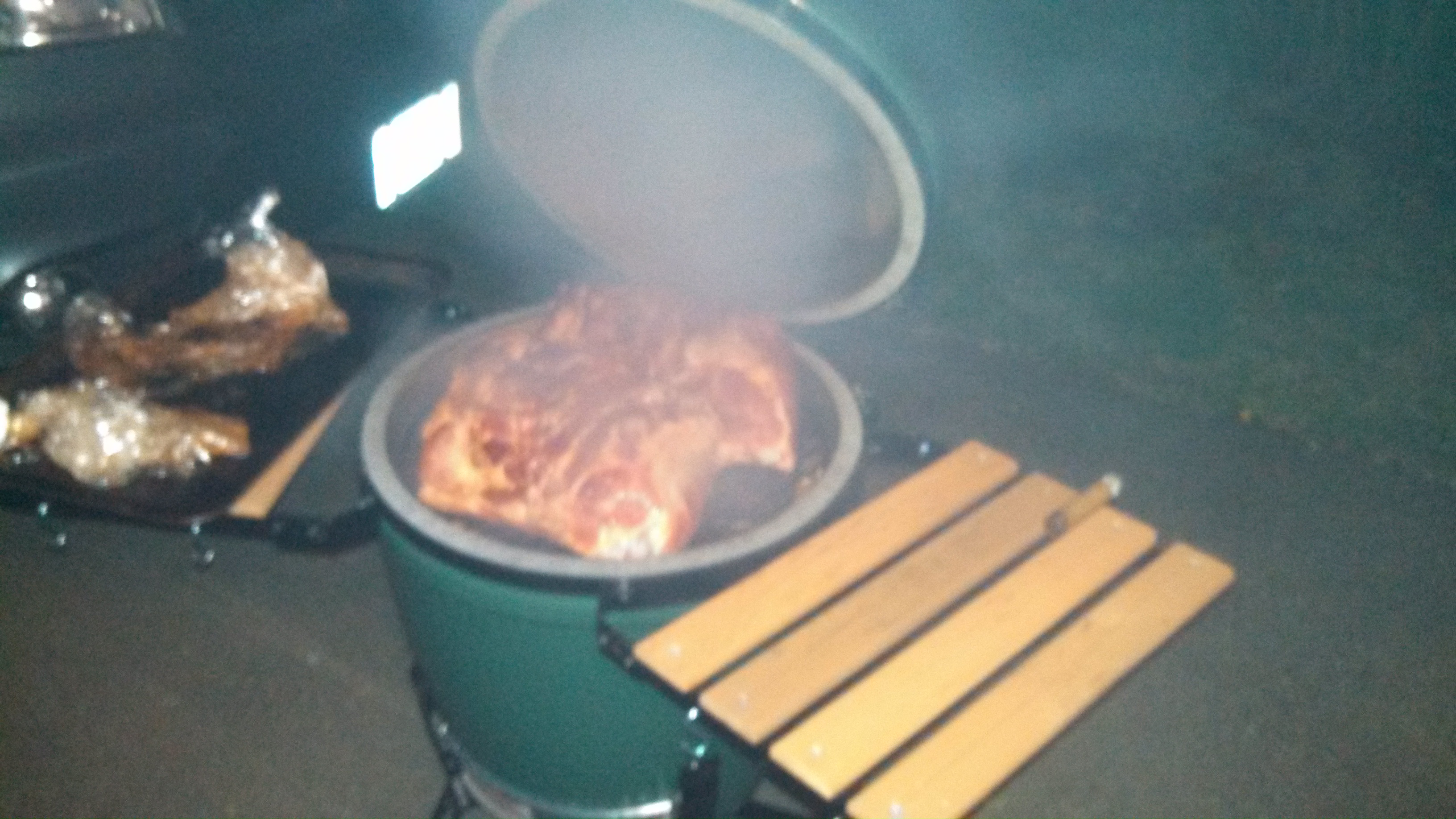 My co-worker Brad Goodness makes this excellent pulled pork from a shoulder that he smokes in his Big Green Egg smoker. It's perfectly tender and exquisitely flavorful!
Note The cooking time below is very wrong! This software won't let me show that it takes two days, including 16 hours of smoking, so plan ahead!
Instructions
Prepare 8 pound pork shoulder by rinsing, drying, applying 2/3 Brad's Dry Rub.
Wrap in plastic wrap and put in fridge for 24 hours.
Reserve about 1/3 rub for after the shoulder is done cooking. Sometimes I brine the shoulder for 24 hours before applying the rub.
Take shoulder out of fridge 1/2-1 hour before putting in smoker.
Prepare smoker for indirect cooking at 225-250F. I used organic lump hardwood charcoal with water soaked apple and hickory wood chunks.
Put shoulder in smoker with the fat cap up. Smoke it for 8-10 hours or until you have a good bark developed on the outside.
Wrap the shoulder tightly in heavy duty aluminum foil and put it back in smoker so the foil seam is on top. The packet will retain liquids from the shoulder and not leak.
Once the internal temperature reaches 195 degrees (roughly 16 hours for an 8 pound shoulder), remove the shoulder from the smoker and wrap in a towel. Place in a cooler or some other temperature steady environment for an hour to rest.
Unwrap over a sink and let any liquid drain out.
Remove the bone (it should just fall out) and pull the pork apart with two forks. Discard excessively fatty pieces.
Add remaining rub and 1 cup apple juice to the pulled pork and mix to combine.
Serve with buns, cole slaw and an assortment of your favorite BBQ and hot sauces.