Description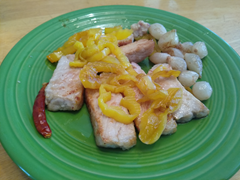 This punchy little lunch dish goes great with some crusty bread! 
Preparation time
5 minutes
Ingredients
16 oz
bone-in, 1-inch-thick pork chops
12 oz
Pickled Yellow Peppers (sliced)
1⁄4 c
vinegar from the peppers
Instructions
In a heavy skillet, heat the olive oil over medium-high heat until it shimmers. 
Add the garlic and let it color, then optionally remove it. I keep it.
Cook the chops 7-8 minutes on one side, then flip and cook about 4 minutes on the other side.
Add the peppers, wine, and vinegar and stir it around until the liquid boils.
Flip the chops to bathe both sides in the pepper-vinegar as it boils down, and stir the sliced peppers to flavor the liquid and to soften the peppers.
When the liquid is just about gone, remove from the heat and serve hot.