Description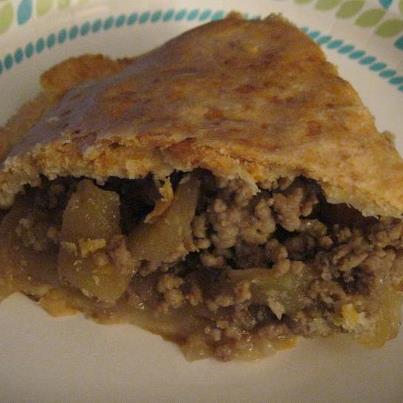 An American Take on England's Cheshire Pie
Ingredients
5
Large Apples (I have tried Northern Spies, Honey Crisp and Granny Smith and all worked well)
1⁄2 c
Unsalted Butter (make sure it is cold)
1 c
Shredded Cheddar Cheese (Don't buy prepackaged. Use a good quality cheddar like Cabot Farms Reserve and grate it yourself – well worth the extra cost and effort)
1⁄2 t
Salt (Some for Crust and some for filling - see instructions)
1 lb
Ground PorkSugar (Cooked and Well Drained)
Instructions
Preheat the oven to 425°F
To make the crust: In a medium-size mixing bowl, whisk together the flour and salt.
Using an electric mixer, a pastry blender or fork, or your fingers, cut and mix the cheese and butter into the flour mixture until the fat and flour form a crumbly mixture. I prefer using my fingers!
Add the lemon juice, and sprinkle on just enough water so that you can gather the dough into a cohesive ball.
Refrigerate the dough for @ 30 minutes so that it is easier to handle. 
Divide the dough in half and roll each piece into a 12" circle, using as few strokes of the rolling pin as possible; the fewer times you touch the crust at this point, the more tender it'll be when it's baked. Transfer one circle of dough to a 9" pie plate, and gently fit it to the pan's contours.
To make the filling: In a large frying pan, cook the sliced apples with the salt, cider, and sugar for 15 minutes, or until the apples are tender and the liquid is syrupy.
Stir the cooked pork into the apple mixture, and remove the pan from the heat. Allow the filling to completely cool – this will ensure that your pie is NOT soggy. Then spoon the filling into the crust.
Roll out the remaining crust, and center it over the filling. Press the edges of the top and bottom crust together, fold them under (onto the top of the pan's rim), and crimp.
Bake the pie for 15 minutes, then lower the oven heat to 375°F and bake for an additional 35 to 45 minutes, until the crust is very brown. If the crust appears to be browning too quickly, tent it lightly with foil. 
Remove the pie from the oven, and serve it warm or at room temperature.
Source
King Arthur Flour Company