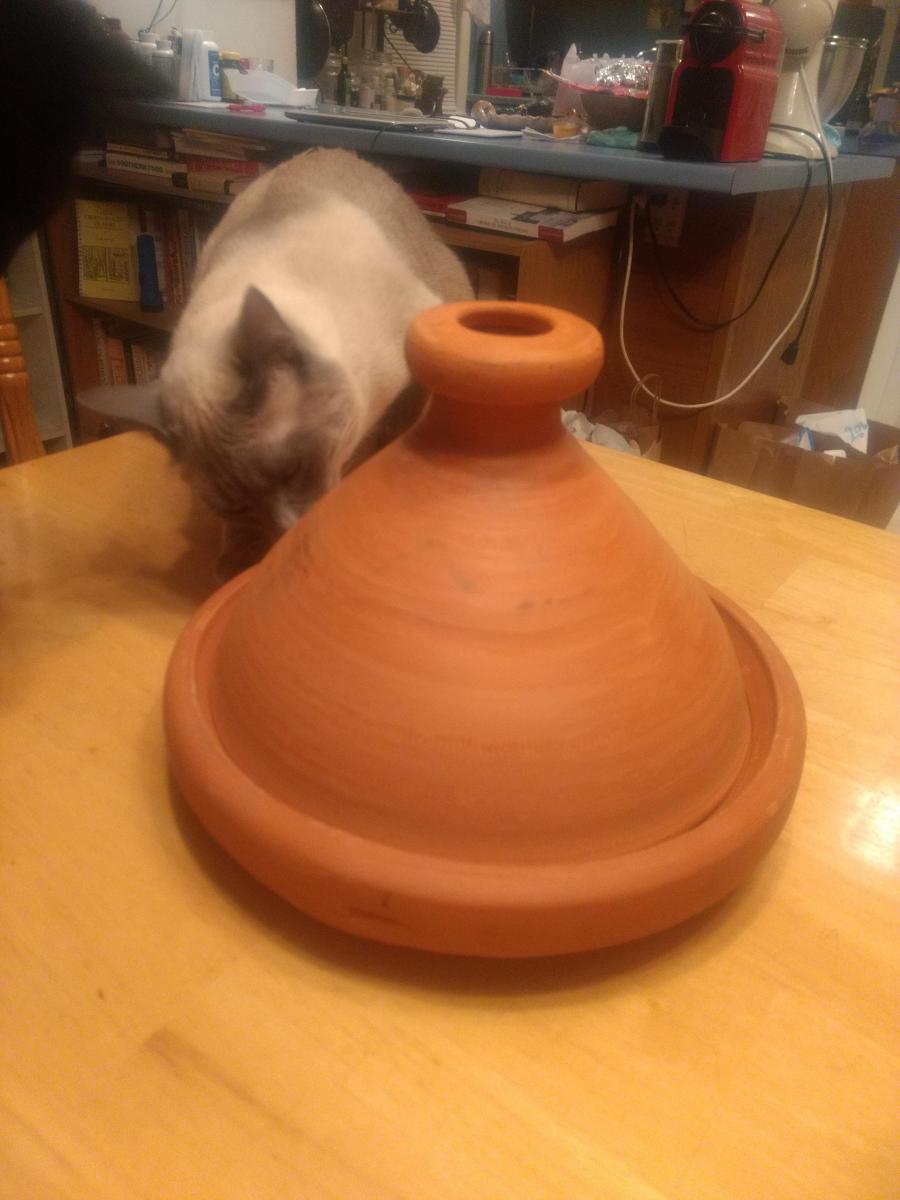 A tagine is a Moroccan cooking vessel, designed for slow, moist cooking. Tagine is both the name of the vessel and the name of the meal prepared in it, such as a fish tagine, a lamb tagine, or a vegetarian tagine. There are many common Moroccan tagine recipes, and of course you can use the vessel to mix whatever flavors you like.
Broadly speaking there are cooking tagines and serving tagines. Cooking tagines should be unglazed terra cotta, at least on the top. This encourages the moist, low-temperature cooking that brings together so many exotic flavors.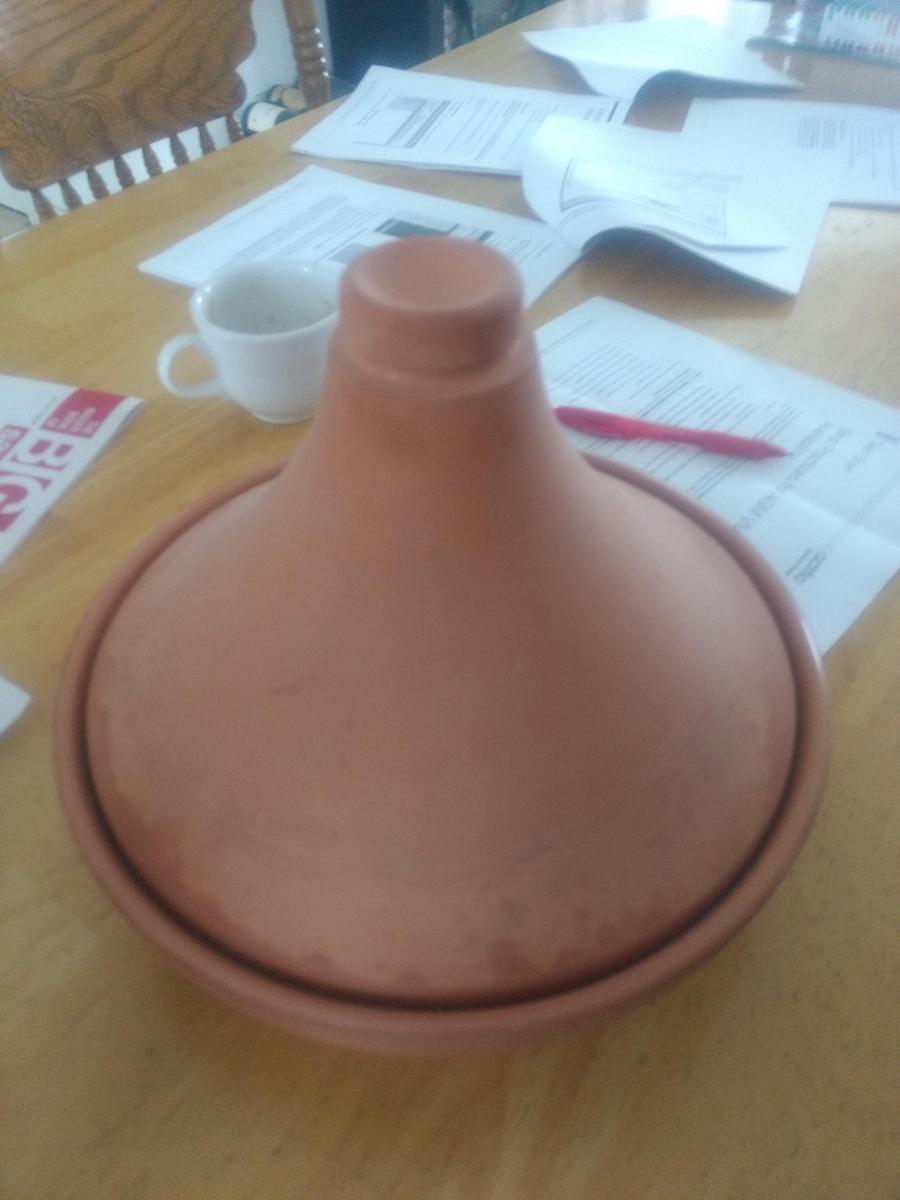 My first tagine was a Mason Cash terra cotta tagine with a glazed bottom and an unglazed top. It did an excellent job! This was what got me hooked on cooking with (and Lorna hooked on dining from) a tagine.
That worked so well that Lorna got me a  Le Souk glazed "cookable" tagine in the whimsical Aqua Fish design. It is cookable, but not as good as the Mason Cash. The solution: I cook in the Mason Cash, then swap the covers for serving!
Through all of my explorations of Moroccan cooking, I was guided by my Moroccan friend Youssef. Youssef is a software engineer, but he's not much of a cook... so he would text his mom in Morocco to get answers for many questions, especially those related to how to select a good tagine. You can imagine my joyous surprise when Youssef showed up at my desk with an authentic Moroccan tagine, personally carried from Morocco by his mother!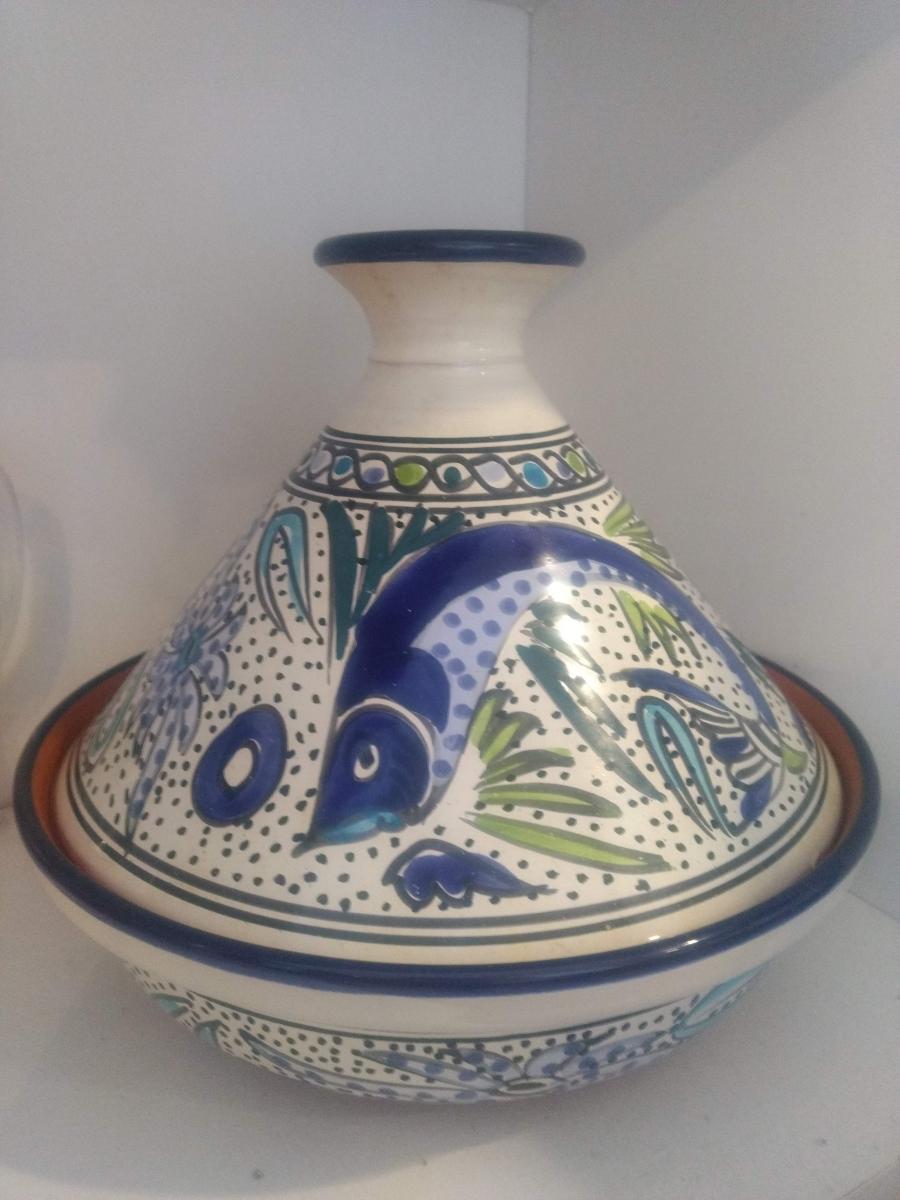 The Moroccan tagine is all unglazed terra cotta. It was harder to season and it is harder to clean, but the cooking performance is superior, and to me it's worth the effort. I gave the Mason Cash tagine to a friend but I keep the Aqua Fish because I can still use the cover for presentation. 
As with cast iron, it's important to season an unglazed tagine before using it. I've seen several methods, so it's best to follow the manufacturer's documentation.
When cooking with a terra cotta tagine, you must protect it from sudden changes in temperature or it may crack. The same insulating and porosity properties that make terra cotta good for slow moist cooking make it susceptible to sudden expansion or contraction. If you are cooking on gas, use a flame diffuser; an inexpensive investment can save a valued cooking vessel!