Description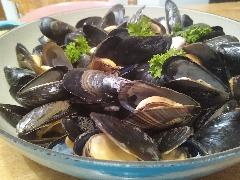 This old traditional Moules Marinieres recipe from the coast of France is quick and easy, nutritious and delicious - what's not to like? 
It's easy to find the mussels imported from Prince Edward Island, Canada, and they are often pretty clean. Local mussels are good, but they may be bigger, so adjust the cooking time accordingly. 
There are many ways to get creative with this dish, starting with the base wine and herbs, of course, but many chefs also add cream or chilies or sliced sausage... the creative opportunities are endless.