Description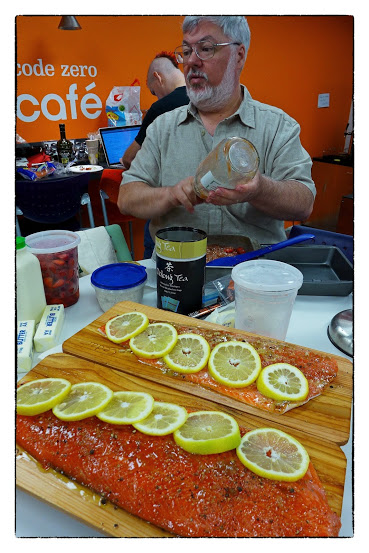 XD made this delicious glazed planked salmon for our Actifio Potluck - Summer BBQ
Preparation time
30 minutes
Ingredients
1 lb
Salmon filet (with the skin on)
1 t
Coriander seed (fresh ground)
1 t
Black Pepper (fresh ground)
Instructions
To grill salmon on a cedar plank:
Before grilling, soak the cedar plank a few hours or overnight.
Take the salmon filet out of fridge 1 hour before grilling.
Lay the filet skin side down on the cedar plank.
Drizzle olive oil over the filet.
Sprinkle freshly ground black pepper and sea salt over the filet, if you have coriander seed, grind a little over as well.
Sprinkle lemon juice from the ends of the lemon over the filet, do not over apply.
Put a thin layer of brown sugar over the filet uniformly.
Lay the slices of lemon over the thin side of the filet (belly portion) to prevent drying.
If you like, minced garlic can also be used over the filet.
Turn grill on high heat, let it reach grilling temperature before placing the plank onto the grill.
Turn off the middle burner, place the plank in the middle, and close the lid.
Grill salmon for about 10 minutes (depending on size and thickness of the filet). To test for doneness, touch the filet. If the thickest part is firm, it's ready.
Notes
The plank may catch fire. If it does, sprinkle water on it to put out the fire around the edge, but don't sprinkle water on the filet.
don't over grill, salmon will become dry.