Description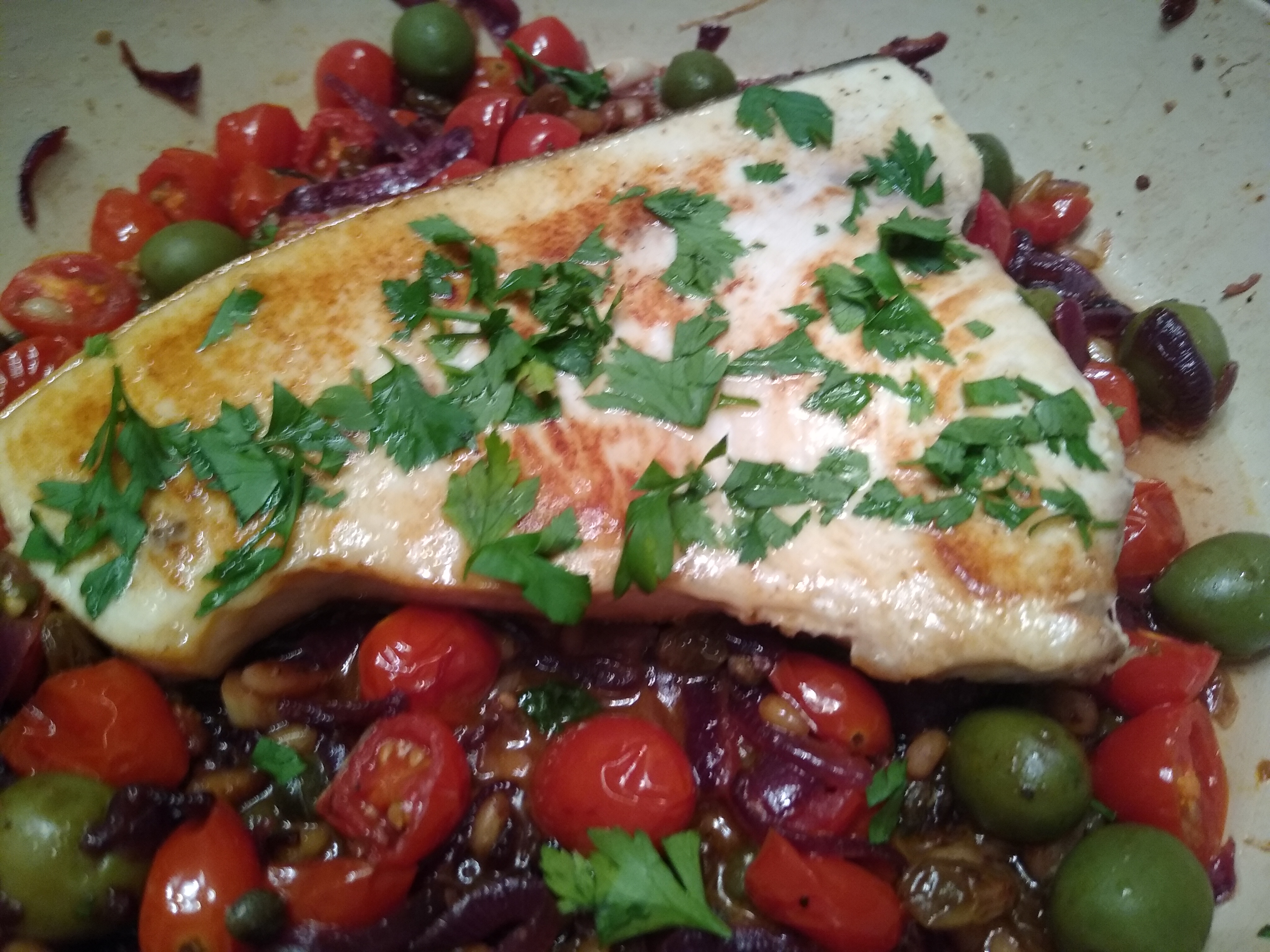 Here's another classic Sicilian presentation of their beloved swordfish, this one "for the glutton"! 
It's a pretty dish, and hearty with cherry tomatoes and green olives, suitable for company but easy enough for a weeknight.  
Preparation time
30 minutes
Instructions
Place a large frying pan big enough to fit both swordfish steaks comfortably over a medium-high heat. Once hot, add the oil, then the sliced red onion, garlic, and anchovies. Gently sauté until they are soft and the anchovies have dissolved into the oil.
Add the pine nuts and capers and fry for a minute to lightly toast the nuts.
Add the olives, cherry tomatoes, and golden raisins, season with salt and pepper as needed, and simmer for 15 minutes. After this time, turn the heat to low and leave to gently simmer.
Season the swordfish steaks with salt and pepper and place a separate large non-stick frying pan over a high heat. Once smoking, add a splash of oil to the pan and add the swordfish steaks. Cook for 3–5 minutes on one side to get a nice color.
Using a fish slice, carefully flip the steaks over into the pan with the tomato sauce, so that the seared side is facing upwards.
Cover the pan and leave the fish to gently finish steaming in the sauce for 5 minutes or as long as it takes to reach an internal temperature of 130F. Serve hot with a sprinkling of chopped parsley.
Notes
You can also cook the steak(s) completely in the second skillet and add them to the vegetables at the last minute.
Source
https://www.greatitalianchefs.com/recipes/pesce-spada-alla-ghiotta-recipe