Description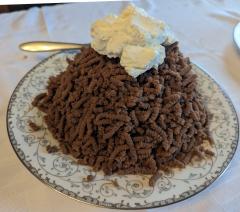 This is a wonderful and comparatively simple dessert from the mountains of northern Italy, but it requires a food mill to get the proper texture and look. I made this one for a feast that focused specifically on Italy's Piedmont and Valle d'Aosta regions. The city of Val d'Aosta and the region are at the foot of that famous Alpine mountain on the border between Italy and Switzerland. It is traditionally topped with whipped cream to resemble the snow-capped mountain. In the photo it is surrounded by Marrons Glace and foil-wrapped gianduia (chocolate hazelnut candies) from Torino.
Some recipes put this on a base of Swiss Broyage, which is nice but it adds over an hour of cooking time to whip and dry the meringue.
To get the rugged traditional appearance, sweetened chestnut paste is passed through a potato ricer, forming long threads of paste. You might be able to reproduce that look by forcing it through a colander, but I've never tried that.