Description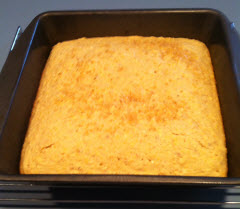 This classic favorite becomes extra-special when made with local stone-ground cornmeal. I got the recipe from Suzanne Cary Gruver's Cape cod Cook Book.
There are different kinds of cornbread. Many restaurants today make something that to my mind is too like a corn muffin; it's too sweet, soft and spongy, and hasn't much fresh corn flavor at all.
This recipe makes a cornbread to savor with a meal. It has substance and enough flavor to complement many dishes, especially those we make in the autumn and winter months.
There are still mills around New England where you can get fresh-milled cornmeal. I made this one with meal from Dexter's Grist Mill in Sandwich, MA.