Description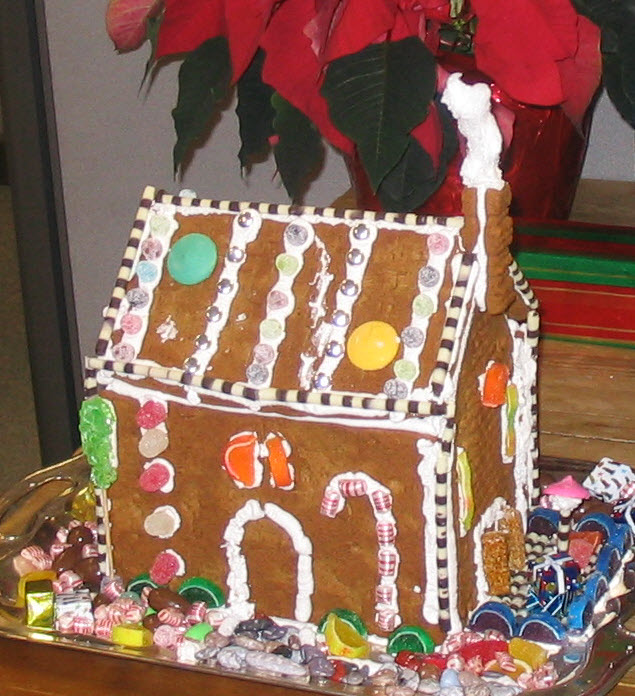 The perennial Christmas favorite is an opportunity for creativity, with a little planning ahead!
Preparation time
2 hours, 30 minutes
Ingredients
1⁄2 t
Cream of Tartar (for Royal Icing)
4 1⁄2 c
Confectioner's Sugar (for Royal Icing)
3
Egg Whites (at room temperature, for Royal Icing)
1⁄2 c
Brown Sugar (packed)
1 pn
Salt (for Royal Icing)
Instructions
Sift together flour, ginger, and soda in amixer bowl.
In a saucepan, melt butter, molasses, andbrown sugar and combine well.
Add hot molasses mixture and beaten eggs to flour mixture and mix well.
When dough is smooth, divide into thirds and wrap individually. Chill 30 minutes.
Preheat oven to 350.
Grease one side of the mold*. I use melted butter and a brush. Crisco may work better.
Bake 20-25 minutes, or until dough pulls away from sides of mold. Cool on a rack.
Cool the mold before buttering it again, then repeat steps 6 & 7 until you have one set of end-walls and two sets of flat wall/roof. Be careful not to put the dough into a hot mold or it will stick, with disastrous consequences.
Make the Royal Icing: combine the last four ingredients and whip at high speed until triple in volume (7-8 minutes). Put in pastry bag and seal tightly.
When the parts are cool, assemble the structure on its intended serving platter, using the Royal Icing generously as mortar. Patiently hold the parts in place while they set, at least 5 minutes for major joints, and longer for the roof. There is no substitute for patience in this step.
When it has set up like concrete, start to decorate. A dab of Royal Icing is enough to hold most any candy. Extra hands are useful here.
Take a photo before it goes to pieces.
Notes
Expect this to take a long time. If it is your first time, expect it to be a learning experience.
I use a cast aluminum house-form from Nordic Ware. It isn't made anymore, but maybe it will come back: http://www.nordicware.com/store/products/detail/2185FF38-7C89-102A-B382-0002B3267AD7.
The Royal Icing is unappetizing but structurally sound. Do not try to make it tasty - that's not its purpose. Wilson Farm sells it premade in pastry bags.
I use a wide variety of candies. This thing is all about temptation, not thrift.
The house does not travel well. I make the parts at home and assemble them at the office with help from the elves in Marketing, Sales, and Support!
To decorate:  
Hard candies for windows
Gum drops are a must
Licorice All-Sorts have that traditional look
Cinnamon Red Hots and other smalls are good

 

*A mold helps immensely. If you have no mold, get a pattern online from http://www.fashion-era.com/Christmas/christmas_food_gingerbread_house_recipe.htm  or invent your own. This recipe makes about 180 square inches of construction-grade gingerbread. Thin parts glue better than thick ones.