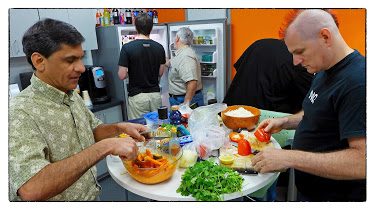 We did it again. The weather forecast was promising, so the VP Engineering surprised us with a shiny new gas grill!
The Software Developers and the QA crew had at it, with a little help from the Technical Writers, Marketing, and two industrious interns. Our CSA share came in that morning, so we had a lot of "raw material" to work with.
This was our biggest pot-luck lunch so far, maybe thanks to the creative energy unleashed by that grill. Some of it was competitive energy, and some was just the joy of sharing something delicious with our friends.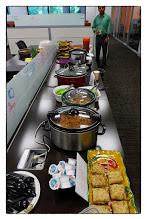 We had:
Cedar-Plank Salmon with XD's Glaze
Sous-Vide Beef with David's Steak Sauce and with Lobster Butter
Roasted Corn on the Cob
Roasted CSA Veggies
Fresh Oysters
Steamed Lobster
Baked Cod
Jalapeno Cornbread
Grilled Pizza
Iced Tea
Mushroom and Pea Salad
Sausages, Peppers, & Onions
Water Buffalo Wings (Buffalo wings with Indian spices)
Asparagus & Tomato Salad
Fried Spicy Beef with Green Peppers

Russian Blinchiki with Sour Cream
Jambalaya
Vegetarian Jambalaya
Cornbread
Spicy Slaw
Fresh Pineapple
Carrot, Chickpea, and Almond Salad
Strawberries and Cream

Kulfi (rich Indian ice cream)
Assorted store-bought cookies and pastries