Description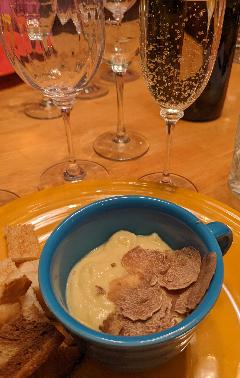 The Fonduta Valdostana is the Italian form of the French/Swiss Fondue, popular in the Valle d'Aosta on the southern slopes of the French Alps. The key differences are:
It's made with only Fontina Val d'Aosta, not a blend of cheeses.
It's thickened with egg yolk.
It's served in individual bowls or cups, not communally.
It's eaten with a spoon and bread, not with long forks and a variety of foods for dipping.
The recipe isn't difficult, but you must plan ahead both for the soaking step at the beginning, and then to be sure that it is hot and ready to serve at the right time for your diners. 
As for the fontina cheese, there are three broad classes of it. The red-coated Danish variety is not suitable for this dish; it has an insipid flavor and an objectionable consistency. The brown-wrapped mass-produced Italian variety and the related Fontal are acceptable and surely used in many households. For a special event (and certainly I you have the white truffle!) you want to get the artisanal Fontina Val d'Aosta from a good cheese market or Italian gourmet shop.