Description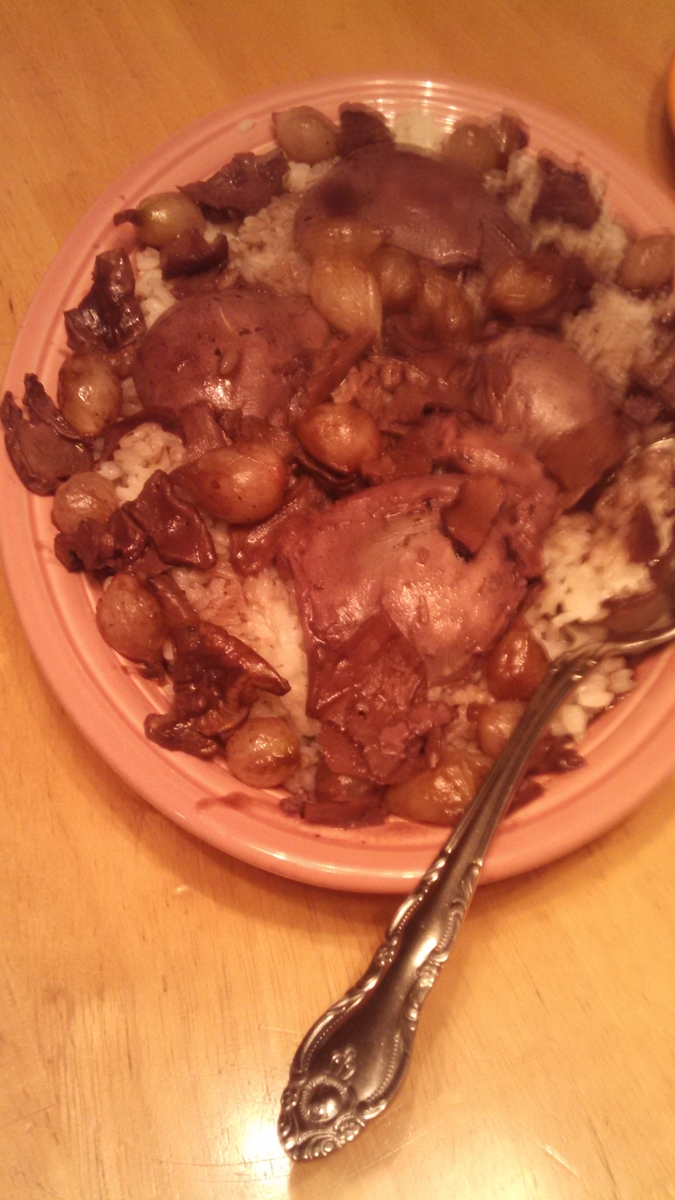 Ouefs en Meurette is a classic dish from Burgundy that features poached eggs in a richly-seasoned Meurette red wine sauce.
This dish has that great Burgundian combination of red wine, bacon, onions, and mushrooms, but it's not as heavy (or as time-consuming) as Beef Burgundy. 
It's a great brunch dish traditionally served over toasted rounds of crusty bread, but I like to serve it as a light supper dish in the wintertime, served over a bed of rice to get all of the delicious sauce.
Instructions
Cover the mushrooms with the boiling water and allow them to soak for 15 minutes.
In a wide pan, bring the mushroom-soaking liquid, wine and stock to a boil. Reserve the mushrooms.
When the wine mixture boils, poach the eggs in it. Lift the eggs out with a slotted spoon and set them aside in a warm bowl until needed.
Add the bay leaf, carrots, crushed garlic, and peppercorns to the wine mixture. Turn up the heat and boil until reduced by half.
While the wine sauce is reducing, cook the bacon and then saute the onions in the fat until browned all around. Put the onions and bacon in the bowl with the mushrooms.
Clean the skillet, then melt the butter over moderate heat until the foam subsides. Stir in the flour to make a roux. Then strain the reduced wine mixture into the roux the make the sauce.
Add the bacon, onions, and mushrooms to the sauce and return briefly to the boil.
Set the poached eggs on rice or on rounds of toasted bread and cover with the sauce.
Notes
You can poach the eggs in the wine sauce as it reduces, or separately in acidulated water. Poaching them in the wine imbues great flavor, but they come out looking like some strange organ meat. I prefer the flavor, but maybe if I were serving company I would go for the white poached eggs.
Source
adapted from
[[nodetitle:Pedaling Through Burgundy]]