Description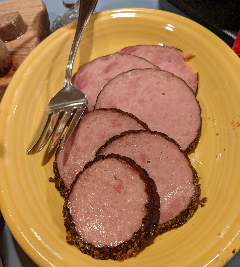 This is the traditional Swedish Christmas ham. It's an unsmoked ham, boiled and cooled, then glazed with mustard and coated with bread crumbs and briefly roasted to toast the glaze. It's served at room temperature on the julbord, and we enjoyed it in our Swedish Christmas Dinner in December 2022.
You have to plan ahead for this recipe because it takes time for the ham to boil, and even more time for it to cool, preferably overnight. You can save a lot of time by using a pre-cooked ham, which won't be seasoned to your specifications but which will save a day.
This recipe calls for a 5 pound ham, but you can scale it up as big as you like if you are feeding many people.