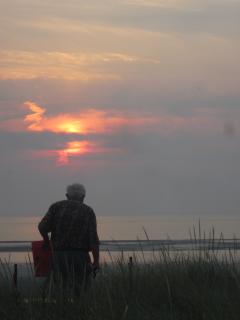 I have many fond memories of going sea clamming with Richmond at dawn on a clam tide at the long flat a hundred yards or so off shore from his cottage on the Plymouth Long Beach. Before dawn, I'd drive the three miles to the base of the beach and he'd come pick me up in his 4x4 and take me to the cottage, where Annette had hot coffee for us. Then we'd each take an orange 5-gallon Home Depot bucket and go hunting.
The beach is empty at that hour, and quiet. At first everything is gray, and still. As the sun comes up over Manomet Point the colors appear, but it's still blessedly quiet and the only movement is the breeze and the gentle tide.
We'd look for signs, like the holes in the sand that they make with their siphons. Richmond would go at the beast with a pitchfork, pulling up an area of silty sand big enough to assure that the clam was in it; usually he was right. I preferred to feel with my toes for a hard ridge in the soft silty sand, then I would grab with my hand before my prey could dig deeper, out of reach. You'd be surprised how fast they are! I was less frequently successful than the Old Master, but I was having fun before going to work and he was putting food on the table.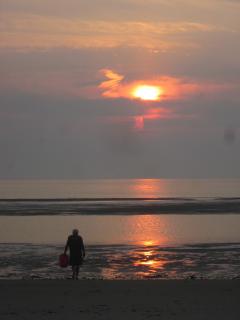 Distances are deceiving out there. We'd sometimes get preoccupied with our work and end up a quarter-mile apart, then we'd notice and start hunting back toward each other and the cortege. The clams are pretty heavy, and a five-gallon bucket of them is as much as either of us was willing to carry back up the beach to the cottage.
The sea clam,  more properly known as the Atlantic Surf clam (Spisula solidissima to malacologists), is a big critter: we keep only clams that are as big as the palm of a grown man's hand. After shucking, about 2/3 of the clam is edible, so you can get a good meal from a couple of them.
Sea clams have a large foot that provides a lot of meat. That's what was used by Howard Johnson when they popularized clam strips. 
Sea clams are mighty fine eating. They have a naturally sweet flavor that makes great New England-style chowder, especially with summery herbs. I use sea clams in Clam Pudding, Sea Clam Pie, and Old Colony Club Clam Muddle, and I also enjoy it in a Portuguese Pork Alentejana.
The meat is found mostly in a large foot and two adductor muscles, plus a few odd bits. While shelling clams, it is tempting to eat a couple of those adductor muscles, and that's a good thing.
I used sea clams to make an old Cape Cod Sea Clam Pie from Suzanne Cary Gruver's  Cape Cod Cook Book. It was delicious, and a surprise hit at work, where people were carving off slices and eating it cold because it tasted too good to wait for the microwave!
I buy sea clams (and pretty much all the fish I cook) at Wood's Seafood, on the Town Wharf in Plymouth, where they are called Chowder Clams.
Here's a nice post about sea clamming in Wellfleet by Dick Nicholson.