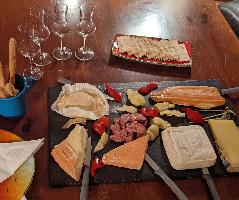 On 5 December 2021, our friends Dave and Lisa joined us for a grand discovery feast exploring the cuisine of Italy's far northwestern corner. To make it extra-special, they generously sprang for two fresh white truffles from Alba, which are in season in early winter, local to the Piedmont region, and terribly expensive!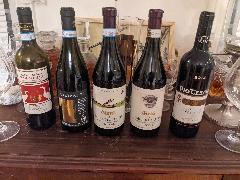 Piemonte and Valle d'Aosta are the foothills to the Alps, and they border France to the west and Switzerland to the north.  Valle d'Aosta is all mountainous and heavily influenced by Swiss and French Alpine cuisine; Piemonte is the piedmont region that slopes from the mountains down to Liguria and the coast west of Genoa, known for its excellent wines and expensive white truffles. Both feature mushrooms, cheese, polenta, chestnuts, freshwater fish, and other ingredients used in making this feast. This grand Italian feast included no pasta and no tomatoes! 
We also enjoyed seven of the most classic wines of the region: the white Moscato and Roero Arneis, and the red Dolcetto d'Alba, Barbera d'Alba, Barbera d'Asti, Bardolino, and the mighty Barolo.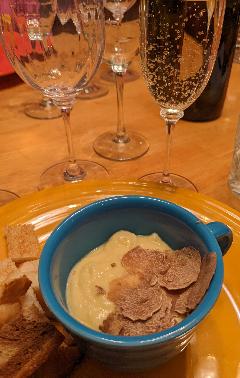 We opened with truffled-egg crostini, smoked trout, and local formaggi: Fontina Valle d'Aosta, Robiola, Taleggio, La Tur Langa.  
Then we moved into the dining room for the dinner. The starter was an Italian-style fondue, the Fonduta Valdostana con Tartufo Bianco. Unlike a Swiss or French fondue, the Fonduta Valdostana is made with only Fontina Valle d'Aosta cheese, it's thickened with egg yolks, and it's served individually with bread and a spoon rather than communally with long-handled forks. 
For very special events, the fonduta is dressed liberally with fresh-shaved white truffle, so we did! The white truffle of Alba is not cooked (or cooked only very lightly), and it responds best to cheese, eggs, and rich mild flavors. It was delicious with the thick, rich fondue.  This was served with the Moscato d'Asti.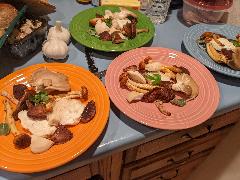 This was followed by a light Insalata di Funghi made with a variety of mushrooms that I had bought at the Belfast Coop in Belfast Maine: long brown Chestnut Mushrooms, bright white Lion's Mane mushrooms, big blue-gray Blue Oyster mushrooms, and beefy Porcinis (also known as Cepes and King Boletes). It was dressed with extra-virgin olive oil from Liguria, lemon juice, and coarse sea salt and then garnished with fresh parsley. 
We opened the Roero Arneis for this course. This light refresher helped us to rest up for the onslaught to come!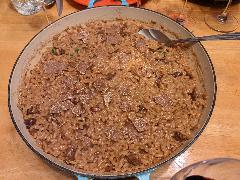 As is common in the north, the pasta course was actually a Barolo and Porcini Risotto.  The porcini were dried (I get them in quantity at Micucci Grocery in Portland, ME, in the back room). The soaking liquid was then strained and used in making the risotto for an extra rich flavor, which we dressed with more of the shaved white truffle. This is where we started marching through the red wines.
Then came the fish course, Trout Baked in Red Wine. Trout is very popular in Italy, where it is farmed in the Alps and in the Appennine Mountains that form the spine of the Italian peninsula. We usually think of fish with white wine, but in Piemonte there are many red wines, some quite light, and the flavor complements that of the trout even if it would not be so good with a white saltwater fish.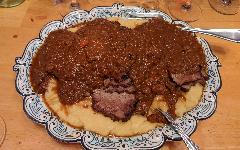 The vegetable dishes were little Cipollini d'Ivrea (pearl onions braised until tender in vegetable stock), Chestnuts braised with Thyme, and Cardi alla Re Carlo Alberto (cardoons seasoned with garlic, anchovies, cinnamon, nutmeg, and pepper). The onions are easy and always good. The chestnuts are also easy and they really broaden the flavor profile of the vegetable course. 
I love cardoons, and I go to great lengths to find them in November and December. For this feast, I found them at Wegmans in Northboro. I selected this particular treatment for its historical significance; King Carlo Alberto was a Savoy king of great importance in the unification of Italy and to this region in particular. But I'll admit that anchovies and cinnamon are an acquired taste that I have not yet acquired... I'll try again when cardoons come available next winter and see how it goes.
The main course was the classic Brasato in Barolo served on polenta. Barolo is one of the great wines of the world, and even a good common one like the Pio Cesare that we drank with this course sells for about $90 these days. There are cheaper ones, still around $35, that don't give the best Barolo sipping experience, but that's what I used to braise the beef (and in the risotto, so we really had three bottles of Barolo, plus another Bardolino for the trout - in total 10 bottles of wine were opened for this dinner!).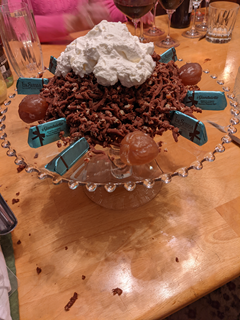 We finished with a pretty Mont Blanc decorated with Marrons Glace and gianduia chocolates from Torino. Marrons Glace are candied chestnuts, a true epicurean delight that is usually available in these parts only at Christmastime. We usually get them at Micucci Grocery in Portland. Gianduia is the classic chocolate-hazelnut flavor from the people who brought us Nutella. It is common in Piemontese baking and confectionery. I had thought of making a Gianduia cake, but I really wanted to have the Mont Blanc, so I was lucky to find these little chocolates, also at Micucci Grocery. 
At the very end we toasted our accomplishment with grappa and a digestivo (from Friuli in the northeast but with alpine herbs), Amaro Nonino.