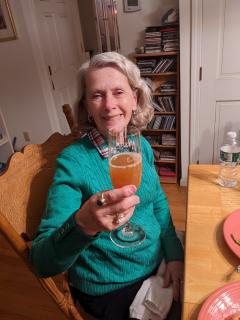 On Sunday, 12 March 2023, our friends Bryan and Bridget joined us for a Tour of France Dinner. I called it a Tour of France because it has seven courses, each highlighting a different region of France. The regions of France have long histories of developing their own foodways and intense attention to terroir, thus I also served wines from the same regions as the food in each course. This meant that I served a lot of wine! We were sensible and tasted each of the eight wines but we did not drink all of any of them. (Well, maybe we finished just a few of them!)
Unlike the Italian feasts where I served dishes from regions that are close to each other and thus have some foodways in common, the French regions were selected for their differences. The resulting dinner was a study in contrasts that might be jarring if you did not know the plan before sitting down.
This is the menu. The format of the menu is Course: Region in bold text, followed on the next line by the dish, and the wine that accompanied it.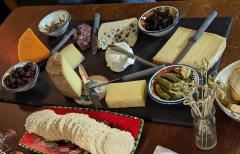 Aperitif: Haut-Alpes
We started with Compte and tomme Alpine mountain cheeses, a crottin fresh goat cheese, a Roquefort and a Mimolette for variety and color, plus Nicoise olives, cornichons, and some saucisson sec.
To drink, we started with Noilly Prat dry vermouth in ponys as an aperitivo, and an Absinthe Cocktail of Pernod Grande Absinthe from the Absinthe fountain, in Absinthe glasses.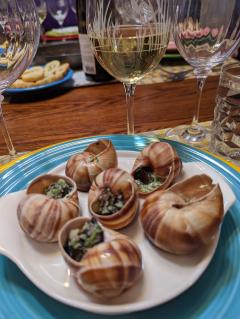 Appetizer: Burgundy
The we moved into the dining room for Escargots de Bourgogne with a chilled Chablis, which is a white Burgundy chardonnay that is un-oaked. The escargots are both exotic and mundane; it's certainly not something you see on every restaurant menu or have at home on a Sunday, but there's really no reason not to.
The snails that you see here did not come like this, they come in a can cleaned and ready to use. I bought the white snail dishes for the dinner, they were not expensive. I also bought the shells for the dinner, these are purely decorative and and strictly optional (not to mention a pain in the neck to clean afterward). So in the simplest form, you skip the shells. You make an herbed garlic butter, and nestle the snails in the butter either in their own dimples in a snail plate or just in any small shallow dish, and heat it until the butter bubbles and smells delicious. That's really all there is to it, so you could do it any time. 
Soup Course: Paris
We had a soup course of French Onion Soup, continuing with the Chablis, but I forgot to get a photo of this everyday dish.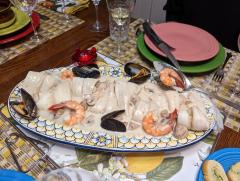 Fish Course: Normandy
The northern coastal region of Normandy was represented by Poisson a la Dieppoise made with sole, shrimp, and mussels in an exquisite white sauce made of an egg yolk-thickened fish veloute. This was served with hard cider. 
It used to be easier to get cider from Normandy and Brittany, but not any more. I think it is due to the success of the many local New England cidermakers, so I guess overall that's a "good problem to have".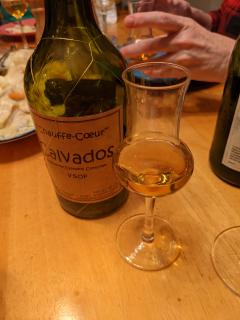 Le Trou Normand
While honoring Normandy, I had been told by some work friends from there that we must not miss the traditional Trou Normand, a mid-meal toast to "settle" the previous courses in preparation for the remaining heavier courses.  For this I had a bottle of Pommeau, a mix of cider and Calvados (Norman apple brandy), and we did toasts all around the table - see Lorna making her Trou and her eloquent toast in the top photo on this page.
I also set out a bottle of good Calvados for those who wanted to sample the pure apple brandy to compare with the Pommeau cider-Calvados blend. We'd already had a fair amount of wine, so I wasn't sure how many of us would be feeling scientifically-minded, but it was a hit!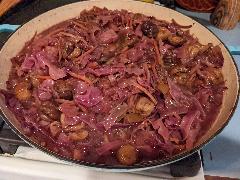 Releve: Bordeaux
When we were ready to dive back into the dinner we started with a vegetable dish from Bordeaux, a hearty, flavorful Chou rouge a la Limousine, which is to say Red Cabbage Braised with Apples and Chestnuts. It's a wonderful warming winter dish, especially with roast pork. I used chestnuts from a jar already peeled, because peeling chestnuts is a great way to rip up your fingertips!
This was served with a white Bordeaux, the Graves de Vayres 2021.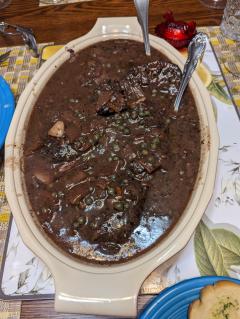 Meat Course: Provence
When we got to the meat course, we returned to the crazy flavors of sunny southern Provence with the incredible Provencal Daube. This is a beef stew cooked low and slow for hours to get it fork tender. The beef is first marinated overnight in olive oil with garlic, black pepper, and herbes de Provence, then it is braised in red wine with orange zest, onions,  and Balsamic vinegar. At the end the braising liquid is thickened and flavored with capers and anchovies. It sounds like a lot, but it's not difficult after the first time you try it, and it's so good that if you make it a first time there will surely be a second, third, and fourth time! I've been making this about twice a year for about twenty years and it never gets old. However, under normal circumstances, I serve it during cold weather with lighter vegetables and a crusty country bread or sometimes a sourdough bread.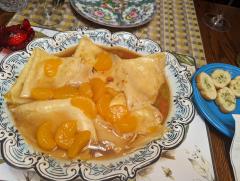 Dessert: All Over
Dessert was a special treat. Bryan had gotten a crepe maker for Christmas and so he and Bridget had been practicing making crepes. Lorna loves Crêpes Suzette, so that became the plan. I cleared away some of the wreckage (you should see what these dinners to to my kitchen counter space!) and yielded the kitchen to my guests.
The results were delicious and dramatic  when we flambeed them. We garnished them with little mandarin orange slices and served them with Marrons Glace and the rest of the Calvados and a perfectly balanced sweet-acid Barton & Guestier Sauternes 2016.