When we went to Italy in 2015, I made a pilgrimage to the home of Giuseppe Verdi, near Parma. There we found a foodie paradise.
So we had a feast of the bounty of Parma. It was exquisite, and educational too.
First you need some introduction:
Parma, Italy, is a sort of genius cuisine center even in that land of foodie heaven. The city of Parma (a little bigger than Worcester and Providence) is midway between Milan and Bologna (both much bigger than Boston), about an hour and a half from each. Within an hour's drive of the city of Parma, you can drive through the ancient and fertile provinces of Parma, Reggio-Emilia, and Modena.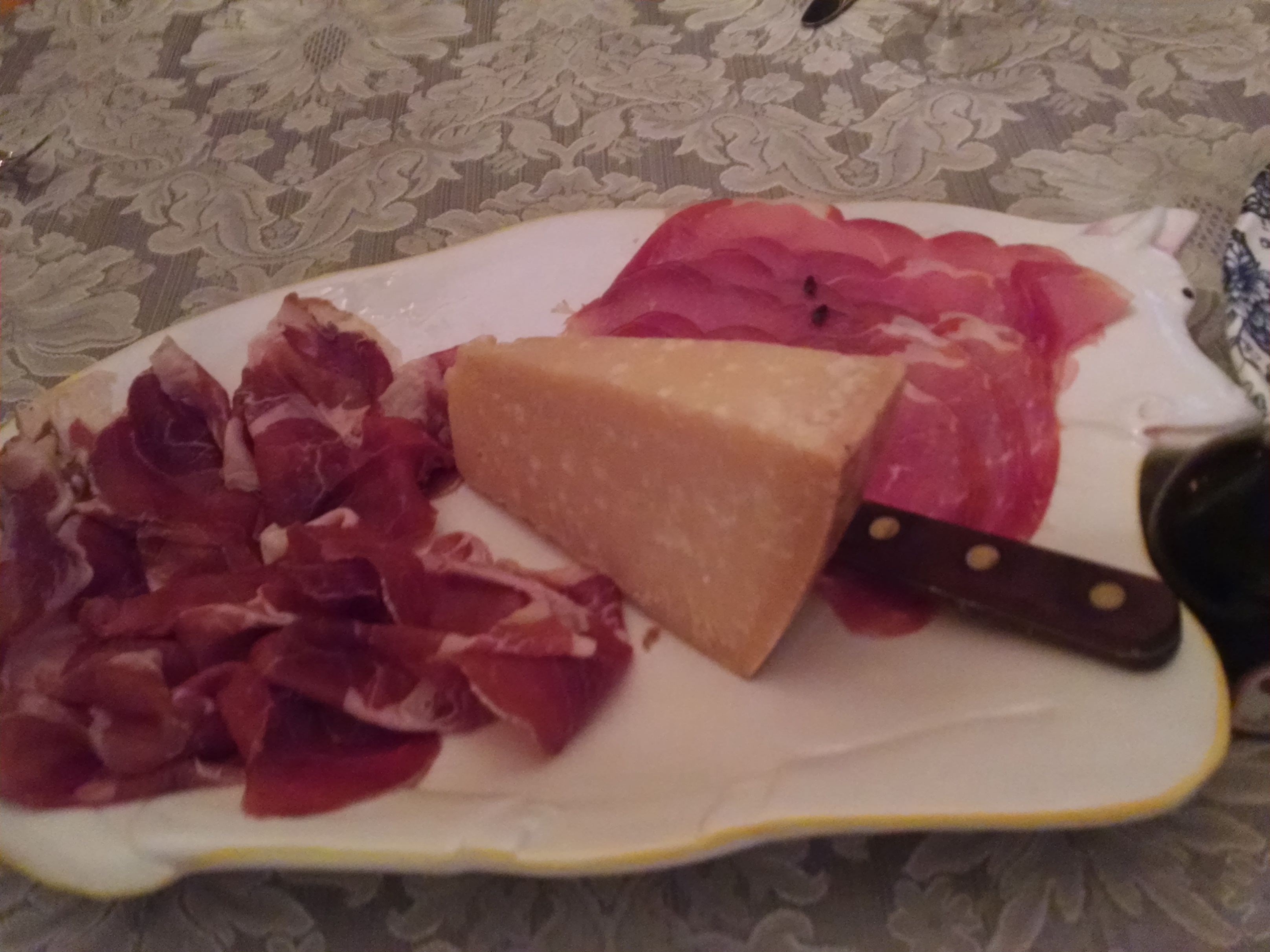 Parma and Reggio-Emila are known for Parmigiano Reggiano (Parmesan) cheese, of course. It is also known for excellent salumi (cured meats), including salami, mortadella, capocollo, and the celebrated prosciutto di Parma. Also made there but seldom seen here is culatello, a special high-grade prosciutto that you can sometimes get at Formaggio Kitchen in Cambridge.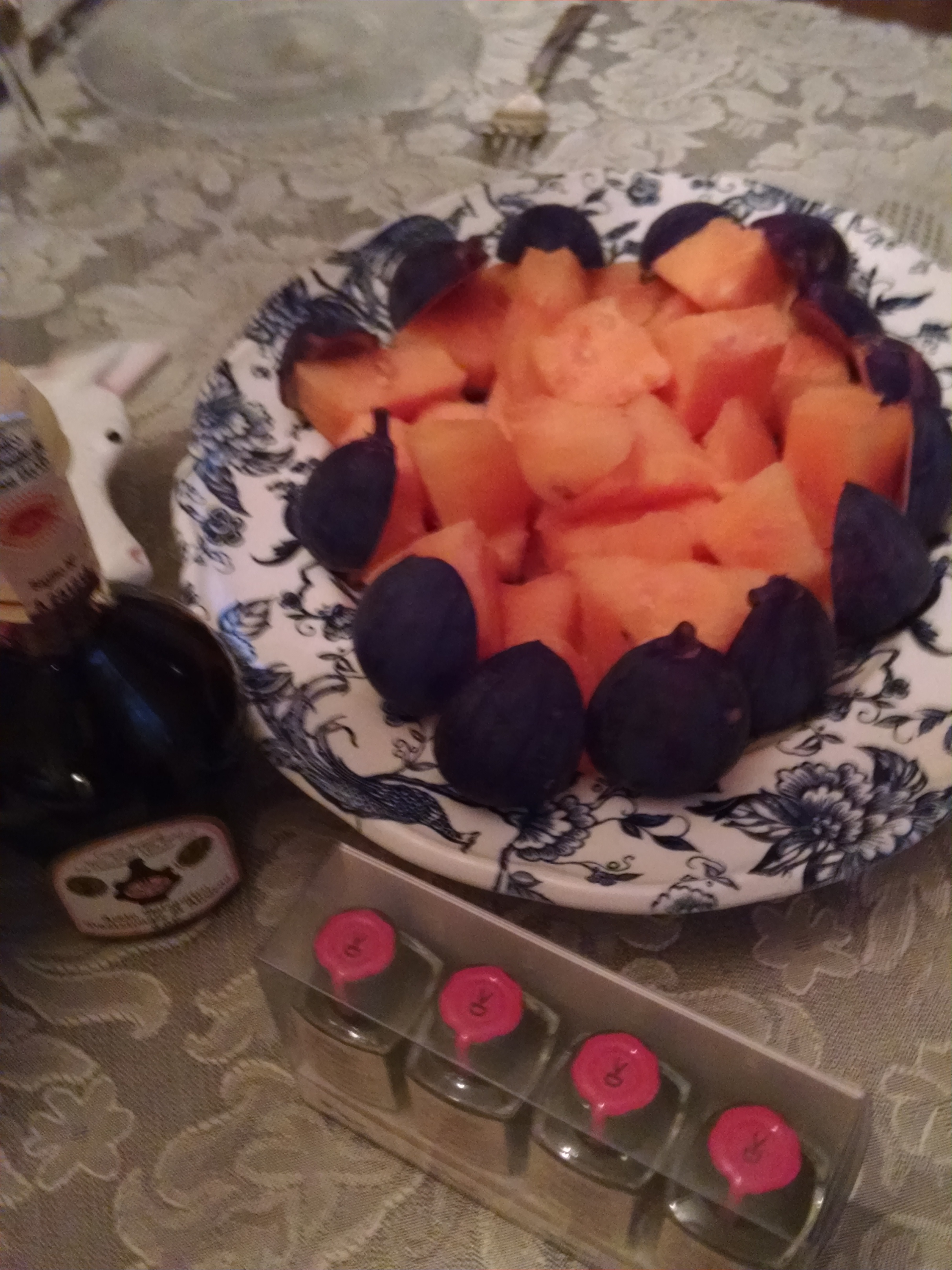 Reggio Emila and Modena are home to the exquisite Aceto Balsamico Tradizionale, or traditional Balsamic Vinegar of Modena and Reggio Emilia. The balsamic vinegar that you buy in the supermarket and use by the cupful in recipes is really wine vinegar colored and flavored with caramel coloring, and often slightly thickened with guar gum and sweetened.
Compare this with the Tradizionale, which is made from a reduced must of pressed Lambrusco and Trebbiano grapes, then aged for a minimum of 12 years. It's not aged in a bottle - it's aged in wooden casks. Over time, some evaporates through the cask, so it is moved into a smaller cask. Each family does it their own way, and the casks may be made of mulberry, chestnut, cherry, oak, and ash. The resulting product has grown thicker and impossibly complex in flavor. It is sold exclusively in 100ml bottles that can cost $100 to $250 and more. Needless to say, the Tradizionale is used sparingly!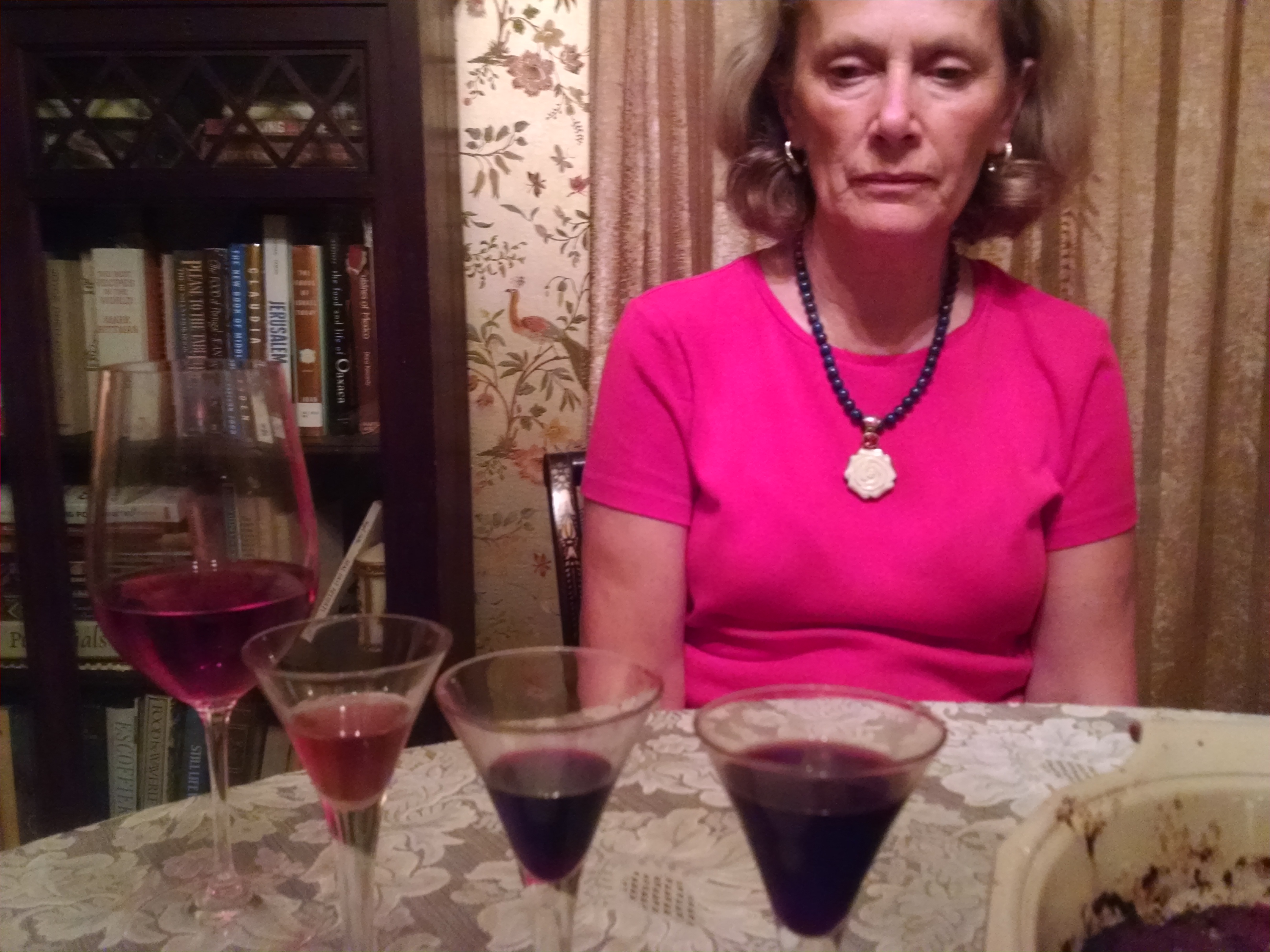 The most common wine of the region is Lambrusco. Don't turn away! Everyone was dubious about the Lambrusco. We remember the jingle "Riuniti on ice, That's nice!" and the "red champagne" ads of the disco era. Well, before all that, people in Parma were making good wine from the Lambrusco grape. The wine style dates back to Roman times, so they have had time to make something good.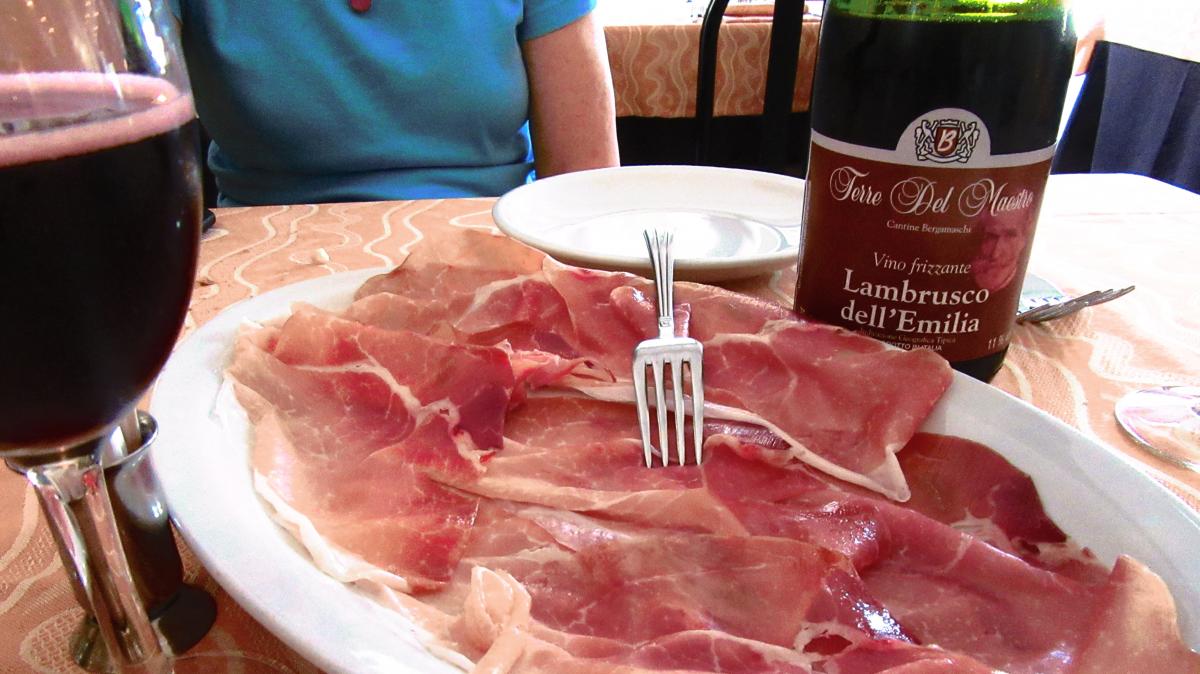 I had really been happily surprised by a Lambrusco that we had had with lunch in Busetto, near the home of Giuseppe Verdi, so since last year I have been collecting the elusive high-end Lambruscos. I found six of them, mostly in Maine, all at different shops.
They were very different! Some were rose, some were dark. The Bruscus was amabile (semi-sweet), two were abbocato (demi-sec), and the other three were secco (dry). Some were frizzante (lightly sparking) and two were spumante (fully sparkling, like Champagne).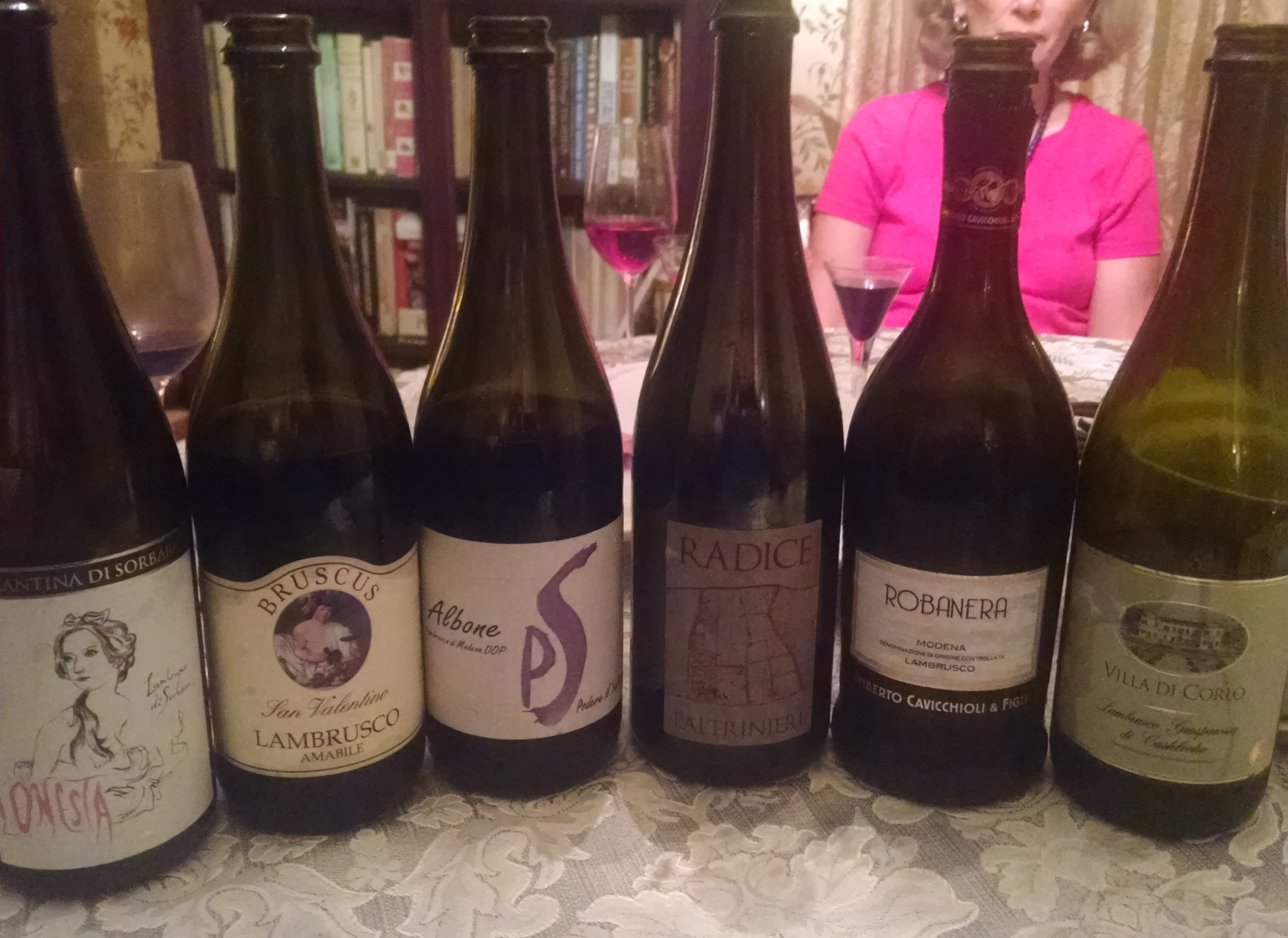 We all liked the secco frizzante L'Onesta the best; I had bought it (and two other bottles of it) at Rosemont Produce on Commercial Street Portland, ME.  
It is clear that Lambrusco is clearly defined as a grape, but everything else about the style is not so clearly defined. This is probably the result of centuries of making it before anyone came up with modern designations.  
With all that background in place, how did we celebrate the ingenious foodie development of the Parma-Reggio Emilia- Modena region?
We had:
Fresh tomatoes with fresh mozzarella
An assortment of Salumi, including Culatello
Parmigiano Reggiano
Fresh figs and melon to sample with the Balsamicos
A flight of four progressively-aged balsamicos
A truly exquisite Balsamico Tradizionale
Cheese ravioli with a fresh marinara sauce
Six different Lambruscos
That wacky lobster dish came from
Italian Cooking - La Cucina Italiana
from
La Cucina Italiana
magazine. The eggplant parmigana recipe came from Ada Boni's excellent
Italian Regional Cooking
.