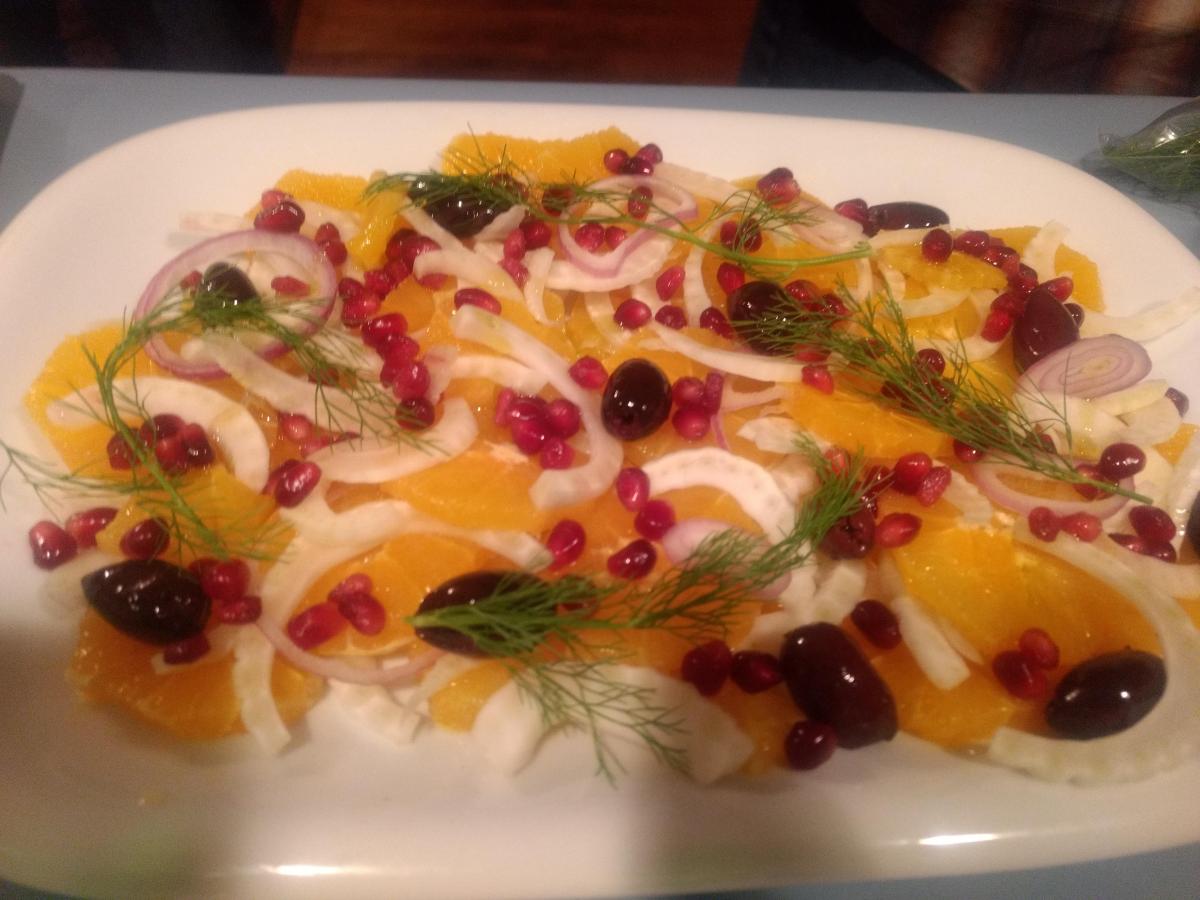 Deep in a cold New England winter, we had John and Christina over for a Sicilian feast to brighten things up. Most of these recipes came from a fine cookbook called Sicily, and most of these were dishes that we had enjoyed in Sicily. The Sicilian names are similar to Italian but not the same, for example "cu" for "con" - Sicilian is an old and proud dialect!
I list this as Eastern Sicilian because all of the showstopper recipes are from the Eastern and Southern slopes of Mount Aetna from Messina to Siracusa and west to the ancient Greek temples at Agrigento; someday I'll do a Western Sicilian dinner that touches on Palermo, Trapani, Sciaccia, and Marsala.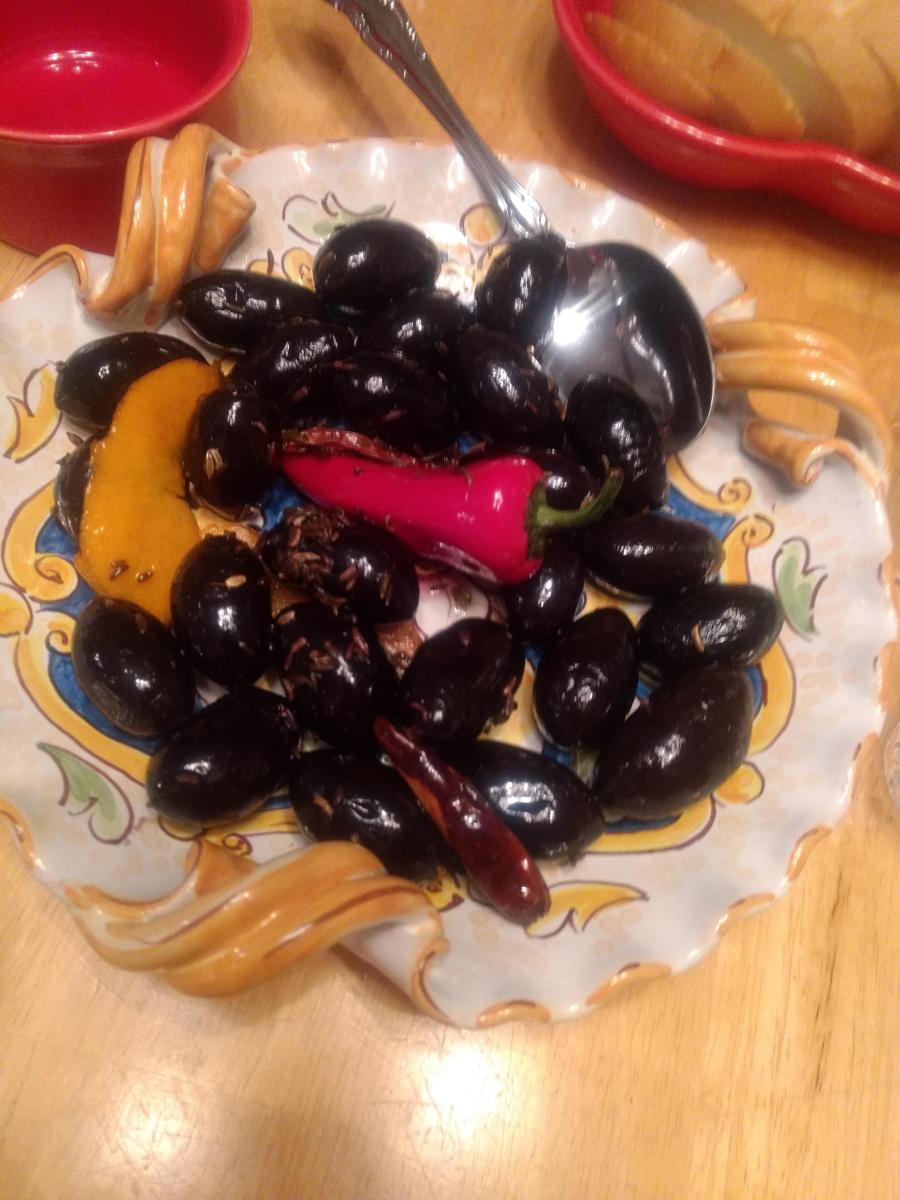 We started light with two appetizers before moving on to soup, salad, fish, meat, and dessert courses:
Passuluna a simple appetizer dish of warm and spicy black olives. We don't often eat olives hot, so this was a revelation; the olive flavor was rich and delicious, and enhanced by a pit of red pepper.
Caponata Croccante This "crunchy caponata" is made with lightly-cooked vegetables that are not stewed together as is often the case with a caponata. It gets some zip with an agrodolce sauce and more sweetness from golden raisins and pine nuts. It was nice on flatbread.
Then came the rest of the courses: Salad, Soup, Pasta, Fish, and Meat.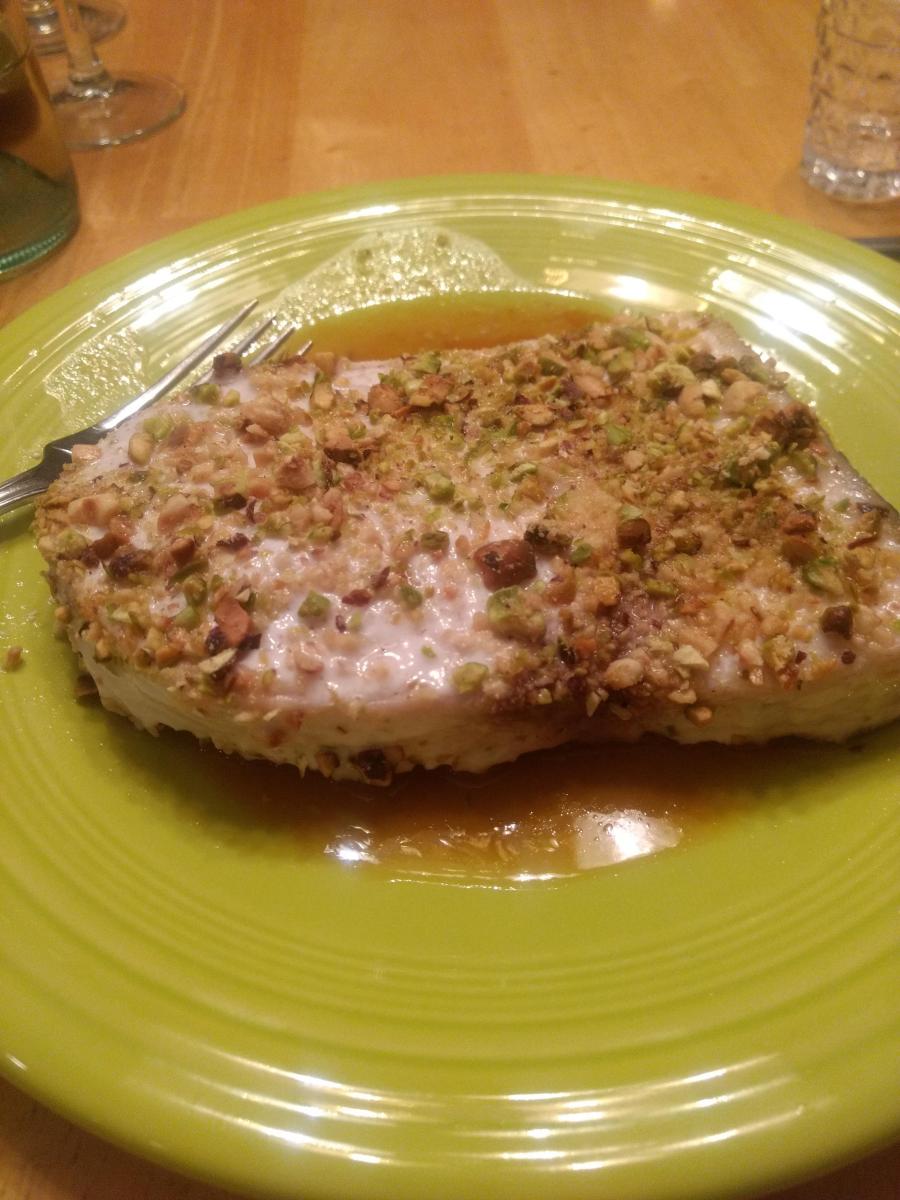 A Salad of Fennel and Orange Slices with Pomegranate Seeds that John M made. I didn't find an "official" recipe for this, but we had it all over Sicily. It's pretty and light, a good way to wake up the appetite. It's in the photo at the top of the page.
Maccu ri Fave, a hearty soup of pureed fava beans with bitter greens, made by John M. This is traditional for late winter in Sicily, which is not at all like mid winter in Plymouth!
Pasta cu i Milinciani: We had Pasta alla Norma in Rome and all over southern Italy. It's from Catania on the eastern seaward slope of Mount Etna, and it became a trusted go-to dish for our vegetarians. I like it too!
Pisci Spata in Crusta ri Fastuchi - I had this

Pistachio-Crusted Swordfish

in the tiny swordfishing village of Chianalea, in Scilla at the base of that great rocky promontory that troubled Ulysses. It was a wonderful and typically Sicilian riot of flavors.
Maiale cu Cioccolatu: Pork with Sicilian Chocolate Sauce sounds pretty peculiar to American readers, but high-quality chocolate has been made in Modica for many years, and this is one superb example of how Sicilian cooks have made use of that local product.
We finished with a Ricotta Pie by Christina, and espresso. Ricotta Pie is popular all over Italy, but most of the dessert recipes that I had were way out of season (lots of fresh fruits) or way too complicated for this dinner (like the fabulous Cassata alla Siciliana). The classic combination was just the thing to linger over to wind down the feast!