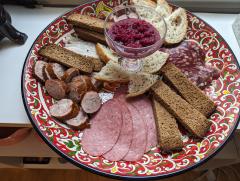 On 27 August 2023, we had a traditional Russian feast with our friends John, Christina, Lance, and Lynda. What made it traditional? I actually read about how Russians eat this sort of dinner, so I served it that way rather than forcing Russian recipes into a western formal dinner format like I had done before.
Zakuski and Vodkas 
I had made six kinds of Flavored Vodka (chili pepper, Darra Goldstein's chili pepper, lemon, basil, and saffron). John brought a bottle of the Beluga Celebration Vodka. The vodkas had all been chilled in the freezer. I also brought out from the freezer a bottle of Linie Akvavit, which is essentially a caraway-flavored vodka. Finally I had a small bottle of herby Riga Balsam to mix into a plain Luksosowa vodka.
So we did not get thirsty.
Along with all that vodka, we had zakuski, an assortment of pickled and smoked fish and meats, plenty of black bread and rye bread, red and black Kaluga caviar, and pickles, plus four traditional salads. Specifically, we had:
Smoked fish: mackerel, sturgeon, turbot, and butterfish 

Pickled herring: Russian style and Matjes herring (in a sweet red wine sauce). 

Salo

 (beautifully pure white pork fat, thinly sliced) on black bread

Caviar (red Salmon and black Kaluga) on black bread with butter or salo
Four vegetable salads: mushroom, vinegret (beet and onion), lobio (red bean),

ogonek 

(eggplant and tomato). The salads were a big hit, and simple because I had bought them at the Baza Gourmet Market in Newton!

Sausages:

Moskovskaya

,

cervelat, and kabanosy with red horseradish sauce.
The zakuski course lasted well over an hour as we sampled every combination of everything! I think this was a great opener to the feast because it got everyone talking, offering their opinions on what they liked best and what went well with what.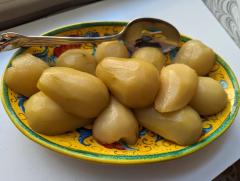 Dinner
The main course was simply the showstopper Kulebiaka accompanied by Pears Marinated in Spiced Cider Vinegar and Honey.
With dinner I served a bottle of a semi-dry Georgian wine and a bottle of Kvass (a popular sweet soft drink now, but historically a mildly alcoholic beverage made from fermented black bread and water).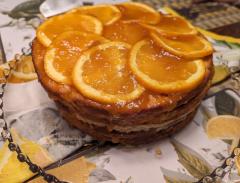 Dessert
We finished up with the fabulous Orange Hazelnut Buttercream Torte and Kusmi Russian-style tea. This decadent torte takes some time to make, but it's always a huge hit. The cake batter includes two whole oranges ground up into a puree, and the "flour" is half ground almonds and half cake flour. You make two 9-inch round cakes and split them, putting apricot jam between those layers, then you stack them up with a hazelnut buttercream between them! The recipe is linked above, it's really worth trying some Sunday afternoon when you can take your time.