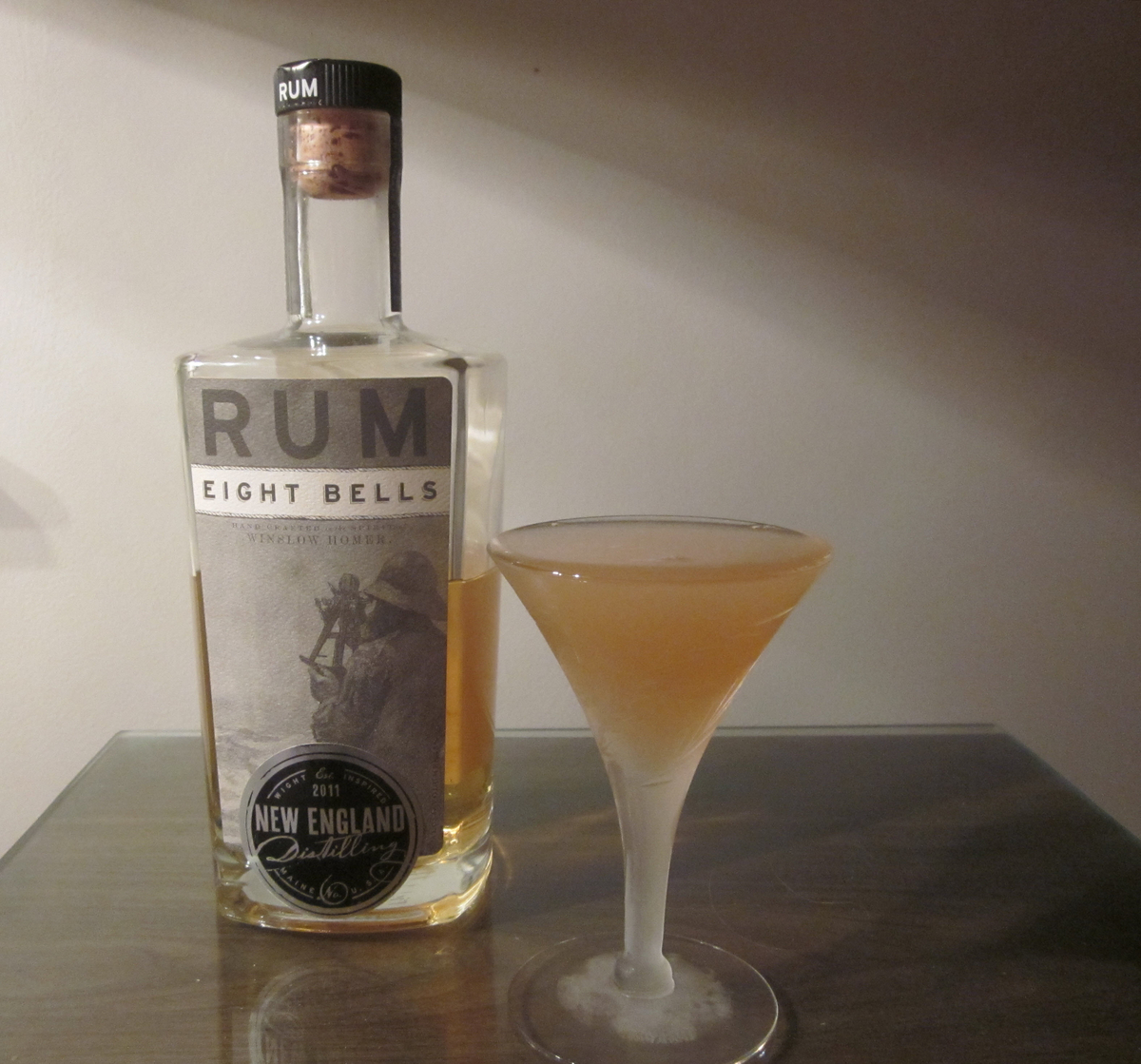 Our friends the Halls came to dinner in early December. I had worked with Jim for years, and he has heard a lot of our adventures, so I made a special Best of New England dinner for them. I ended up including fine food and drink from five New England states, and I only missed Rhode Island because we hadn't been there recently.
Here's what we enjoyed:
We opened in the living room with a Van Vleet Cocktail made with lemon juice, New Hampshire maple syrup and 8 Bells Rum from Portland's New England Distilling. This was a fitting accompaniment to a wonderfully rich and complex, perfectly ripe bark-wrapped Harbison cheese from Vermont's Jasper Hill Farm.

Then we migrated to the dining room, where sat down to a traditional white Waldorf Salad set in bright radicchio and accented with cranberries. This was accompanied by a brilliant barrel-aged Fatty Bampkins Cider from Blacksmiths Winery in South Casco, Maine.

The cider kept us company with the next course, as well. This was the delicious  walnut-topped Cheddar Cheese Pie that got raves, as it always does. This one was made with Grafton Village 2-year aged cheddar.

Next we had a vegetable course of asparagus with sauteed Cape Cod Bay scallops finished with a splash of a more prosaic Harpoon cider. We opened a bottle of the exciting and festive (and somewhat pricey) Sam Adams Infinium to go with this and the main course.

Finally we moved on to the main course, a beautiful Atlantic salmon prepared as in An Irish-style Salmon Dinner: baked in hard cider (from Harpoon) and Jersey cow cream and dressed with fresh parsley.

We were pretty well fed by this point, but I know the main reason Jim made the drive from Concord was for his favorite holiday dessert, the famous Buche de Noel. This was served with his favorite tea, the Hao Ya 'B' from

Upton Tea Imports

, with a little help from a gorgeous red Moonlight Meadery Desire blueberry-blackcurrant-black cherry melomel (fruit mead).
That's all we could do. Utterly sated, we lingered over the tea and sweets and chatted until we could get out of our chairs. The conversation was the best part of a great meal!