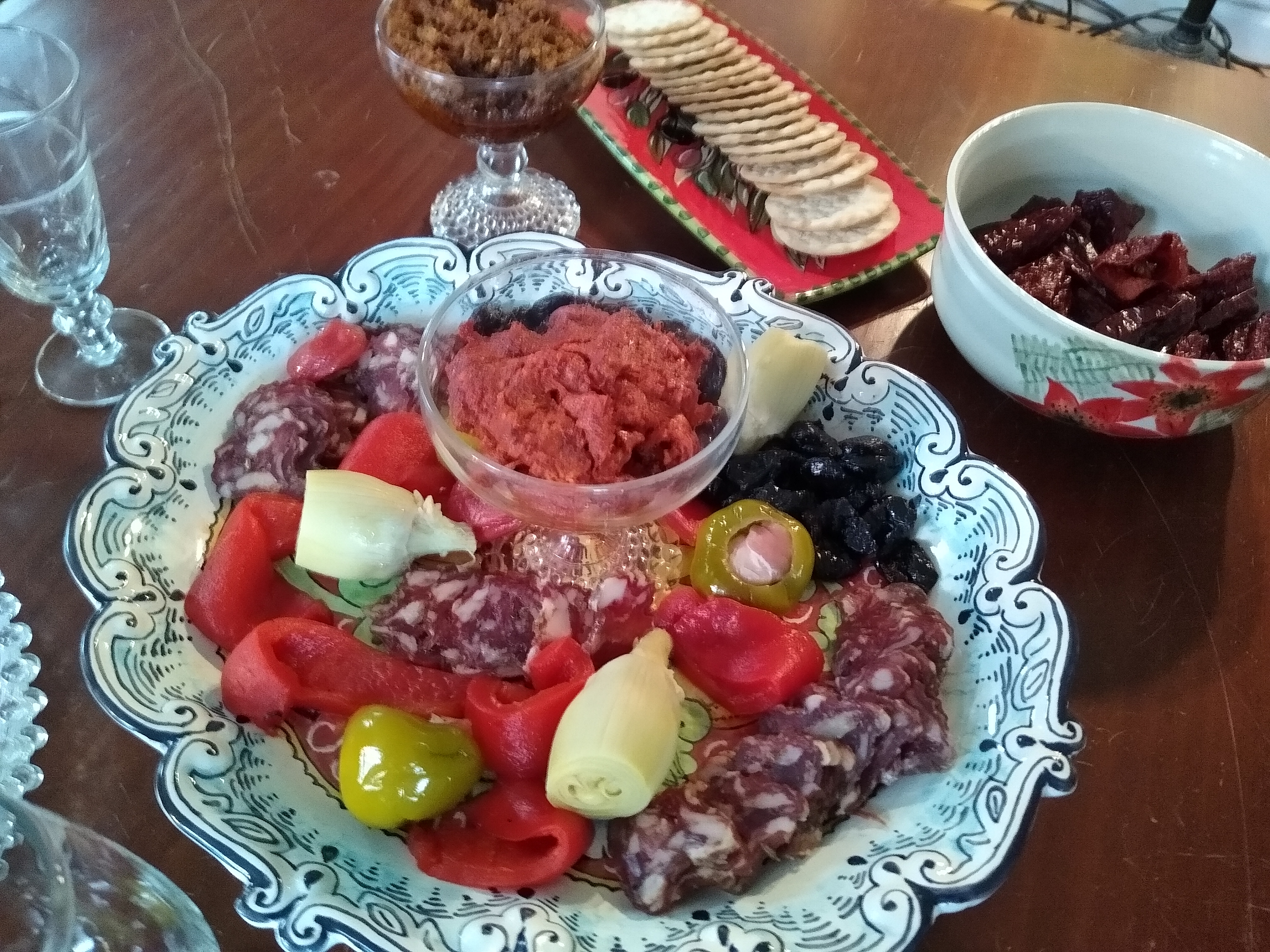 For about a year, from late March 2020 through April 2021, when our New England travels were limited by Covid-19, I focused on the traditional cooking of Italy. After Lorna and I were vaccinated, we celebrated with a series of 10-course Italian all-star feasts highlighting recipes from Northern, Central, and Southern Italy. I wanted to have something from each of Italy's 20 provinces.
For the Southern Italy feast, I included Campania (Naples), Basilicata, Apulia, Calabria, Sicily, and Sardinia. Our companions were our old foodie friends John Morse and Christina Cochrane. Here's how we did it: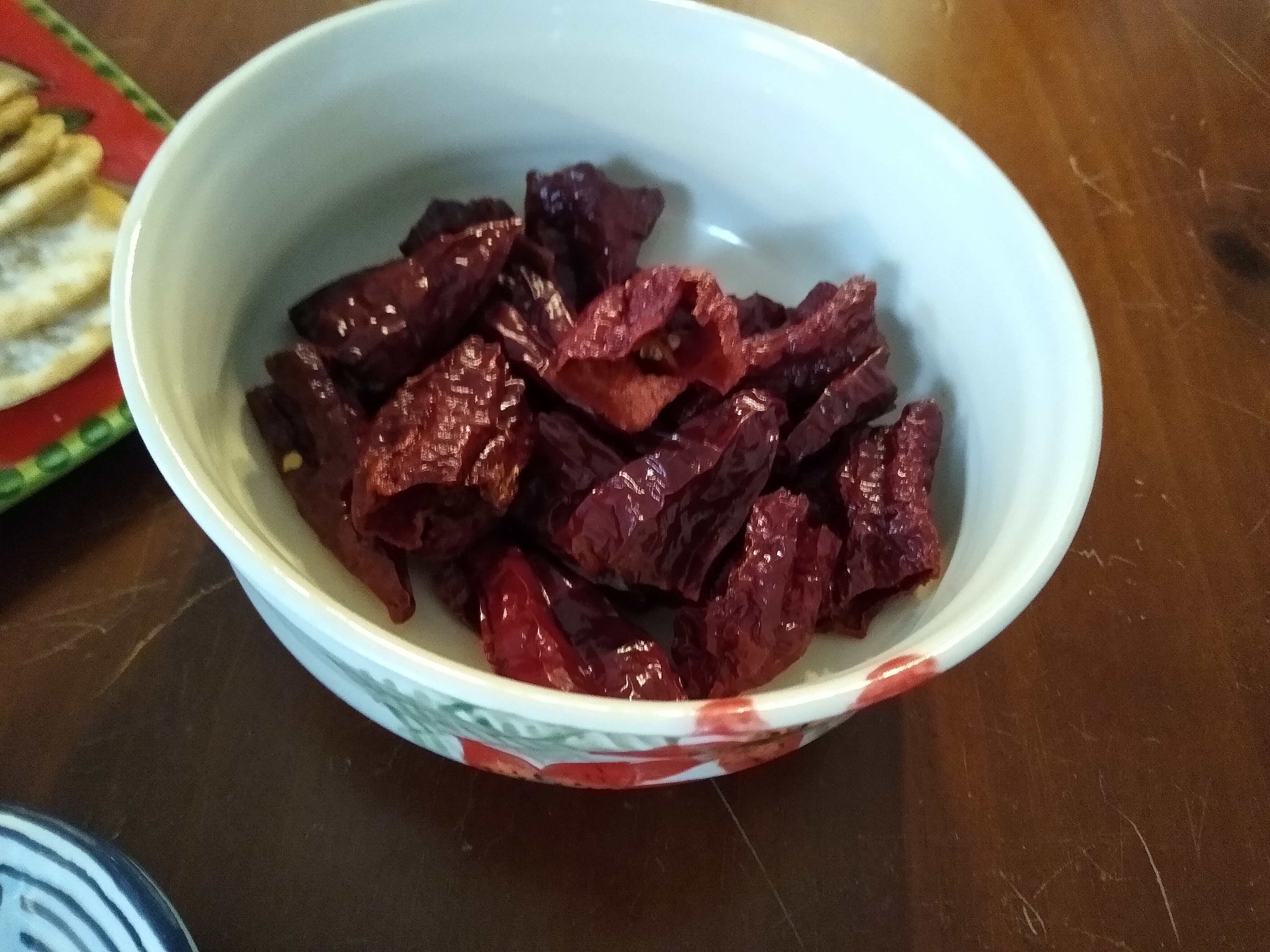 Aperitivo: Limoncello brought back from Campania by John M's son. 
Antipasto: On the platter there's some of the usual fare, plus Luchanico sausage from Basilicata, oil-cured black olives from Sicily, and 'nduja spicy sausage paste from Calabria in the glass sherbet dish. In the bowl are Cruschi, dried red pepper chips from Apulia (I had to order these online). The other sherbet dish next to the crackers has a veggie caponata from Sicily.
Then we moved into the dining room and opened a bottle of chilled Greco di Tufo white wine from Campania.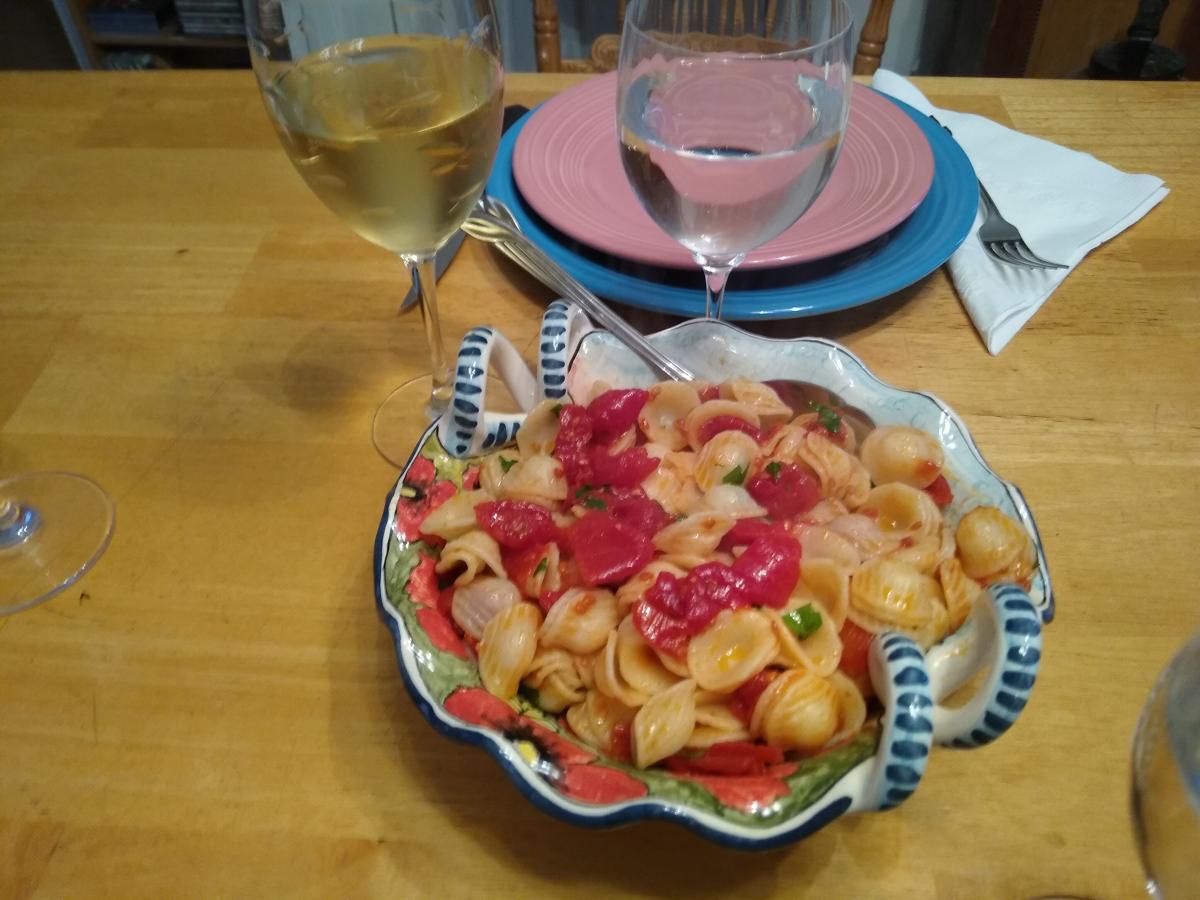 Pasta: The pasta course was Pasta alla Sangiovannino made with orecchiette, a very traditional pasta of Apulia and Basilicata. This recipe uses semi-dried cherry tomatoes. The best Tomatoes are said to come from the fertile soils surrounding Mount Vesuvius, and these cherry tomatoes are air-dried to concentrate their flavor and then packed in oil. The are rare expensive, and wonderful, especially in a dish that lets them star.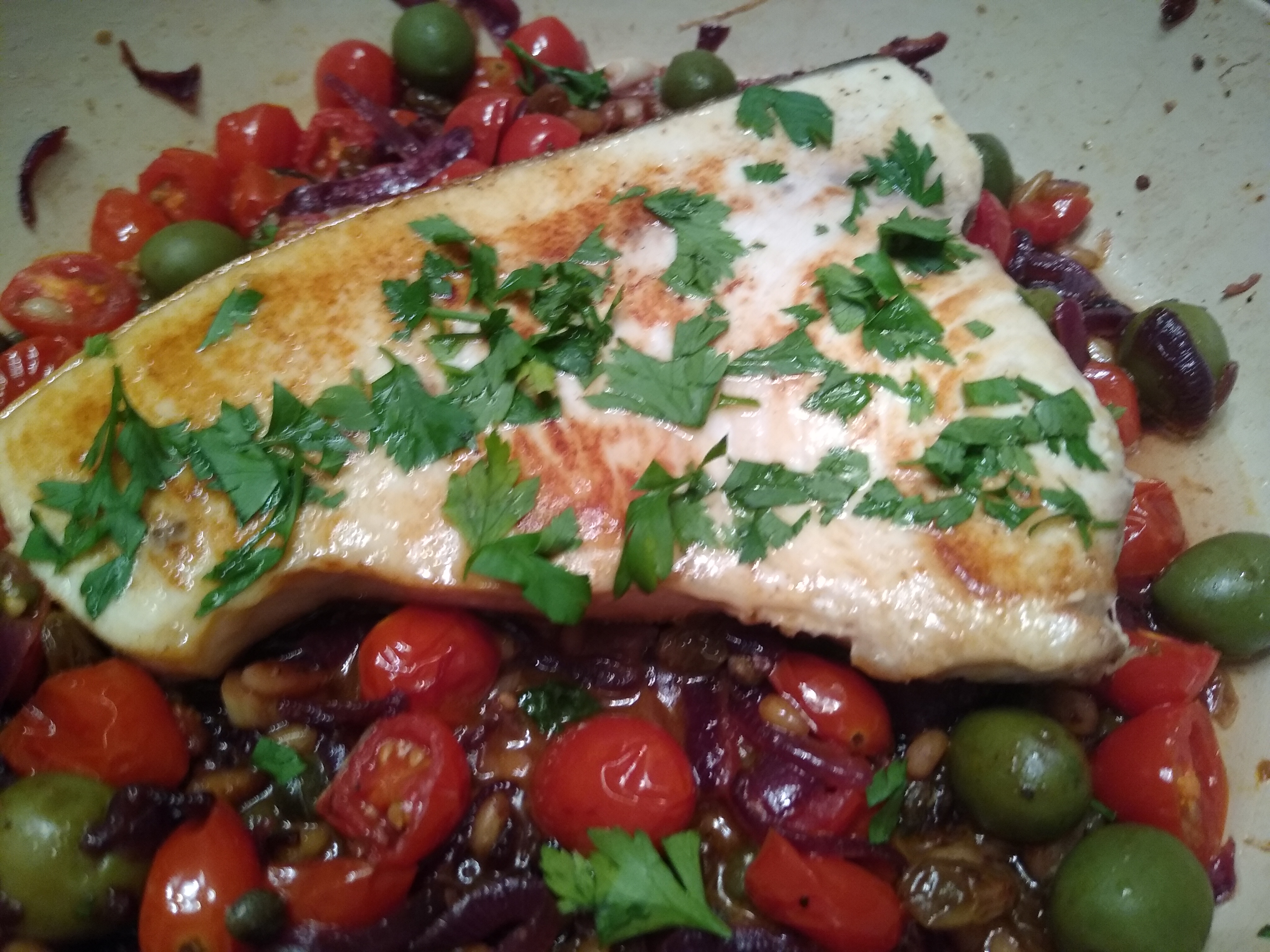 Primo: The first main course was Swordfish alla Ghiotta, a simple Calabrian preparation with some unusual ingredients including regular cherry tomatoes (not the semi-dried ones) from Campania plus green olives, pine nuts, and golden raisins. It's scrumptious!
By this time we were running low on the Greco di Tufo, so I opened an Aglianico red wine from Basilicata.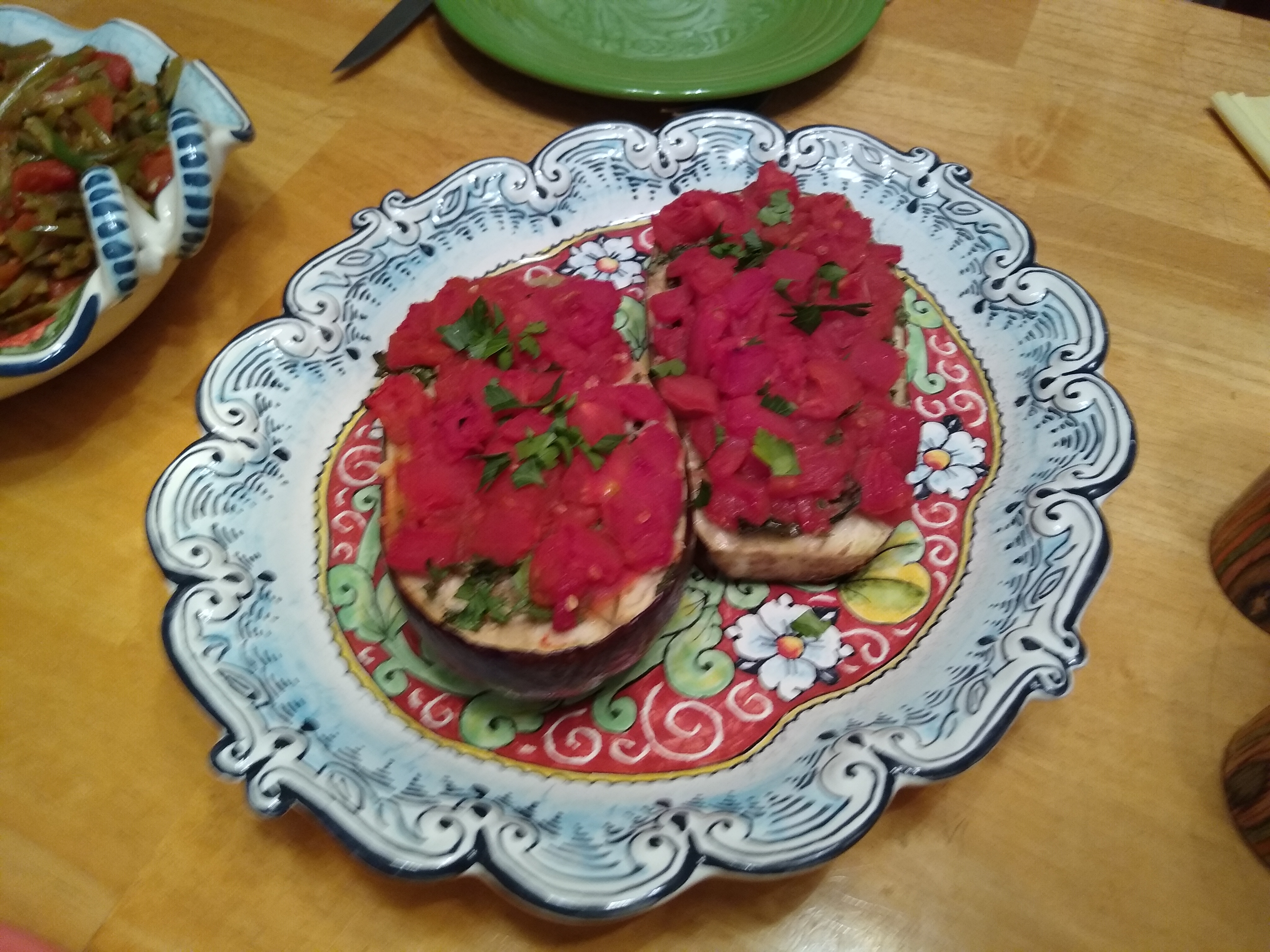 Contorni: We did two vegetable releves, little savory Eggplants baked in the Sardinian Style and Zucchini alla Scapece Napoletana, a peculiar dish of Zucchini with Mint and Vinegar.
Secondo: The meat was the heaviest course of the meal. This was a Falsomagro, or "fake-thin". It's a braciole of lean beef rolled around a fat filling of ground pork, mortadella, and sliced hard-cooked eggs, braised in red wine and tomato sauce. It was really good, and I had leftovers for lunches during the week.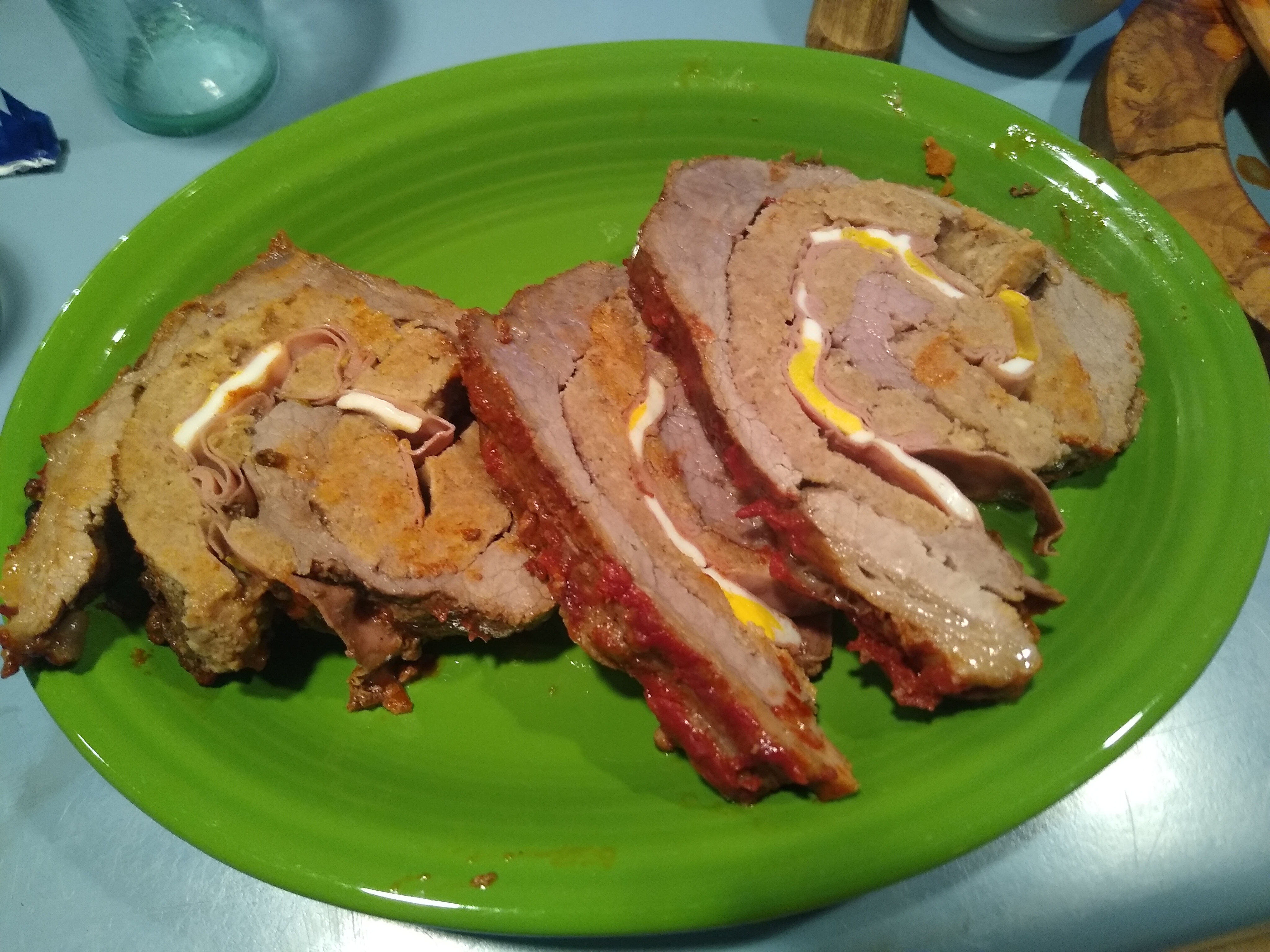 Insalata: A fancy Italian feast lasts for hours, and typically the salad course comes after the heaviest dining is done, to allow a breather before forging ahead. Our insalata was marinated Lampascione. Lampascione are the bulbs of a wild hyacinth that grows in Apulia and Basilicata. They look like little onions, but the taste is not oniony, but more mildly bitter and refreshing. I had to order these online.
We were getting short on wine again, so I opened a Trebbiano d'Abbruzzo dry white wine. Abruzzo is the wrong region for the dinner, but one mustn't run out of wine!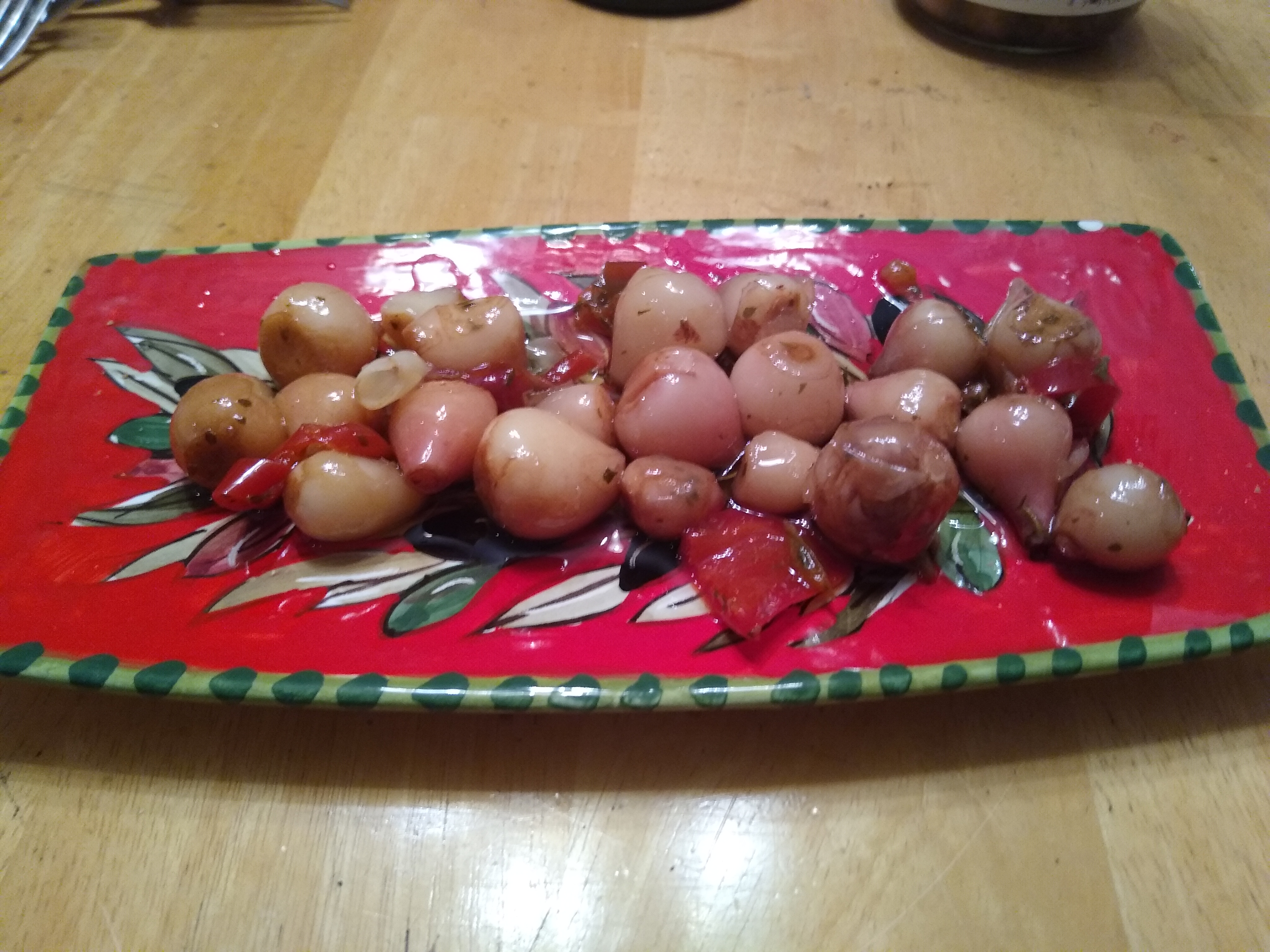 Formaggi e Frutti: Local cheeses and seasonal fruits are the leisurely end of the big dining. Of course, there are fruits available in April in southern Italy that are not at all seasonal in Massachusetts! I did the best I could with a pear, some blackberries, and some figs. The cheeses were served with a drizzle of Campanian chestnut honey and a less sweet vincotto. The cheeses were a Pecorino Sardo from Sardinia, a different pecorino from Sicily, a fresh mozzarella and a Burrata. Burrata, a specialty of Apulia, used to be extremely difficult to get, but now it is made locally. This one was from Peabody, MA! Since burrata is all about freshness, it made sense to buy the fresher local one.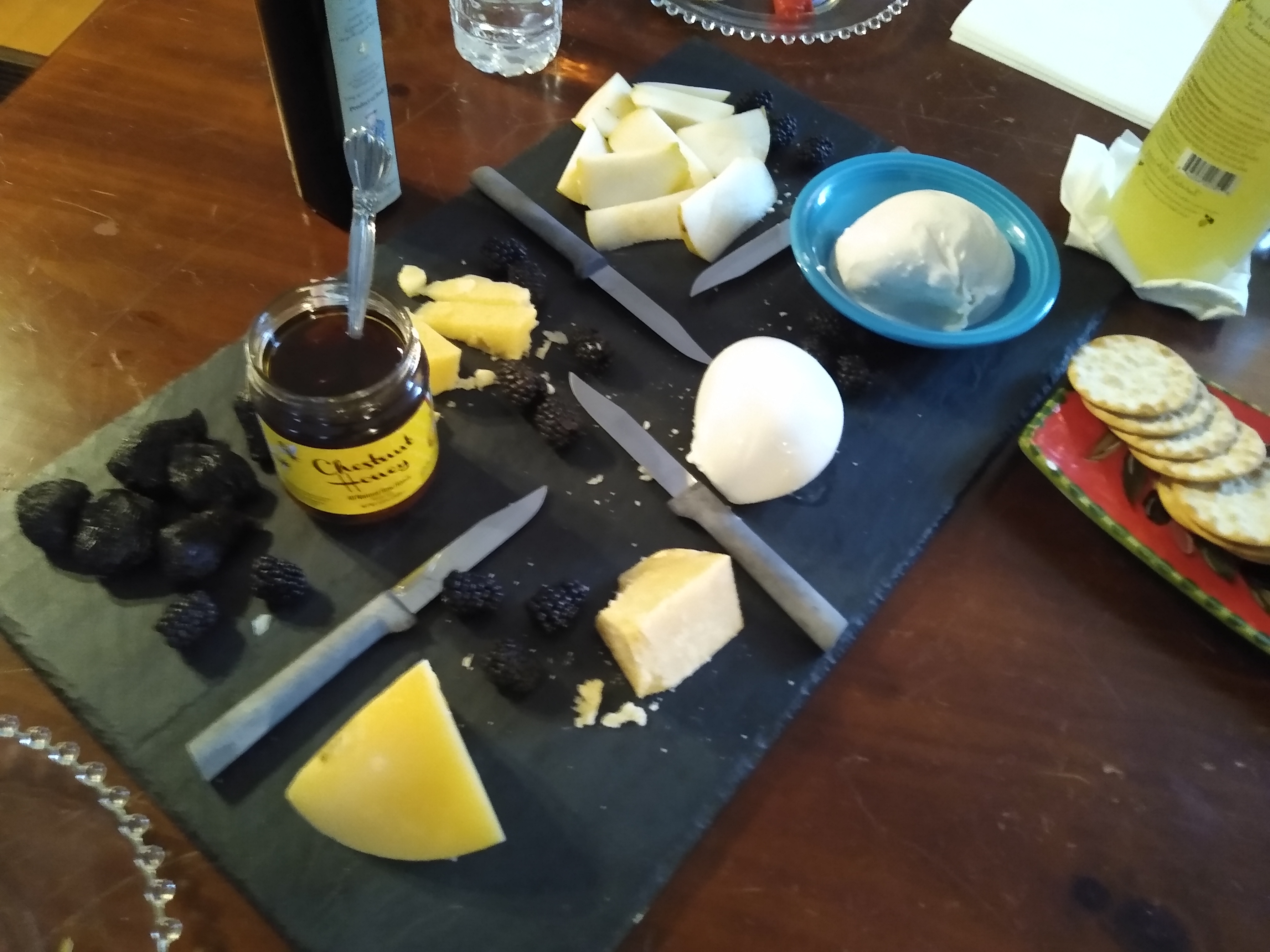 Dolce: The dessert was supposed to be the fabulous traditional Sicilian masterpiece, the Cassata alla Siciliana. That's a project to make, so I ordered it from the celebrated Montilio's Bakery. I explained in detail what to do, but that's not uite what we got. It was a delicious cake, but a Cassata has no espresso and certainly no buttercream! I was disappointed.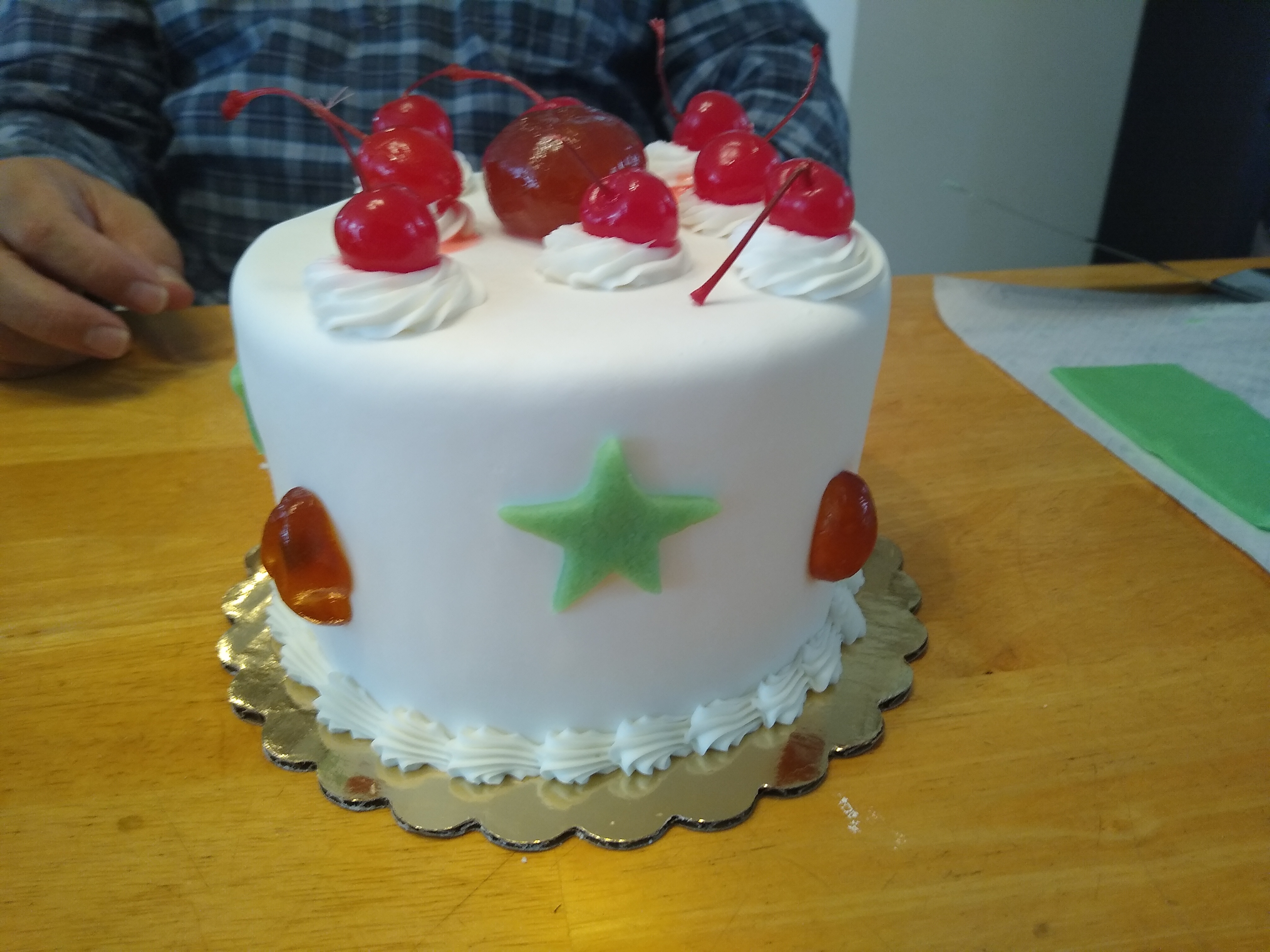 Caffe and Digestivo: Not to end on a down note, we settled our bellies with espresso and the Vecchio Amaro del Capo of Calabria. Amari are bittersweet liqueurs made with secret blends of local herbs, in this case 29 herbs from the Calabrian hillsides.
That was a fine feast indeed!