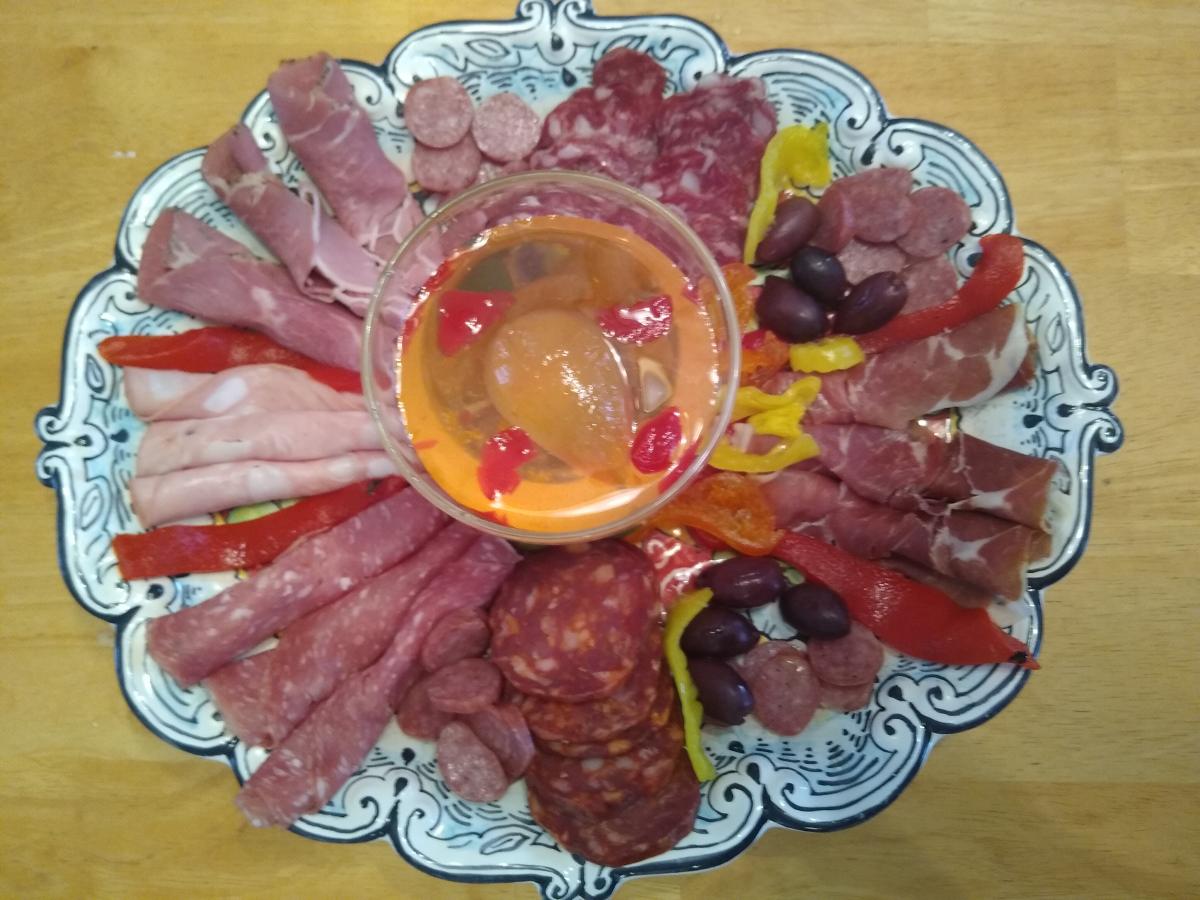 I described in Italy All-Star Feast: The South how a blog about New England food and drink came to focus temporarily on Italian traditional cuisine, wrapping it up with a trio of all-star feasts exploring the 20 provinces of that ancient foodie culture. This was a tricky one, as I had to squeeze in eight provinces, each with long and distinct culinary traditions!
For the Northern Italy feast, I included the big provinces of Piedmont, Lombardy, Veneto, and Emilia-Romagna, plus the smaller Alpine border provinces of Val d'Aosta (on the French/Swiss border), Trentino-Alto Adige (Austria), Friuli -Venezia-Giulia (Slovenia), and little coastal Liguria, home of Genoa. Our companions were our old friends David and Diane Peck. Here's how we did it:
Aperitivo: Bellini Cocktail and Aperol Spritz, both Venetian classics, and the spritz is popular everywhere in the north. Those in this photo were not the ones at our dinner; we enjoyed them in Venice in 2018. The Aperol Spritz was the favorite at our event as well, but that may be partially because the Bellini requires peach puree and peaches are out of season in Massachusetts in early May so I had to use frozen peaches.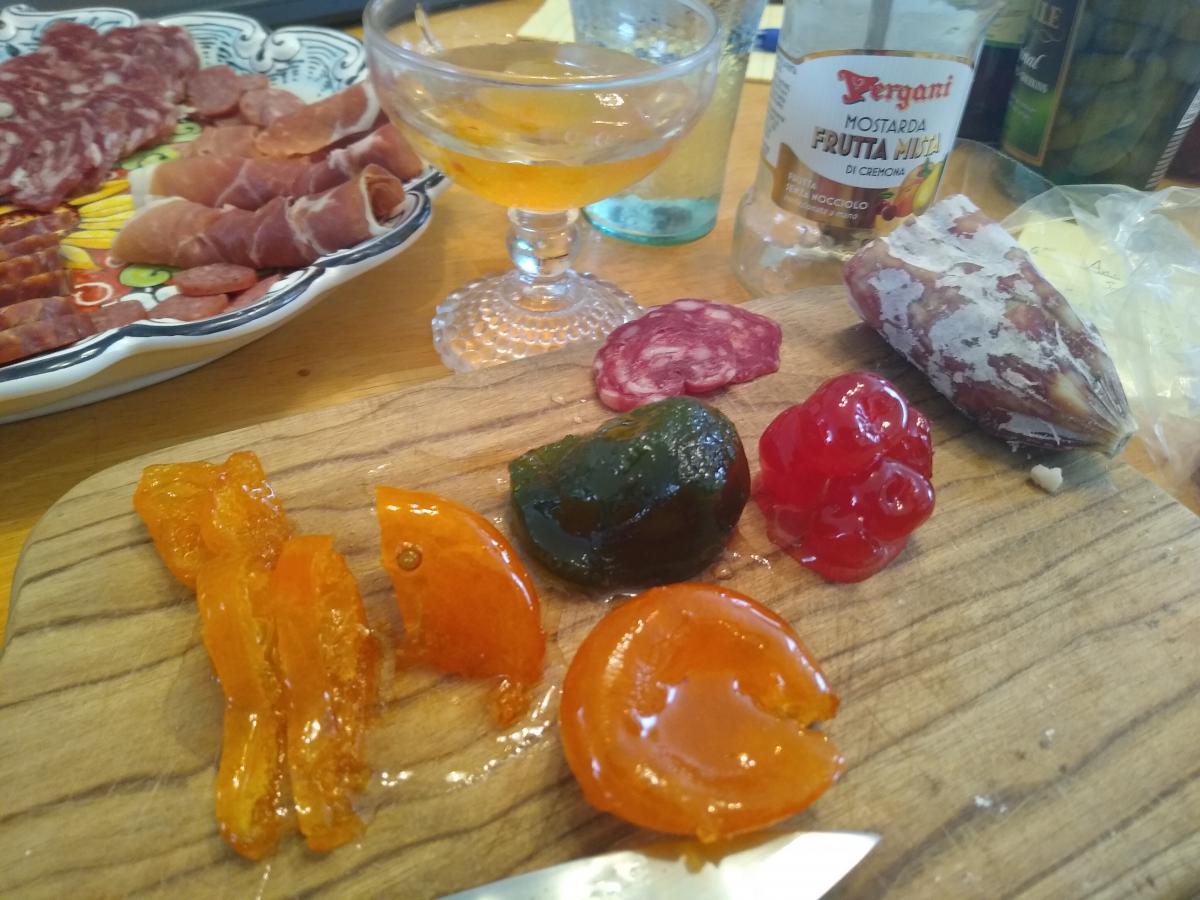 Antipasto: In the photo at the top of this page, on the platter there's olives, roasted red peppers, and pickled yellow peppers, plus Prosciutto from Parma, Mortadella from Bologna, Coppa, Salami, hot and sweet Soppressata, and a little finocchiona for salumi and in the center is a dish of Mostarda di Cremona, a tangy-sweet accompaniment for salumi made from grape must and in which are perfect little preserved fruits. Cremona (home of Stradivarius), like most of what's on the platter, is in Emilia-Romagna, the fertile agricultural breadbasket of northern Italy.
With the Antipasto we had two very different Lambruscos from near Modena, one more sweet and still and the other drier and spumante. You can read all about Lambrusco in A Feast of Parma, in which we sampled six very different Lambruscos.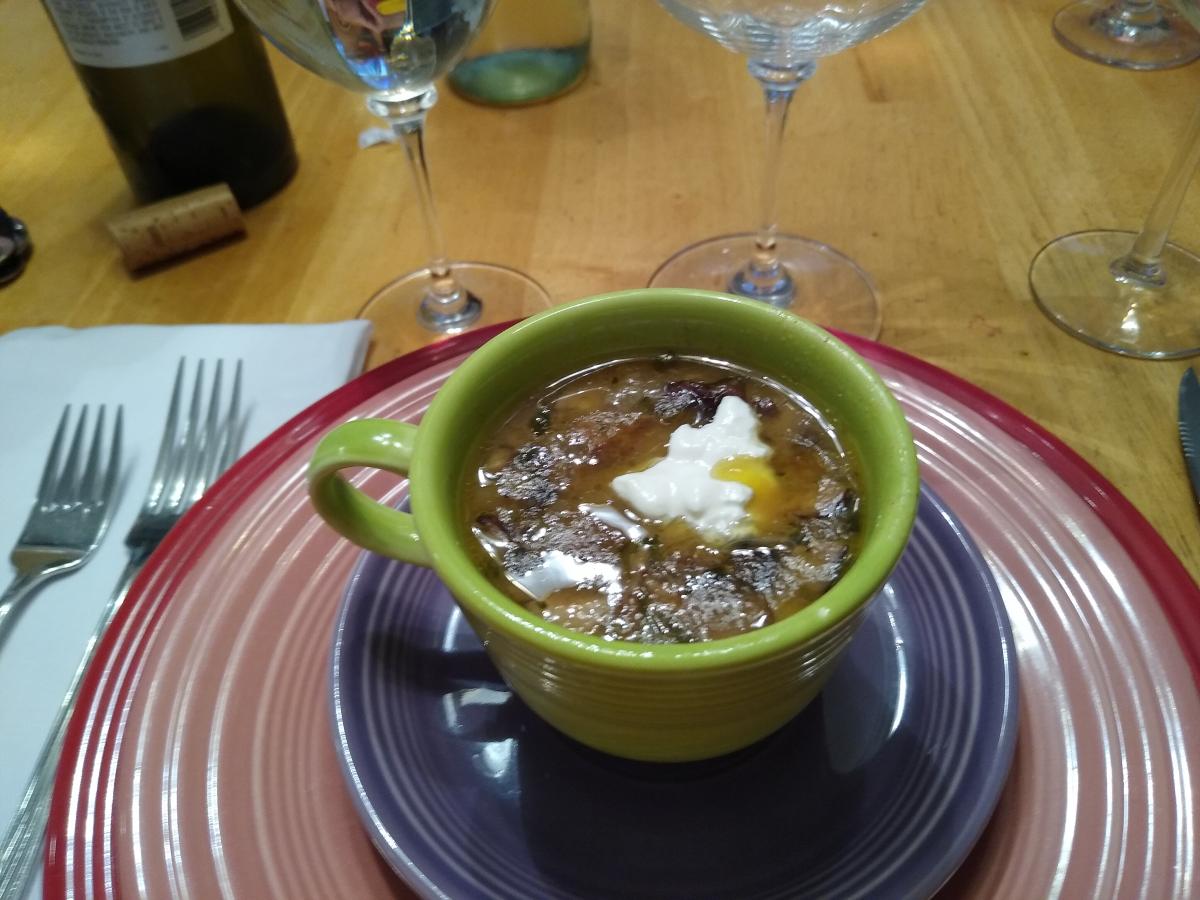 Zuppa: We didn't really need a soup course between the Antipasto and the Pasta, but I was trying to represent eight different provinces, so Trentino-Alto Adige, on the Austrian border, was represented by the Schwammersuppe, a mushroom soup that shows its Austrian roots by its name and by the dollop of sour cream plopped into the hot soup. This was made with a variety of fresh mushrooms chopped and sauteed, and then mixed into a vegetable broth fortified with the soaking liquid from some earthy dried porcinis.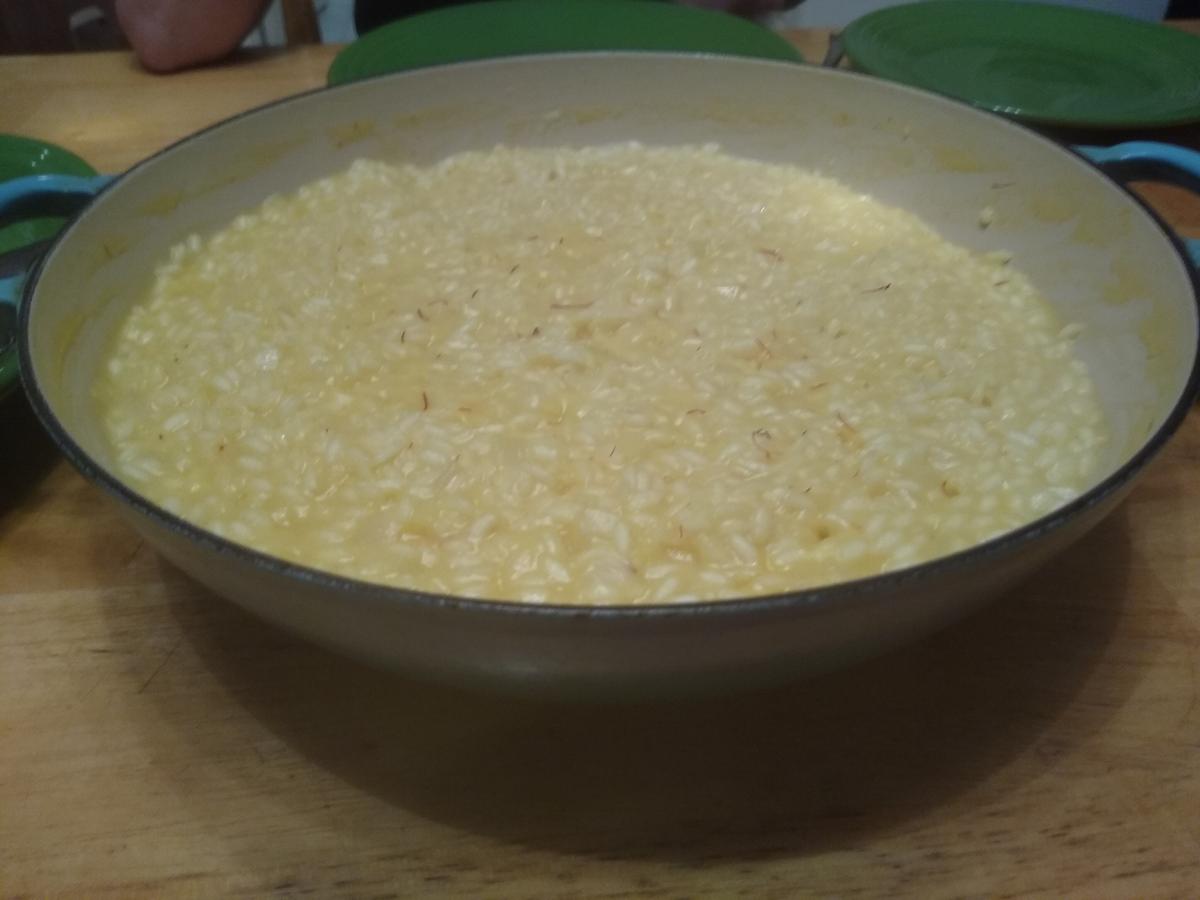 Pasta: Then we moved into the dining room and opened a bottle of chilled Pinot Grigio from Friuli and a Colli Gialla to enjoy with the pasta course, the primo, and the contorni. The pasta course was not pasta at all; the north more often has risotto or some other form of rice in the lowlands and polenta in the mountain areas. For this feast we had the decadent golden Risotto Milanese.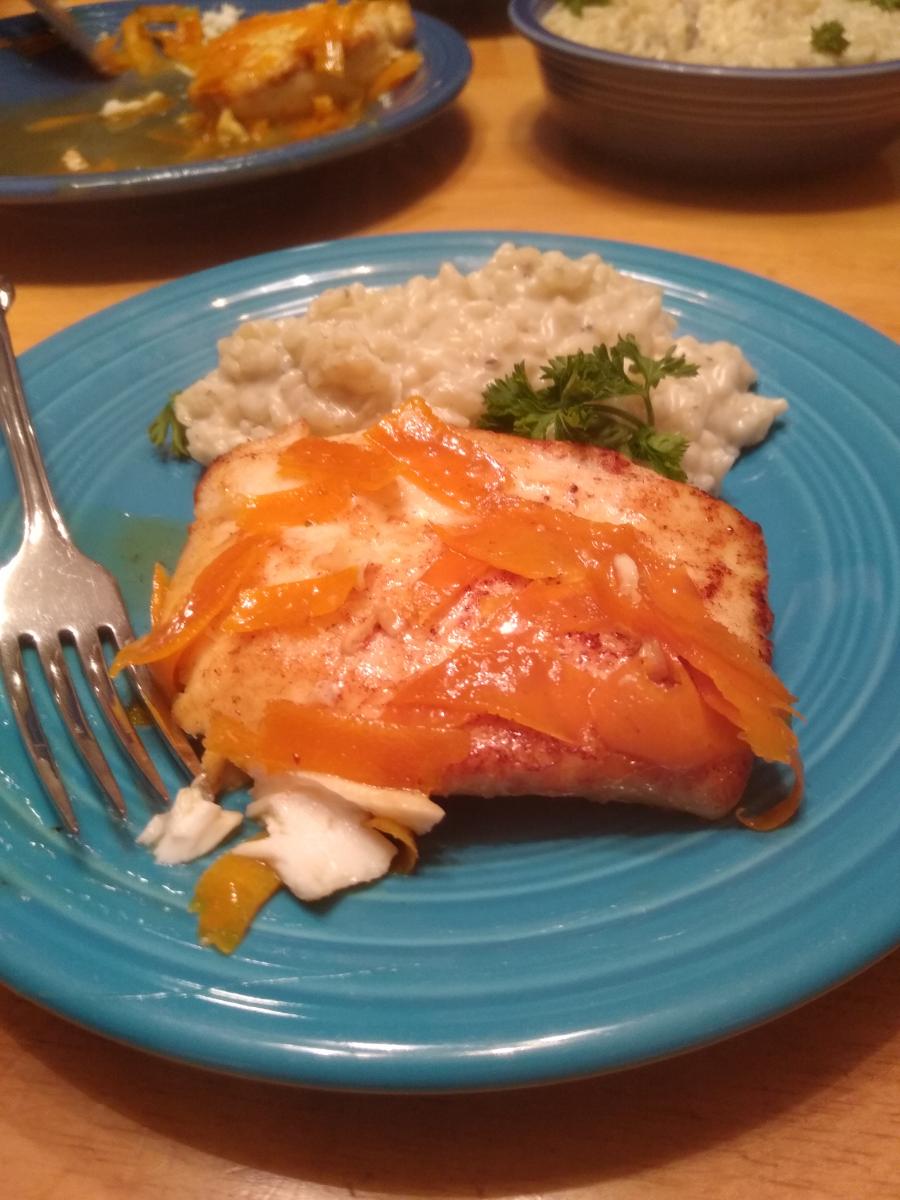 Primo: This being a large feast, the primo was a fish dish, to be followed a little while later by a beefy secondo course.
For the fish we had Halibut in an Orange Sauce, a dish that you might find in the gastronomically diverse and exciting city of Genoa (except that in Genoa the fish would be the local Turbot instead of the similar North Atlantic Halibut, which cooks about the same way). It's interesting to note that Venice also has many interesting seafood recipes, but in the city of canals it's shellfish that dominate, while fin-fish star in the deep-water port city of Genoa. This dish is simply pieces of halibut seared over high heat and dressed with a sauce of reduced orange juice with a little sugar and the orange zest.
Contorni: We were pacing ourselves, and now was time to relax with an interesting but not over-heavy vegetable dish: Genoese Spinach. Like Venice, Genoa profited from centuries dominating Mediterranean shipping, and had ready access to ingredients from the Near East long before the New World was discovered. This recipe includes golden raisins, which appear in many northern Italian recipes today. With this dish we opened a Valpolicella Ripasso from western Veneto near Verona.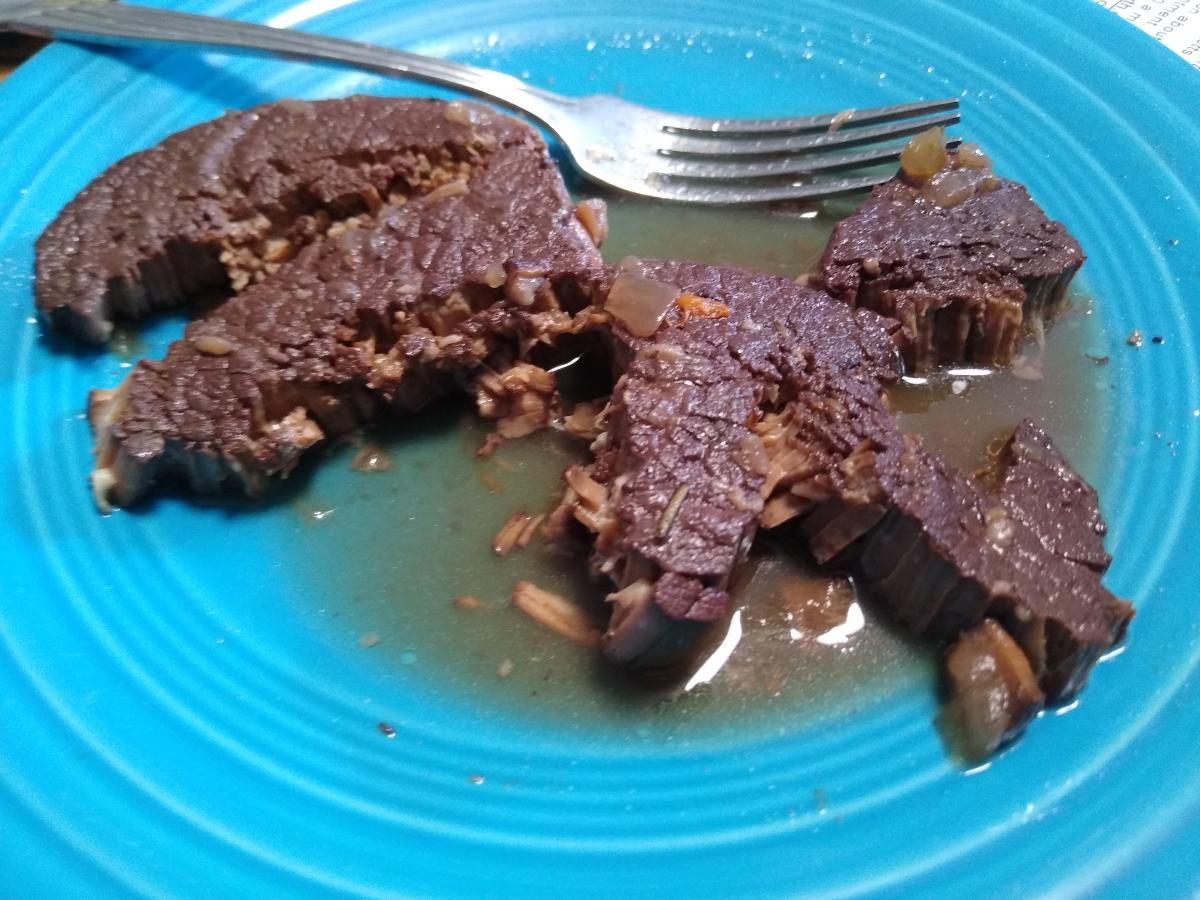 Secondo: For the beef course we poured a fine Barolo, the classic big red of the Piedmont region in the northwest. The main dish was Brasato in Barolo, or beef braised in Barolo, an expensive and delicious dish in which the beef had braised in an earthenware daubiere on the back burner for 6 hours to perfect fork-tenderness. The daubiere is a class of earthenware pot, taller than it is wide, designed for just this sort of slow, wet braising. I got this one at the Continental Market, a Portuguese shop in New Bedford, but you can sometimes find more expensive versions online.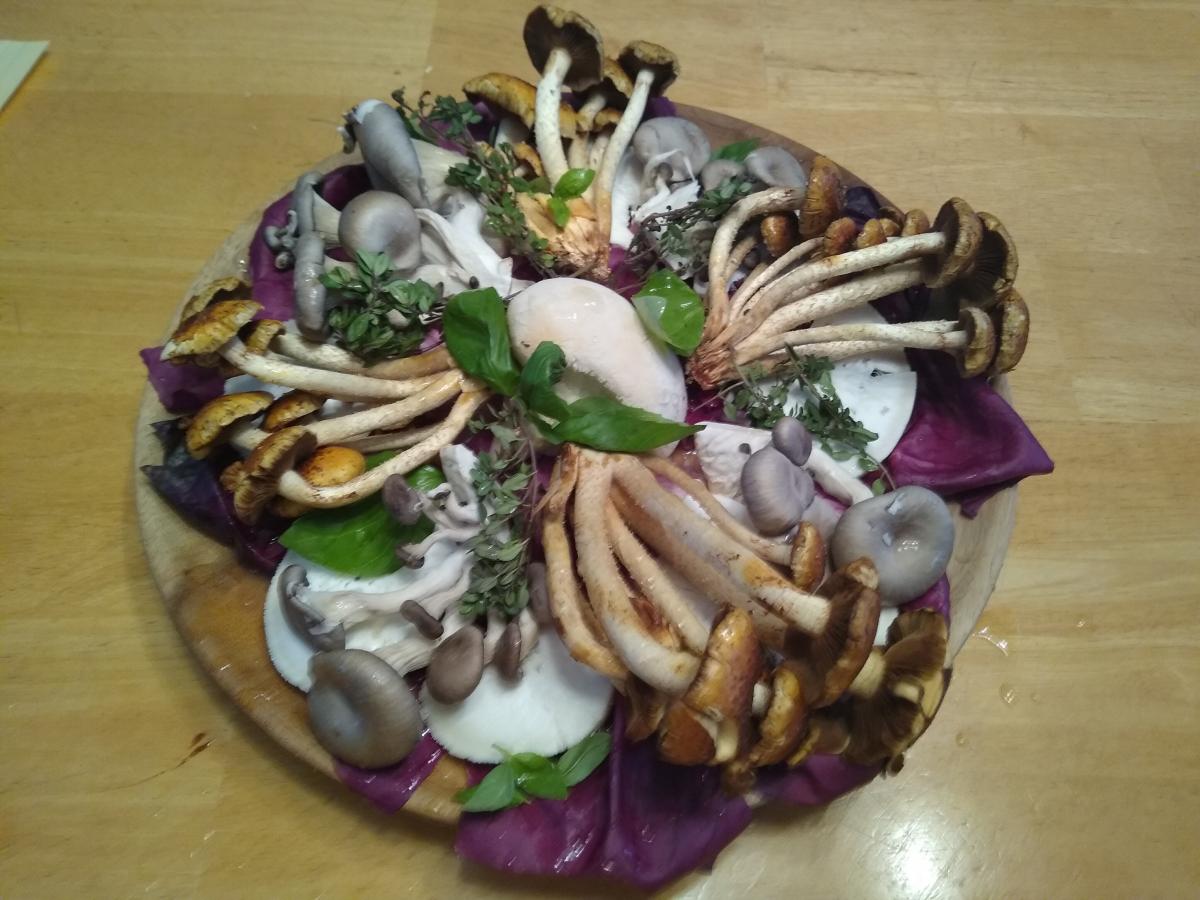 Insalata: An Insalata di Funghi gave us another breather while we finished up the Barolo. The beautiful mushrooms came from Golden Harvest Produce in Kittery, Maine: Chestnut, Lion's Mane, Oyster, and Crimini. These were accompanied by various fresh herbs and drizzled with the juice of half a lemon, but no oil. The salad was served on a bed of fresh bitter radicchio leaves. Mushrooms are very widely used in Piedmont and all the other mountainous regions of Italy.
Formaggi e Frutti: There are a great many cheeses made in northern Italy. We had a creamy gorgonzola dolce, a soft Robiola the usual way and another wrapped in leek leaves, a hard Grana Padano and very good Parmigiano-Reggiano, a Piave Vecchio, a stinky Taleggio, and a truffle cheese from Lombardy. These were accompanied by the clementines and a kiwi from the Mostarda, a vincotto, and some excellent Balsamic Vinegar made in the old way in Modena. This is where we finished up the Barolo and the Valpolicella Ripasso. Unfortunately I forgot to photograph it!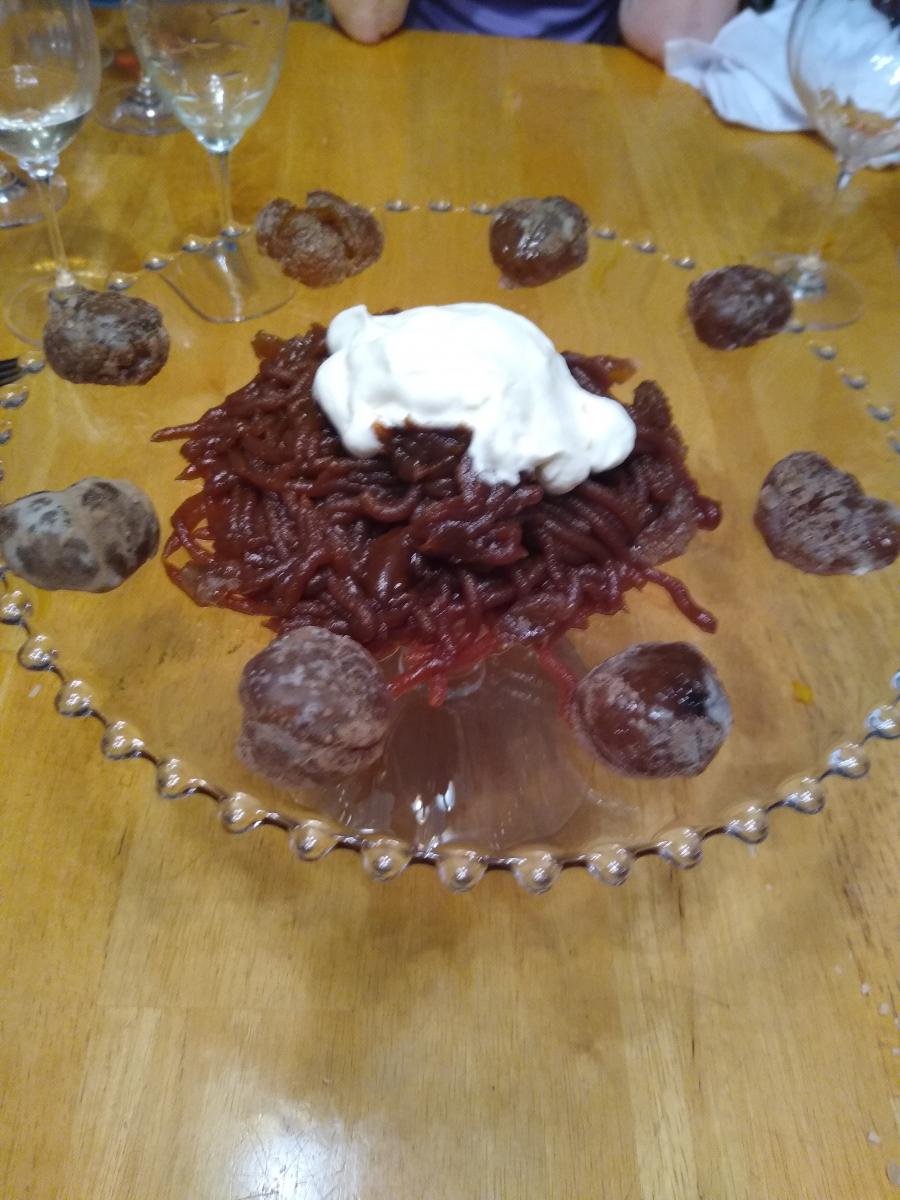 Dolce: For the dessert we had a rather hastily-assembled Mont Blanc, which is a mound of sweetened chestnut puree topped with whipped cream, to resemble its eponymous Alpine neighbor. This recipe has its roots in Val d'Aosta and Piedmont, where chestnuts feature prominently in local cuisine. We surrounded it with Marrons Glace, a fabulous Renaissance-era confection of candied chestnuts. 
Digestivo: By the end of the feast, a digestivo was certainly in order. This important function was handled by Amaro Nonnino from the mountains east of Venice.