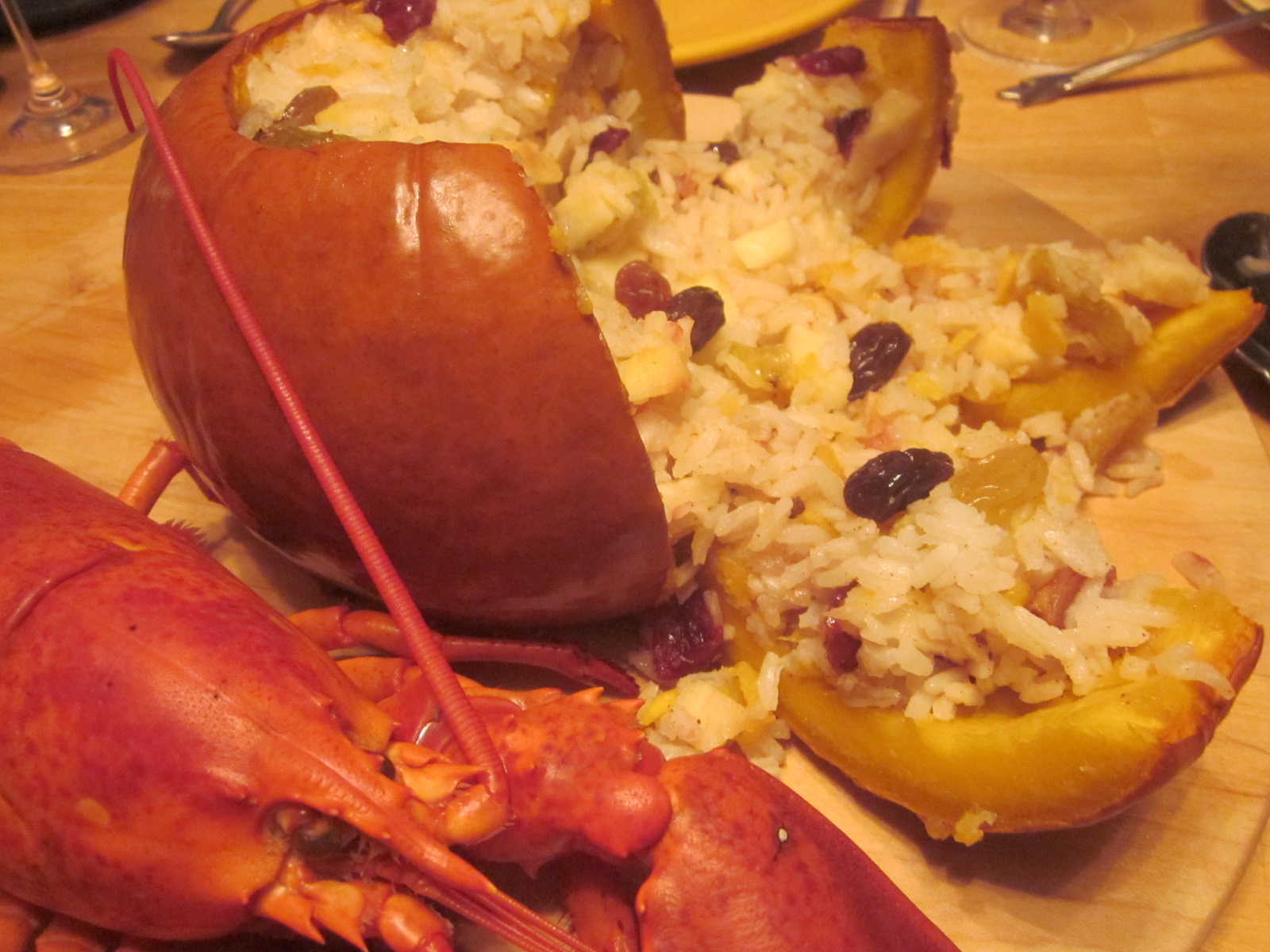 We had an excellent feast to welcome autumn 2012! This year was a real surprise - our discoveries hit home runs on every front. That is not hyperbole; this was a really great dinner.
Every year I am so glad when the fall comes and I can cook all the great harvest goodies. This year I already knew what I wanted to make ever since the Mass. Brewers Fest in late August.  There I got to try the Brut from Enlightenment Ales and I knew what I had to serve with it when the time came.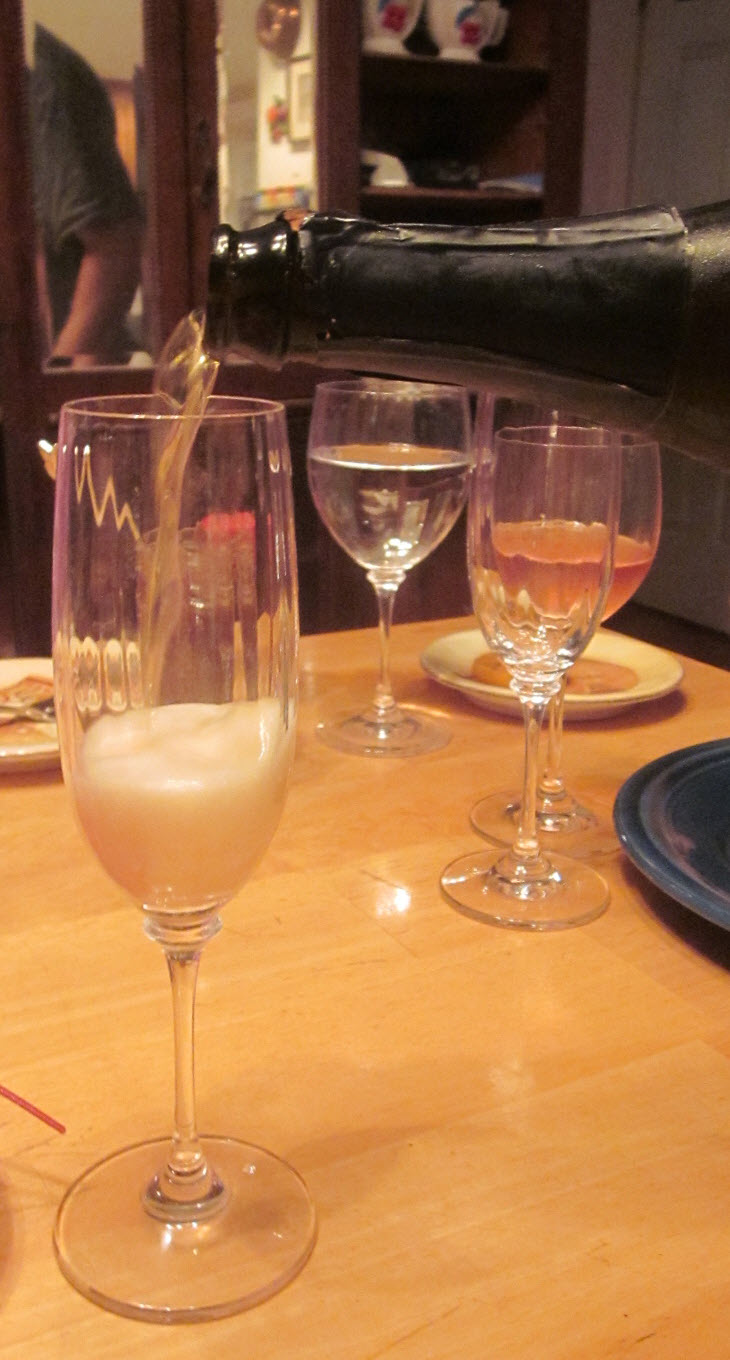 I have been pairing foods with beers from New England Craft Brewers for some months now, and this planned pairing really excited me. I am glad to say it worked out very well.
Enlightenment Ales makes Biere de Champagne, an exciting new style of beer that has the celebratory effect of champagne, the dry seriousness of fine wine, and the accessibility of craft beer. The Brut is effervescent and dry, but hoppy-herby in a way that wakes up spices and complements mild flavors without overpowering them.
This feast would be a great menu for vegetarians for a Thanksgiving feast. So often the vegetarians among us are second-class citizens on "Turkey Day". Here's a way to make them feel like a part of a celebration that includes them, too. After all, I am more thankful for my vegetarian niece than I am for the turkey!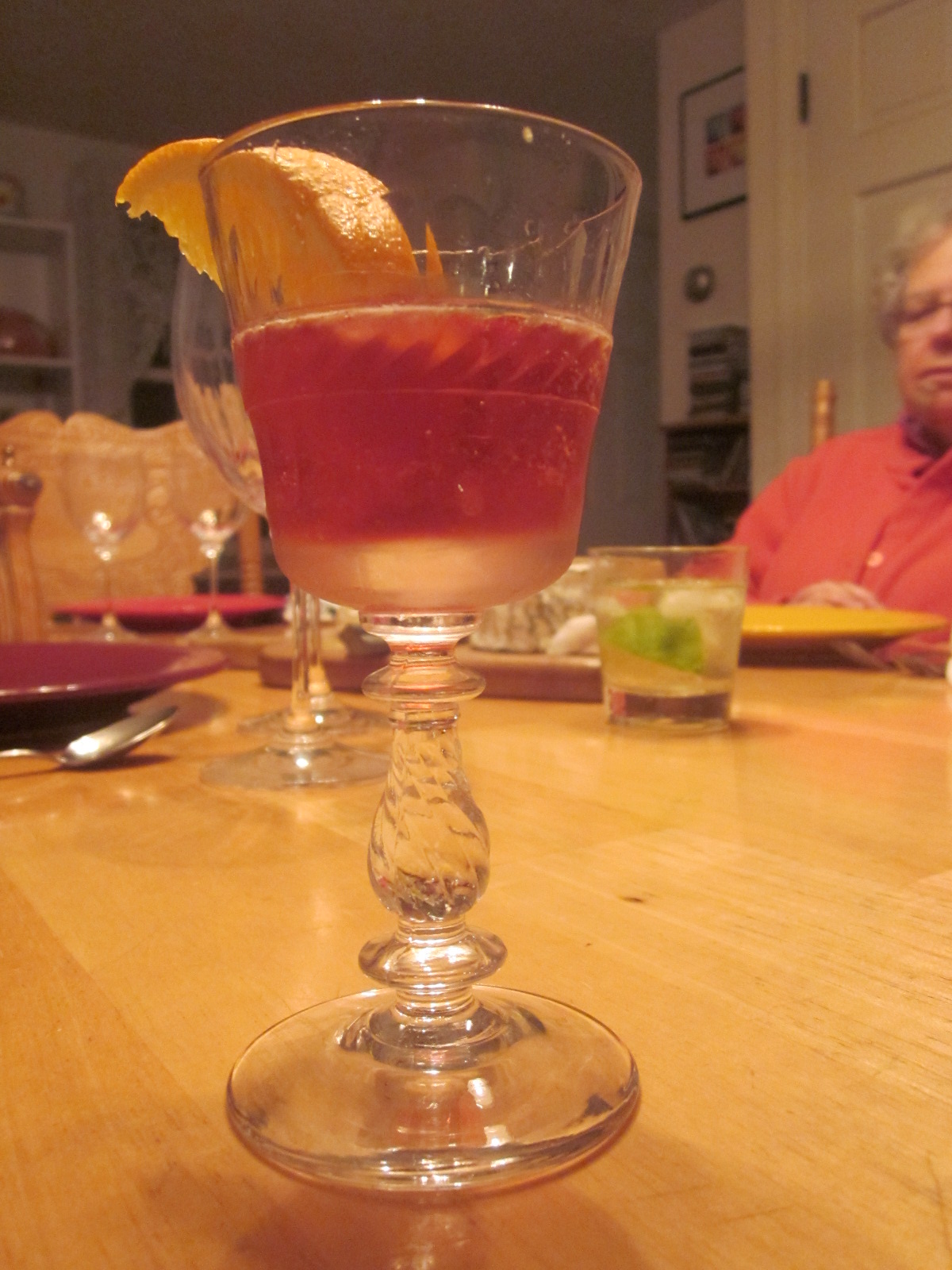 Here's what we had:
Richmond and Annette arrived early so we had the chance to do some serious research on the newest of our Artisanal Gins made in New England - Annette had a Negroni, Richmond a Gimlet, and I a Monkey Gland, all made our usual way with the new Smugglers' Notch Gin.  The gin is reported on that page just linked, but the bottom line is that Smugglers' Notch produces a fine London dry style gin that paired well with each of those classic cocktails.
A Citizen Cider bRose, from Essex, Vermont. The bRose (that's not a misspelling) is a blueberry Rose-style cider, and a perfect foil to all these many autumn flavors. It was brilliant with the goat cheeses, and it was still great with the soup and the pumpkin. It's beautiful in the glass, too. I would gladly serve this at any Thanksgiving feast. Even Richmond, who never met a hard cider that he liked, avowed that he enjoyed it and would drink it again. This is worth seeking out for holiday meals that involve turkey, ham, or pork.   
Then we had a trio of Vermont goat cheeses that I got at the Onion River Coop/City Market in Burlington. In the photo, the far right is Lazy Lady Marbarella, and the other two are from Doe's Leap Farm. I will detail those on their own page. The exciting thing: of three cheeses, Richmond, Annette, and I each had a different favorite and Lorna finally declared a Best of Show.
A Farmhouse Rich Autumn Soup enlivened with a splash of good apple cider vinegar. I got the basic recipe online but doctored it considerably, making it vegetarian and adding some complexity with pumpkin puree.
Somewhere in here we switched over to drinking the Enlightenment Brut
The Stuffed Pumpkin - wow! This was accompanied by three boiled lobsters for those of us who craved protein but in my opinion they were not needed for this menu. Here you see a cutaway view of the pumpkin showing the way it is filled with rice, raisins, apples, and cranberries.
We supplemented the pumpkin with Brussels sprouts with onion, apple, and walnuts. I just sort of made that one up as I went along.
We planned to finish with a Tarte Tatin (doing the French thing in honor of the Biere de Champagne) but then...
I couldn't help it. I was so damned excited to have the Heady Topper that I opened up a can to pass around. What a mind-blowing brew! It really was a fitting finish to a stellar dinner.