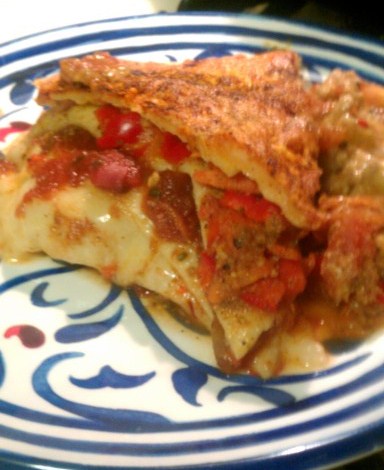 The title of this post is Christmas Mexican Lasagna. Why would I call this Christmas Mexican Lasagna?
Christine and I are experiencing our first married Christmas together. In just a few short weeks we will be heading out on our postponed honeymoon. Between Christmas and the upcoming honeymoon vacation we are working at hoarding some extra money for gifts and our travel plans.
Like most people, we put stuff in the freezer and forget it. It is so easy to do! We are looking for ways to not spend money so I decided to go Freezer Diving. There is a lot of really "cool stuff" in there that really should be used up.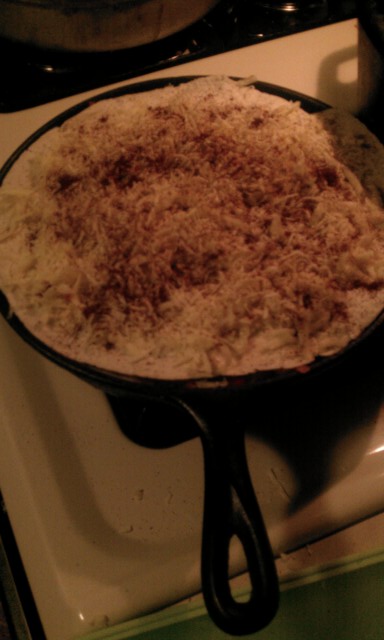 I found a pound of ground turkey sitting in there. What do you do with ground turkey?
Christine likes ground turkey and I find it very bland. We could spice it up with a chipotle rub and make burgers, mix it with some stuff and make turkey meatloaf but I have done that and still find it very bland. It is not really exciting.
Mexican Lasagna came to mind. I had heard of it in the past and made it with ground beef but this time all I had was turkey, so I found the turkey and looked around for other ingredients. I found a couple of partially used salsa jars, half used onions, some red bell peppers, a couple of tomatoes, a can of black beans that has been in the cabinet for quite some time, and some used blocks of cheese. I bought burrito shells for $2.00 at "not the Stop & Shop" (I don't like that store).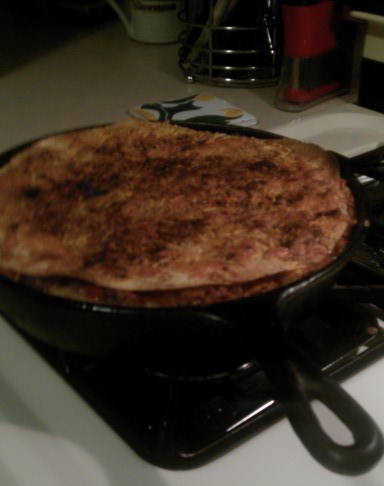 Now I have not only supper but a few meals as leftovers or if anyone wants to come over I will share. Of course, if you don't have a freezer that holds some interesting surprises you can go out and get all of these ingredients and make an inexpensive meal. Here is what I did.
Ingredients:
1 lb Ground Turkey (you got some frozen stuff? How about some leftover roasted chicken? Shred it)
50 Cloves of Garlic
About 1-1/2 Cups of Salsa (mix those almost finished jars you have on the fridge shelf)
Cajun Spice (you know that jar of spice your friend brought over for the cook out last year?) (or you know those half used jars of mixed spice and rubs you have on the shelf that you promised yourself you would use one day? Mix them together)
Cumin
3 plum tomatoes 
1 medium red bell pepper (do you have Poblanos? I love Poblano peppers and would gladly swap for the red bell peppers.)
1 medium onion (or scallions or green onions will do – go for onion flavor, mix them up, use them up)
8 – 12 oz cheese (there are always 2 or 3 open bags of shredded cheese or small blocks of cheese waiting to get used. Mix them up and use them up)
1 15.5 oz can of beans (black beans, kidney beans, cranberry beans, find a can of beans way in the back of the cabinet shelf, you know they are there) (BUT: please don't use B&M or Bush's baked beans!)
8 Burrito Shells or Taco Shells, enough to create the layers
2 Tblspn Butter  & 2 Tblspn All Purpose Flour  with
1 – 2 Cups Stock (I make my own smoked turkey stock and chicken stock)
Now the fun part!
Preheat the oven to 400°
Make a roux with the butter and flour. Melt the butter and add the flour whisking to make a paste. Slowly add stock whisking until mixed with no lumps. Now you have gravy.
Heat some oil in a skillet and brown the turkey or other meat. While browning, add salt and pepper to taste. Add some of the almost used jars of spice, to taste (don't be scared!). Stir in a pinch or two of red pepper flakes. I add some cumin too. Add garlic and sauté for about 1 minute.
When the meat is browned add the gravy.
Chop the tomatoes into 3/8" dice, chop onions and peppers.
Mix these together on your cutting board. Add salt & pepper to taste and add some old seasoning and cumin to this and mix together.
If you have blocks of cheese, shred the cheese about 2 cups or more.
Rinse the can of beans in a strainer.
Now it's time to assemble.
Place a layer of burrito/taco shells on the bottom of a black iron skillet. Cut to fit with a slight overlap. Add the meat and gravy. Add another layer cutting shells to fit. Add Salsa. Layer Shells. Add cheese, layer shells. Add rinsed beans then add the tomato, onion, seasoning mix. Layer shells. Add a light layer of shredded cheese. Here is where I grab that 1" block of Parmesan cheese and grate it on top. Add a dusting of chili powder, chipotle powder, or cayenne, or a mix of all three.
Bake for 30 minutes or until bubbly and browned on top.
Remove from the oven and let rest for 10 minutes.
Serve hot in pie-like wedges.
On top, add a dollop of that open container of sour cream, left over guacamole or even more salsa in that other jar you found in the fridge.
Make it your own.
This is a lot like soup or making stock. Use up the leftover ingredients you have. Adding the beans, cumin, chili powder and seasoning with the burrito/taco shells will make it Mexican.
It sounds like a lot of work, but it took me 1 hour from fridge to table. While this was cooking in the oven, I was able to clean the prep area, drink a beer and post pictures to Facebook.
Enjoy!