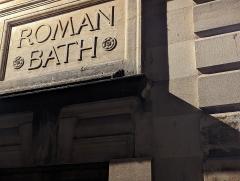 On Saturday morning we explored Bath's famous ancient Roman baths and took a drive to see some more of its celebrated Georgian architecture, and then set out motoring again to see Avebury and the Cotswolds, finishing up the day at William Shakespeare's hometown, Stratford-upon-Avon.
It was not a bright blue-sky day, but it was not raining and most of the driving was in open countryside so it was a pretty fun, low-stress day of adventuring on nice roads with fine scenery. Lorna and I both get great entertainment from seeing local agricultural country, the people, the markets, the diners, and everything else that makes these little rural towns work.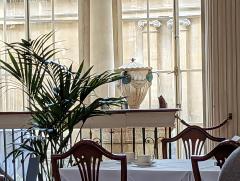 We started the day with a fine brunch at the sumptuous Pump Room restaurant before going next door to see the Roman Bath complex. The restaurant also offers an elegant tea in the afternoon, but we really wanted to see a few other things before we got to Stratford-upon-Avon so we could not wait for that. The brunch was excellent. It's not a huge menu, but they are happy to make substitutions for pescavores (Lorna) and vegetarians (Melissa). We were all happy with the food and the service, and of course the beautiful dining room was a suitably Georgian place to get our motors started for the day.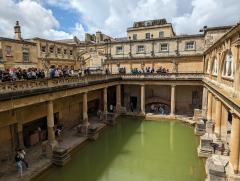 The Roman Bath complex is almost two thousand years old, built in 60 AD while England was a busy colony of the Roman Empire and Bath was an important commercial center. It's extensive and well-preserved, and the complex includes a museum with hundreds of artifacts. The bath itself is a marvel of Roman engineering, built from a natural spring (seen as a sacred site in Roman times) and enhanced with subterranean plumbing and passages, specialist rooms (the hot caldarium, the tepidarium, and finally the frigidarium to cool down in) and other rooms. For the Roman citizens, going to the bath was a social event and business was often transacted here too. This was no quick shower before work, it was a half-day affair!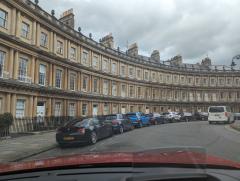 Bath has been famous as a vacation spot for three hundred years. Jane Austen wrote about the Georgian aristocracy coming to Bath to see and be seen, and it's still a beautiful setting just to be in. Many buildings and parks were designed by the most famous architects of the day, built to grand scale for both public and private use, and they are maintained in excellent condition and adapted to modern use. The Bath Circus, shown here, is on a hill adjacent to downtown. It has its concave side facing the busy downtown area, and its other side faces out over the lower city, with gardens within and agricultural countryside beyond.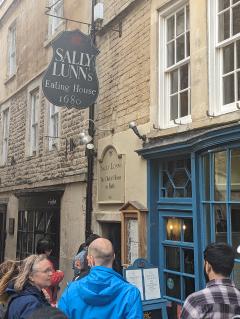 I tried to get into the old and famous Sally Lunn's bake shop, but there was always a long line out the door. Sally Lunn came to Bath in 1680 with a recipe for a sweet bread that became a sensation. The place has been in business for almost 350 years and from the look of those lines, it has another 350 to go. You can find many recipes for Sally Lunn bread online (and there's a delicious version in James Beard's Beard on Bread), but they say that the original recipe remains a secret even after all these generations. I wanted to try it fresh for myself, so I could then try a few recipes and select the one that I thought most authentic, but then I realized that they themselves could not be making the exact same recipe after all these years; after three centuries of agricultural advances, the eggs are bigger, the milk and butter are different, even the types of wheat and the way it's milled are different. The same challenges that come with replicating Pilgrim and Colonial New England cooking apply also in Merry Olde England.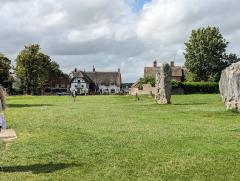 We eventually extricated ourselves from the charms of Bath and set out driving. Our next stop was the less-known but wonderful Avebury Henge, about an hour east of Bath in the North Wessex Downs Area of Outstanding Natural Beauty. This turned out to be one of our top favorite sites of the entire trip. Avebury is a tiny village of just 531 souls, but it is absolutely studded with these sarsen megaliths, erected at around the same time as Stonehenge but apparently on an older site with extant earthworks. These standing stones are out in the fields, sheep graze around them and anyone can walk up to them (watching your step, on account of those sheep!). There are rings of stones and also a cursus, or a processional avenue with megaliths along either side. The village has a tavern and a few shops that cater to the witches and crystals crowd. I admit that one of my few souvenirs of this trip is a green man t-shirt from Avebury.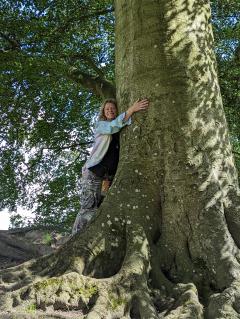 There are also numerous enormous old trees with exposed gnarled roots that we were told provided inspiration for J.R.R. Tolkien when he was writing The Hobbit. The trees are on a small rise that offers a fine view across the road to the cursus, and back over the village and the standing stones and their attendant sheep.
While we were among those ancient trees, a very strong chill wind arose and we had the distinct feeling that there remain spirits here of great antiquity who were not enjoying our company. The antiquity of these trees, while immense and impressive, turned out to be yesterday's news when we finally got to the thousand-year-old oaks of Sherwood Forest as we closed out this amazing adventure. 
Either that or there was more rain coming... so we quickly finished  our explorations and returned to the car to continue our journey, now heading northward through the Cotswolds area and then onward to Stratford-upon-Avon.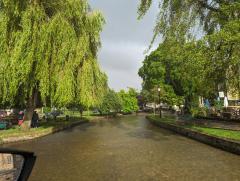 The pretty villages of the Cotswolds are just an hour north of Avebury (everything is so close there, all of England south of Hadrian's Wall would fit comfortably inside of Iowa, and there's a lot more to see!). Our destination was Bourton-on-the-Water, which I had read is a classic Cotswold's town in a pretty setting with fine shopping and a bookstore that I wanted to see. It was indeed a pretty village, but as soon as we got there, the rain finally came, just as heavy as it had been at Stonehenge. We drove about hoping for the rain to abate and looking for some shelter, but finally gave up and drove 45 minutes north to Stratford upon Avon. In retrospect, I do believe that I should have persevered in the Cotsolds.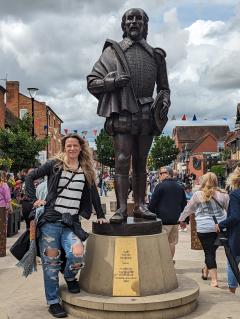 Our first order of business was to get to our hotel. I prefer going to a proper hotel with a front desk, but that's not always an option when you need three beds, and in this busy center I had found none, so we stayed a little outside of town in one of those nice places with a key in a lockbox and nobody onsite. It was good that we checked in early because there was a problem with the room that necessitated a last minute room change, but it all worked out.
As you would expect, Stratford-upon-Avon is a bustling center of tourism, with scores of boutiques and galleries and souvenir shops, a nice downtown pedestrian area, and dining all among the old Elizabethan-style buildings. Melissa has been a Shakespeare fan since high school, so it was a big deal for her to get here. We went into town for dinner and to walk around the streets, as we had done in Bath, an evening reconnaissance mission to identify shops and dining for the next morning.
When planning a vacation I try to identify restaurants ahead of time that suit our needs for vegetarian and piscivore offerings, decent reviews, hours, etc. It usually works out, but this time the place was booked for a large party and we could not be seated. So we roamed the streets as it got later and later, and finally found Osteria da Gino, a nice Italian place that could seat us. It wasn't the most elegant dinner of the trip, but it was tasty and nutritious enough to keep body and soul together until the following day, and the service was, ah, entertaining.
In the final analysis, I didn't care much for Stratford-upon-Avon, but Lorna and Melissa loved it.