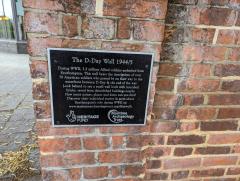 This was the smallest part of the adventure, after the ship and bracketing the Scottish part of the adventure. It had two parts: two days exploring Hampshire, Wiltshire, Somerset, Gloucestershire, and Stratford-upon-Avon in the southern tip of Warwickshire, and then a boring day motoring up past the industrial cities of Birmingham and Manchester to the beautiful Lake District, and then after Scotland we took another day and a half driving to York and onward through Cambridge to St Albans and eventually Heathrow Airport the final morning. I must admit that the drives to the north and back to the south were every bit as exciting as a drive along I-90 to Albany... that is to say, not exciting at all.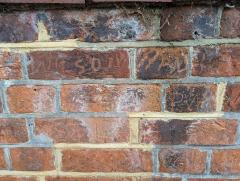 My first order of business in Southampton, even before getting the rental car, was to take a quick spin by the D-Day wall, where our friend Lynda's dad had waited to board a landing ship bound for the D-Day invasion in 1944. Many of them had carved their names into the bricks of the wall, and she wanted a photo of that place where her father stood on the fateful day. I had gotten off the ship so quickly that I had some time to kill before the car rental office opened, and I reasoned that a cab driver would know how to get to that place better than I would. We had a little adventure, but it worked out in the end and I got the photo. 
I rented a red Citroen small SUV with just enough room for us and our luggage. We had more than usual because the formalwear for three people for the two formal nights on the ship added a whole extra suitcase. This became an important consideration a few days later.
I picked up Lorna and Melissa without difficulty and we headed out of Southampton for Salisbury and nearby Stonehenge. We had timed tickets for Stonehenge in the early afternoon, and we wanted to make tracks to Salisbury first.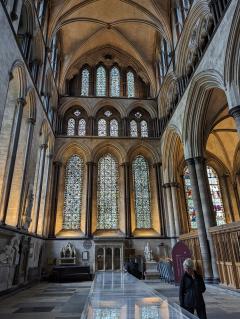 The road to Salisbury was easy and pretty. We were amazed to see so much open space, and not just open but cleared for agriculture for centuries. In New England, we rarely see the horizon from the road because we have trees everywhere, and more frequent, steeper hills. In Hampshire and Wiltshire we saw long vistas of gently rolling farmland.
In Salisbury we parked in a lot near the cathedral and walked up to that ancient edifice. It's a beautiful gothic building that has stood here since 1258. It's on a hill with open space all around so you get great views as you approach, even from far out on the highway - it has the highest spire in the UK. The sense of anticipation was exquisite, and the reality delivered on the expectation. The interior draws the eyes up to graceful regular arches and delicate gothic stone carvings everywhere in a truly exalting experience. All about the main floor are small chapels and private tombs, each unique. There was a modest crowd and a casual air so we could enjoy it without feeling like we were interrupting a funeral. 
Salisbury Cathedral is one of the four sites in England that has an original copy of the Magna Carta, the original document limiting the rights of a monarch and one of the most important documents in human history. You can see it in a small room in a climate-controlled case but photos are forbidden. I was particularly amazed at how perfectly neatly and beautifully it was written. 
The gift shop was nice enough, and we bought umbrellas because it had started to rain lightly and the skies did not look like they had any intention of clearing for our first day in "Old Blighty".
We had a very nice lunch at the nearby Rifleman's Table Cafe, but not enough time to explore the city. The restaurant is adjacent to some sort of military regimental museum in which none of use were interested. We had already decided that this corner of England would be a sort of quick reconnaissance trip preparatory to a longer future visit that would include London and Cornwall and this space in between, so we noted that Salisbury would warrant further investigation on another (hopefully dry) day.
It was a short, unexciting 20-minute drive to the Stonehenge Visitors Centre. The rain was a little heavier so we were glad for the new umbrellas. Stonehenge is one of the biggest tourist attractions in England, and it has processes in place to deal with cars and busloads of tourists from around the world. There's a big parking area and a path to the Visitors Centre, which has ticket sales/check-in, a large gift shop, and a large cafeteria. After check-in, you go to the back of the building an up another path to a waiting bus. The bus brings you maybe half a mile up the hill to a drop-off area, and then you walk another quarter-mile or so to the celebrated standing stones.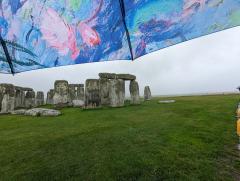 Sadly, all of this process does much to diminish any sense of primeval magic that you might have expected, and I found my own takeaway memory to be more that of checking off another item in that long list of wonders from the View-Master reels of my childhood.
It didn't help that the skies finally opened up just as we got off the last bus, so we got to see the grandeur of this five-millennia-old phenomenon in a driving rain with heavy wind. It lent a certain romance to the experience, I suppose, and Melissa was in ecstacies, but the grumbling of our fellow tourists and the polyglot profanities that followed blown-out umbrellas took off any remaining glow. Besides, we had a plan the next day to get up close and personal to an even older, less dramatic and less-known henge in Avebury.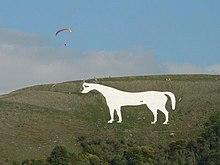 Our destination for the day was the beautiful city of Bath, a top-shelf tourist destination since Jane Austen was describing it in her novels over 200 years ago. But along the way I wanted to see the Westbury White Horse. The southwest of England is dotted with these peculiar monumental sculptures, mostly horses in profile, carved into hillsides to expose the underlying white chalky soil. They can be seen for miles. The first one was carved about 3000 years ago at Uffington, and we planned to see it the next day, but this much more recent version was on our way and Melissa and I were willing to endure the rain for a first-hand look. It was worth it just to get see first-hand the size of the thing, but we got back to the Citroen totally drenched! A little to the west you can also find the rather rude Cerne Abbas Giant, but we did not need to see this extraordinarily gifted fellow.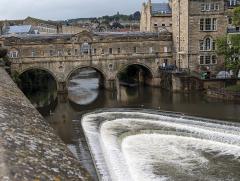 We finally made it to Bath in time for an evening of exploring the old city, including the Pulteney Bridge (inspired by the Ponte Vecchio in Florence), Bath Abbey and the Roman Baths. There's no end of shopping and dining in Bath, and the streets are easy and well-lighted. That's good because driving can be confusing and parking can be even more so.
We stayed at the Royal Hotel, just inside the old city walls. We parked in a garage about a block away and walked everywhere. The place is a maze, but the people were great.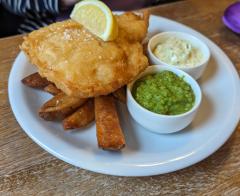 After a time we relaxed with a fine casual dinner at Salamander, on a hot tip from a good friend, where Lorna had the first of many fish-and-chips dinners on this trip. It was surprising to see how limited menus were throughout the trip! Her usual trusty standby at restaurants throughout New England is grilled or broiled salmon, but we saw that on only one menu on the whole trip, in far-off Inverness. So she subsisted on fish-and-chips for most of the trip. The service and the food were excellent for this fist dinner in the UK and we agreed that we would eat at Salamander again on a future visit to Bath.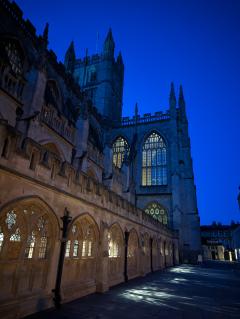 We really enjoyed just walking the streets of the old city in the evening. The architecture is beautiful and the streets were clean and well-lighted. The crowds were not rowdy and after the day's rain it had become a lovely evening.
The Royal Hotel was a nice place in a great location with nice people. Unloading and loading from the car were difficult - there's a single small unlabeled place beyond the hotel that we missed upon arrival and was occupied when we were departing. Parking is in a public garage a block away, but we had to park two levels down. That meant schlepping all of our luggage there and through the busy elevators and finding the unfamiliar car in an unfamiliar garage. If we go again I'll just loop around the block until that lone unloading area is free. 
They have a restaurant and a nice-looking pub, but we did not eat at the hotel, so I can't comment on those.