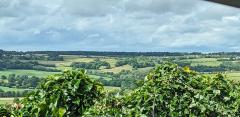 Sunday was to be mostly a day of driving north toward the Scottish leg of our journey, but first we had to do the museums-and-shopping part of Stratford-upon-Avon. That's our standard operating procedure: we spend an afternoon driving though scenic countryside to a destination town, have dinner and walk the streets in the evening looking for places to return to in the morning, then in the morning we hit those sites, have lunch, and repeat. I usually have a short list of museums and public spaces or monuments to see, and maybe some boutiques if the destination is known for something that one of us would be looking for.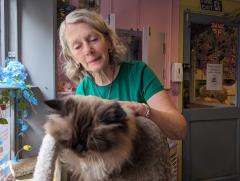 We started the day with a surprise. The previous evening, Lorna had spotted across the street from the Osteria the Shakespaw's Cat Cafe, so we had to return to check it out. It was a hit! They have maybe a dozen cats there from an associate shelter, all selected for their tolerance of strangers. There were several groups and even a large birthday party present. I was one of only two men in the room, but the women were getting their kitty therapy. We had a light breakfast (I finally got to try some marmite on a crumpet). After a few attempts I was abe to tear Lorna and Melissa away from the cats and we got back on track.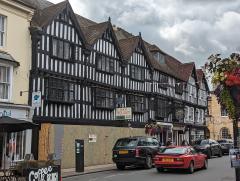 We visited the school where Shakespeare went, and saw his birthplace house and "Shakespeare's New Place", which was his final residence, except it was torn down in 1759 and now there's just a garden there. We also saw an old guildhall from Shakespeare's day, and a number of grand monuments.
In the end, I found Stratford-upon-Avon to be somewhat Disneyish and monochromatic, but Lorna and Melissa really enjoyed it and I would return if they want to.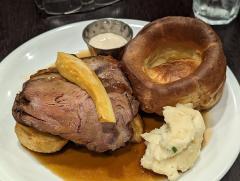 We visited a few galleries and had a classic pub lunch at The Coach House: the Sunday roast beef with Yorkshire pudding for me, a Mushroom, Spinach, and Truffle Pie for Melissa, and Fish and Chips (of course!) for Lorna. It was all very good, and the atmosphere was just what I had hoped for and expected: a few tourists, many locals confabulating about local news and gossip, a TV with a rugby match and the sound turned off. It was great for people-watching and the food was good.
After lunch we set out for the north. We passed under the Stratford-Upon-Avon Canal Aqueduct, a sort of bridge for boats where that old canal crosses a valley, so that at the right moment you could e driving under it as a canal boat passes overhead!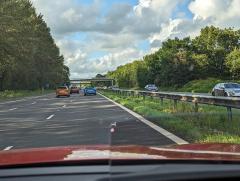 The drive north was long (about four hours, long enough to go from Plymouth to NYC or to Belfast, ME) and uneventful. We kept pace for a while with a knucklehead in a once-fine grey Mercedes AMG; he was one of those impatient drivers who races ahead and then gets bottled up behind someone as the sane drivers roll on past him, then he does it again. After more than an hour we pulled into the same rest area and I saw that the once beautiful car (new price $100k and up) was rusting and decrepit, and I wondered what was the story of this frustrated fellow, but I did not follow up. I can report, however, that English rest areas on the major motorways are not very different from American ones, and still no match for the Italian Auto-Grills.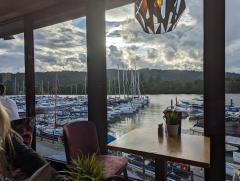 We finally made it to the Lake District just in time for a quick dinner on the lake in Windermere, and a tour along the lakes from Windermere up to Keswick... but that's not exactly what happened. The quick dinner at The Quayside Bar and Kitchen was very slow, and totally mediocre. It's absolutely not our kind of place at all. We had to pursue our server to get served and then to pay, in the end we spent almost two precious hours there for a 45 minute dinner. This compressed the remaining daylight time for exploring to just enough to keep moving without dawdling. It is a beautiful area, and Keswick was especially intriguing, so we do want to return to the Lake District.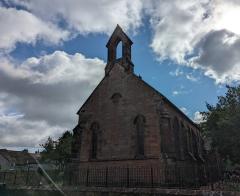 Between the reasonable delays getting out Stratford-upon-Avon and the unreasonable delay at dinner, we had no time to see Hadrian's Wall in nearby Carlisle, which only cemented my resolve to return to this area someday.
From there is was an easy drive over the border to Arran, Scotland, a quiet little town that was just a waypoint into Scotland. Of course both England and Scotland are UK, not EU, so there were some minor complications that did not impact our schedule. We stayed at the Old Rectory B&B, which was excellent. It's next door to this grim old church that made it feel like we had reached Scotland and the next stage of our adventure!