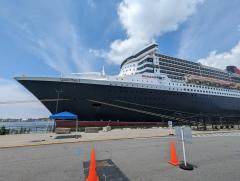 I had been wanting to sail on a real ocean liner for years. It sprang from reading books and seeing movies based upon that glamorous, sometimes dangerous, and always very different means of travel, of the sense of being "back in time".  We had toured the original Queen Mary in Long Beach, CA, about eight or ten years ago, and it was beautiful. In the movies, the people on ocean liners are always glamorous and well-dressed, and wealthy. So I always associated ocean liners with a past age that was gone forever, replaced by the thousand aggravations of air travel. And I assumed that it would require wealth of the kind that I would never see.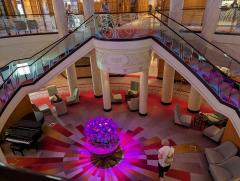 A few years ago, an exhibit about the Golden Age of Sea Travel at the Peabody Essex Museum in Salem reawakened those old dreams. After the exhibit, we had dinner at Turner's at the Lyceum, and I looked up prices and other information on my phone. I was surprised and happy to see that, if you consider a week on the ship as a week of your vacation, then the price is not as bad as I had expected and the experience is like nothing else - I could be like one of those swells for a week! So we did it, and here's what I learned. 
Is it expensive?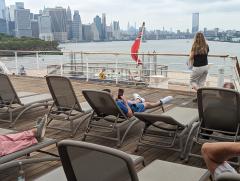 The Queen Mary 2 is huge, and it offers a variety of room styles at different prices, from interior (no windows, like a deluxe cave) to the common balcony rooms and up to some that were way beyond our price range so I didn't pay much attention to them. We opted for a Britannia Balcony (sheltered), which is about 269 sq. ft. with a little balcony. If I were to book that room today for a midsummer crossing next year it would cost US$3718 for two people, and that includes all the standard meals in either the excellent Britannia dining room (better than anything we got in England and Scotland) or the more casual King's Court Buffet (also excellent).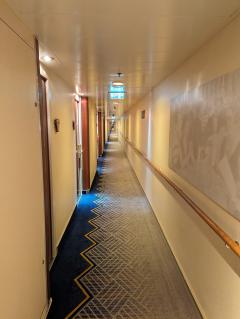 If you figure a one-way flight to England costs around $1000 per person, a week of hotels and food for two people would cost about $1400 more, and maybe $300 plus gas for a rental car, then the costs are very similar. An added bonus: the Cunard Complete service can help you get a return flight for about two-thirds the price that I would have paid without their help!
For $720 more I could get a full balcony, but a smaller room (248 sq. ft.) that's higher up (more rocking in heavy seas). Having done it once, I'd get the same room again. The main benefit of the balcony is the natural light that you get, and a quick check on the weather. Even in July, the North Atlantic can be chilly and it was foggy all across George's Bank. And of course, in the middle of the Atlantic there's nothing to see anyway, so I'm glad that I did not waste money on a balcony that I would not have used. Any time we wanted a view, we did better on the 7 deck promenade or other locations.
About those heavy seas: we did not get any. That's more a risk in the winter. The Queen Mary 2 is over 1000 feet long and it has stabilizers, so there were very few times that we could tell that we were moving. The ride was smoother than a train, a plane, or a car.
Ocean liner vs cruise ship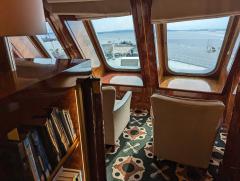 The Queen Mary 2 is a ocean liner, not a cruise ship. Cunard also has three cruise ships (Queen Victoria, Queen Elizabeth, and the new Queen Anne) that splash about the Caribbean, the Mediterranean, the South Pacific and Alaska like other cruise ships do, but the Queen Mary 2 is designed from the keel up for speed and safety in the frequently heavy seas of the North Atlantic. She makes a crossing in 7-8 days depending on various scheduling factors, but she can make the trip in half that time. Taking a week leaves some slack in the schedule in case they have to go around a storm, and it also gives passengers enough time to enjoy the trip. 
The Queen Mary 2 is sleek. It's nearly the same length as the Wonder of the Seas, but that cruise ship has 50% greater displacement and carries about twice as many passengers.  The interior of the Queen Mary 2 is elegant through and through, and the food is excellent. The service was unfailingly attentive and helpful. There's a beautiful library on board, and a planetarium that doubles as a movie theater. All of the passengers that we saw were well behaved, and there were few children. 
Planning and Preparing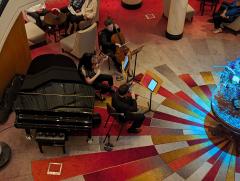 Once I knew that the budget would be normal for one of our vacations, I set about researching and planning. We had to be sure we had our passports up to date, and practical stuff like electrical adapters to use at hotels in the UK (the ship had both US and UK outlets in the staterooms, but UK-only in the public spaces). The ship had a laundry on each passenger deck with four sets of washers and dryers that were free to use and pretty fast, but small. That meant that I did not have to find a hotel with laundry service as soon as we arrived in England, nor did I have to pack 15 days worth of clothing.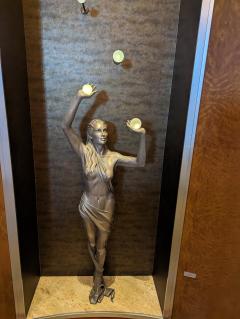 Because we live within driving distance of New York and I don't mind driving there, we planned to drive and park the car there, then fly back to JFK, retrieve the car, and drive home. The JFK airport is 45 minutes to an hour from the Brooklyn Cruise Ship Terminal, so you have to factor that in. On the other hand, the terminal is a short drive from lower Manhattan, so we drove down on the afternoon before the sailing date and had dinner with friends in Manhattan, then the next morning we had breakfast with my nephew and his wife near Wall Street; we had no trouble making our 2:30pm boarding.
Boarding was well organized and efficient. We had print-at-home baggage tags to attach to our bags with our name and stateroom on them. At the terminal, we simply handed the bags to the stewards who brought the bags to our room. Disembarking in England followed a similar procedure, although there I took advantage of early disembarkation to be sure that I got to the car rental agency ahead of the crowd.
We did get a curveball thrown to us at the last minute: I had booked the crossing for 30 April, but on the 23rd the ship limped into Southampton with some sort of technical problem that necessitated canceling the westbound trip to New York, and thus our eastbound trip back to Southampton. We were rescheduled to 7 July and we got a 20% credit, so we ended up ahead of the game financially. 
Exploring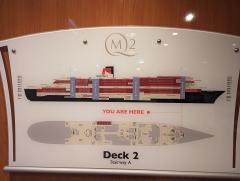 On the first couple of days we explored the whole vessel. It was a little disorienting at first, but pretty soon we got our bearings. There's not as much outdoor deck space as I had expected, although now it's easy to see why: barreling across the North Atlantic at 30 knots is not the same as ambling between tropical ports in shallow seas. There are plenty of windows to look out without catching a chill (even in July!). 
The entertainment, purser's office, and some dining are on the lowest passenger levels, basically from the waterline going up, with the engines, crew quarters, and stores below the waterline. The 1 deck had conference rooms and offices, not much reason to go there. The 2 and 3 decks had the grand lobby, the planetarium/theater, the stage/lecture hall, the ballroom, the Britannia Dining room, an area for boardgames, the tiny casino, and a few pubs. Decks 4, 5, 6, and 8 and higher were mostly passenger rooms, except for the very front where there were a fitness center, a wellness/spa area, the library, a game room for bridge and other card games, the Commodore deluxe bar and its attached Sir Winston cigar room, and access to the top outside decks for shuffleboard, etc. At the aft end there's the Veranda steakhouse and two theme restaurants, but we never felt the need for those restaurants, which have special fees. The highest levels had the most expensive staterooms, and restricted dining rooms for those passengers. I peeked into one but it did not look to me to be worth thousands of dollars extra for the privilege.
Dining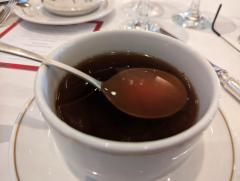 The food on the ship was very good in the King's Court buffet area, with an incredible variety of high-quality food available, all of it well-prepared. The offerings in the Britannia Dining Room were naturally more limited, but it was all truly excellent, better than pretty much anything we got in the ensuing week in England and Scotland, especially with regard to the presentation, which really gave us a sense of being someplace special. Both locations always included vegetarian and vegan offerings, and it was all included in our fare.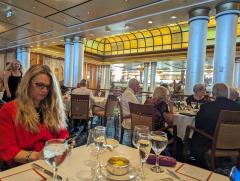 The Britannia Dining Room is a large open space over two decks with two levels on the upper deck and a long stained-glass ceiling over it all. There's a maitre-d' and well-trained waiters in black jackets, plus sommeliers in gold jackets. The wine list would be the envy of any restaurant that we're likely to see outside of some truly swanky places in Boston or New York. For each meal, we were presented with a menu showing 4 to 5 courses, and we could select anything we liked, although one of each course would have been too much to eat. Every meal included something meat, something seafood, one or two things vegetarian, and usually something vegan. For dinner, there was usually both a soup course and a salad course, sometimes another appetizer course, a main course, and a dessert course.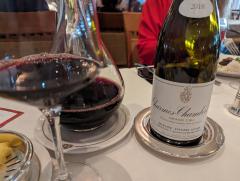 As I said, the wine list was excellent, but not included in the fare, however, the prices were pretty good compared to South Shore restaurant wine prices. We got a bottle of wine with a few dinners, including one very fine Chambertin that set me back $250, but that was a special celebration dinner. Sometimes only Melissa got a glass of wine, and the per-glass prices were also reasonable. Mixed drinks were also available.
On the subject of drinking: You can buy a Drinks Package that allows lots of drinking for a set price, but:
If anyone in your stateroom gets the alcoholic drinks package, then every one must. For us that was three people, and Lorna's not much of a drinker. It's expensive and there are restrictions.
You can also buy drinks a la carte, so in order for the package to be a bargain, you would have to drink way more than any of us do. I'm no puritan in such matters, but even for me alone it would have been too much.
Bottles of wine are not included, so I would still have blown $250 on that Chambertin, or else given it up as too expensive. But I had wanted to try that celebrated Burgundy for ages and I am glad that I did, when I did, without the expense of the drinks package.
There are additional drinks packages for fancy coffees and teas, high-end soft drinks, and ordinary soft drinks. The regular coffee and tea are free in the King's Court (and good quality). I am an admitted coffee addict when writing, and the King's Court coffee, always brought by an attentive server, was quite good enough for me.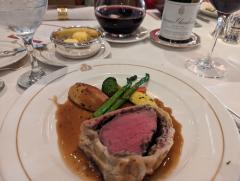 In the end, we felt that the dinners in the Britannia Dining Room were something to anticipate each day. That was a very nice change of pace from the frequent sense of dread that we get on our Saturday drives or Friday evenings in Plymouth, wondering just what dining disasters may await us. It's not that we often encounter disasters, but we do enough, especially while on the road, and the consistent excellence of the Britannia DIning Room was something special, something to be looked forward to during the day and to talk about afterward.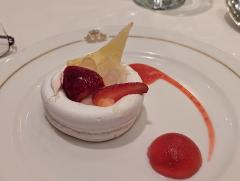 The photos in this section show the various courses from a dinner in the Britannia Dining Room: a perfectly clear beef consomme to start, a light citrus and radish salad to awaken the taste buds, rainbow trout amandine, a mini Beef Wellington, and a (meringue) pavlova with fresh fruit and a strawberry coulis. There's also a photo of the dining room from the first (lower) level, and a photo of that Chambertin decanted and poured by the sommelier. These were not all from the same dinner, they are just the most photogenic shots that I got with my phone!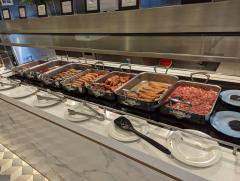 We opted to have lunches and dinners in the Britannia Dining Room, but for breakfasts we liked the variety and casualness of the King's Court. The King's Court is on the seventh deck, conveniently located amidships with access to the open promenade that encircles the ship, so you can grab a plate and sit outside in the open air if you like. Inside, many tables are arranged in windowed areas that are separated from other areas by walls and connected by openings in such a way that you can pretty much get as much privacy as you like unless it's truly crowded. Some of the tables have access to UK-standard outlets; I brought my Chromebook and an adapter and got a lot of work done there, well cared for by a handful of servers armed with limitless black coffee.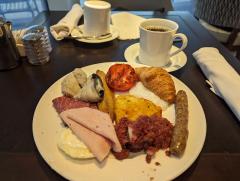 The food at breakfast time is a wider and more bountiful array than you would see at any stateside breakfast joint. Access to 2700 hungry passengers with limited options allows them to provide some of everything, and while they could cut corners to improve profits, they don't; it's all high-quality. I remember seeing: a hot table with all of the ingredients for a full English breakfast, another station with omelets or fried eggs, pancakes, two tables of fruit (one fresh and one prepared), yogurts, granola, breadstuffs and a toaster, charcuterie and cheeses, and my favorite: an assortment of smoked and pickled herrings, salmon, and other fish.  There was also vegetarian sausage and similar items but I did not pay much attention to those. All of the food offerings were duplicated on the part and starboard side of the huge court with free access between them. Coffee, tea, and juices were on the port side only but it didn't matter because the waiters would bring it to you anyway.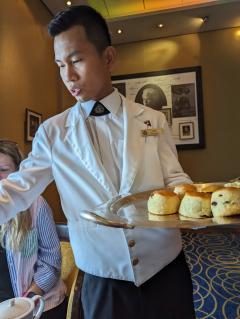 The King's Court is adjacent to the Carinthia Lounge, which has trivia contests, singers, comedians, and other entertainments at various times during the day, so if you sit to the far forward part of the King's Court you can hear that. It has a bar, so I found it easiest for me when I was working to get a pint of icewater from the Carinthia bar to supplement my coffee. It wasn't long before the daytime bartender recognized me and had two pints ready when she saw me approaching!
On a few days we joined the afternoon tea in the Queen's Room, which is a ballroom surrounded by a raised cabaret-style dining room with small tables. Afternoons at 4pm there's a procession of white-jacketed and gloved waiters bearing trays of scones, little tea-sandwiches, petit-fours, and tea. You can have as much as you like, and it's all included in your fare. After a couple of those we recognized some fellow passengers and had tea with them.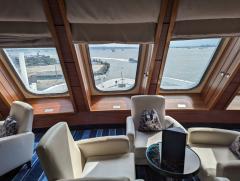 There are other restaurants: The Veranda Steakhouse (no vegetarian options), Coriander (Indian-Middle eastern), Bamboo (Chinese-Japanese), the Golden Lion (English Pub), and an espresso place that AFAIK is the only place where that fancy coffee package does you any good, but I wasn't looking for espresso drinks so I could be wrong. There are also at least three other bars, an industrial club-like space, a jazz bar, and the swanky Commodore's Club overlooking the bow of the ship.
Sleeping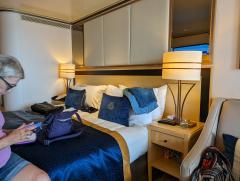 Our room was a three-person room, which means it had a fold-out sofa for the third person. The room was comfortable and spacious during the day, but tight to navigate at night when the steward had opened out the other bed for Melissa. The lighting was good, and there were plenty of electrical outlets of both UK and US type. The sheltered balcony added good natural light. On the wall we had a big flatscreen TV that had ship information, announcements, and I suppose other programming that we never explored. The beds were comfortable. The bathroom had plenty of room, and it included a full-size shower with good water pressure.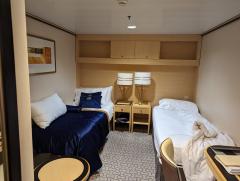 I had a chance to see an interior room for two. It was smaller, and with no windows, it was completely dark when the lights were off. Nevertheless it had the same full-size shower and a full desk and side table. These rooms are pretty inexpensive, but I thought it felt claustrophobic (compared to a hotel, it's pure luxury compared to the "rack" assigned to me when I was in the US Coast Guard in the early 1980s!). We found that we spent little time in our room except for sleeping, but we still preferred the extra cost for the natural light and occasional blast of fresh air on the balcony whenever we wanted it.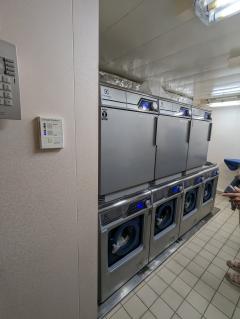 There was wifi throughout the ship, but you have to pay for it and it had terrible connectivity inside the rooms. Fortunately this is due to be fixed in November 2023 when the ship gets some work done in Rotterdam. After that, they say there will be routers in every stateroom. I don't know if the wifi packages will also get more expensive.
Down the hall was a laundry room with four washers and dryers, free to all on a first-come basis. The machines were modern and quick, but not large. If you are planning to start the next stage of your vacation with clean laundry, it's a good idea to get to it when you have the opportunity rather than waiting for the last day before disembarking. Every time I went to the laundry on our deck there were other people using it, but I only had to wait one time, and that was for only about 20 minutes.
Entertainment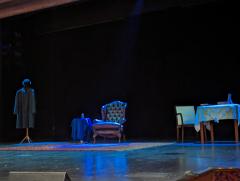 Every morning outside our door there was a program of events for the day in a holder on the wall. It was a standard sheet of paper folded in three, packed with information on both sides: location and notes from the bridge, and events in chronological order, color-coded for the location/type of event. At the beginning it was all very confusing, and there were plenty of passengers walking the decks looking for The Queen's Room or The Illuminations Stage. I had spent the evening of our embarkation day exploring the ship methodically, so I had a general idea of where everything was, but a thousand feet is a lot of ship and I was grateful for the navigation signage posted at all the elevators and stairwells. If you do the trip, I recommend a similar reconnaissance mission because some of the names can sound alike and it helps to see the room for yourself.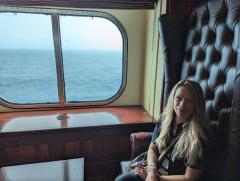 I think the best part of the voyage was that it reminded me to relax, as Melissa is doing here in an oversized chair in the Golden Lion Pub. But during the week, we did see some things together and other things individually. We saw a one-act/one-man play called Watson: The Final Problem, about Sherlock Holmes sidekick, now old and lonely, and his questions in the dark. It was excellent, and after the voyage the actor (Tim Marriott) was scheduled to  perform it at the famous Edinburgh Fringe Festival and then in New York City next spring. After the play we chatted with him briefly and then we had coffee with him one day and dinner another day. He also did a presentation on breath and balance tricks used by actors that was interesting.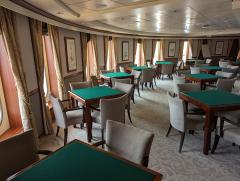 I also saw three lectures, Melissa saw a lecture and a show in the planetarium, and Lorna and Melissa saw a couple of musical shows. I'm sure there were more, that's all I remember as I type this.
Up in the cards room there was a series of Bridge games that were for beginners or advanced players at different times. I played Bridge a lot in college, but that's 40 years ago, so I thought I might join the beginners group but they met at something like 8:00 and I remembered that I was on vacation.
Of course I cannot report upon the entertainment that I did not attend, other than to say that there were far more than I could have seen on a single week-long crossing, partly because I spent a lot of time entertaining myself by reading, exploring, talking to crew and other passengers, editing a friend's book manuscript, and writing my notes for this report.
Disembarking in Southampton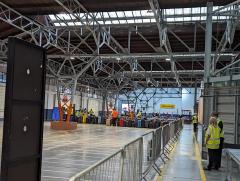 I took advantage of the early departure option to make sure that I could get to the Avis car rental counter before the swarms arrived and left no car for the three of us and all of our bags. The standard departure goes by groups based on the deck that you are on. You tag your bags with color-coded tags provided by the Purser's Office and delivered by the steward unless you pick them up yourself first. You set them outside your stateroom on the evening before arrival at Southampton, and the stewards unload them on docking into a well-organized, well-lighted cavernous space inside the terminal. 
Early departure means you can carry your own luggage, so I kept my carry-on and left my tagged suitcase with Lorna and Melissa. Everything worked out fine: I got the car that we wanted and when I got back to the pier they had just arrived with the bags, so we were able to set off on the next stage of our adventure! 
To be continued...