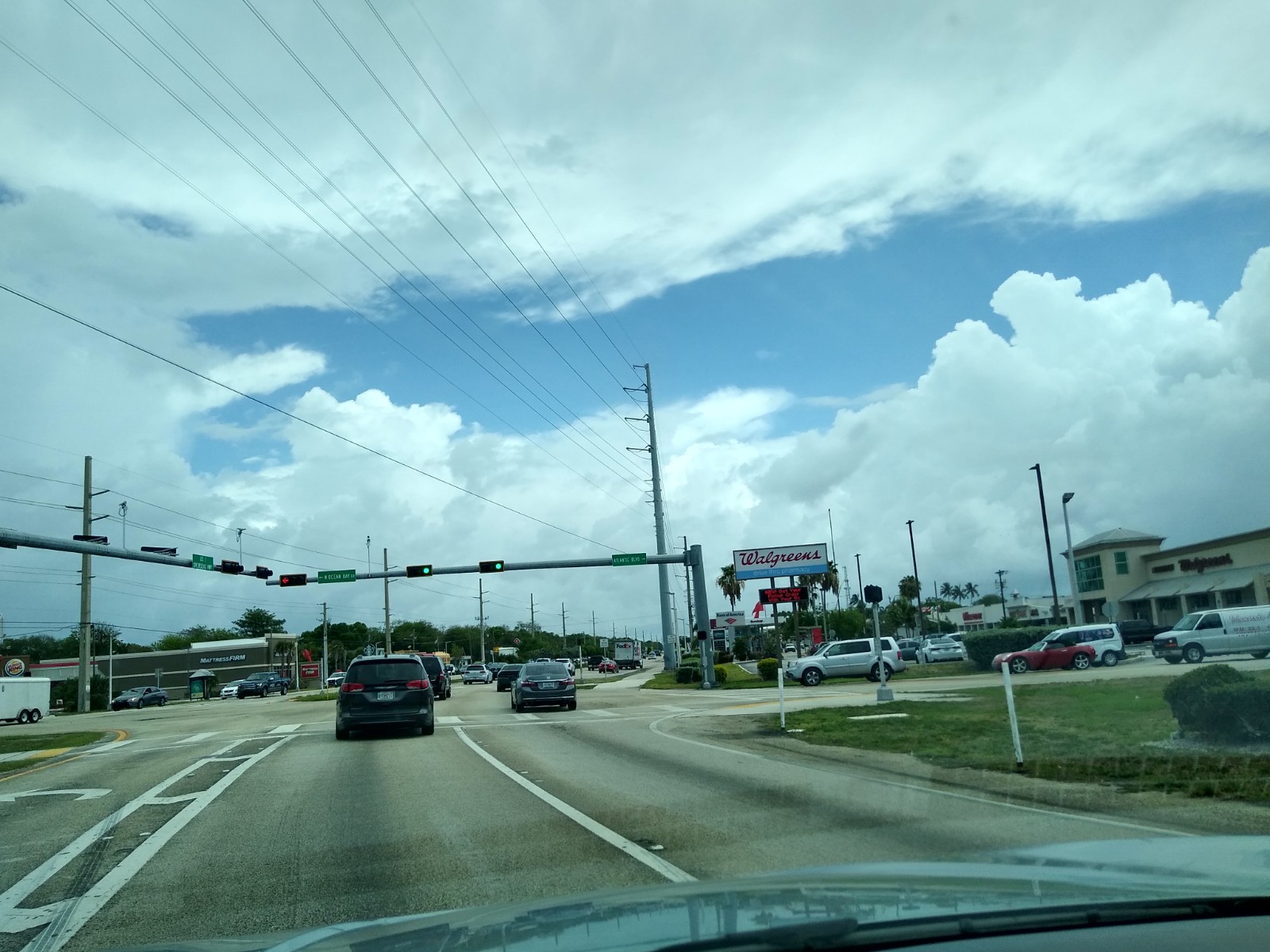 On the evening of Day 3, after our mango adventure, we drove down to Key Largo and along the Oversea Highway to Marathon, about halfway to Key West. The first part of the road was not a lot different from any built-up area around here.  That was something of a disappointment.
We did notice that on every island there seemed to be a Sandal Factory store, or some name like that. It mystifies me how many sandals people can wear out down there, that there's such need for that many stores.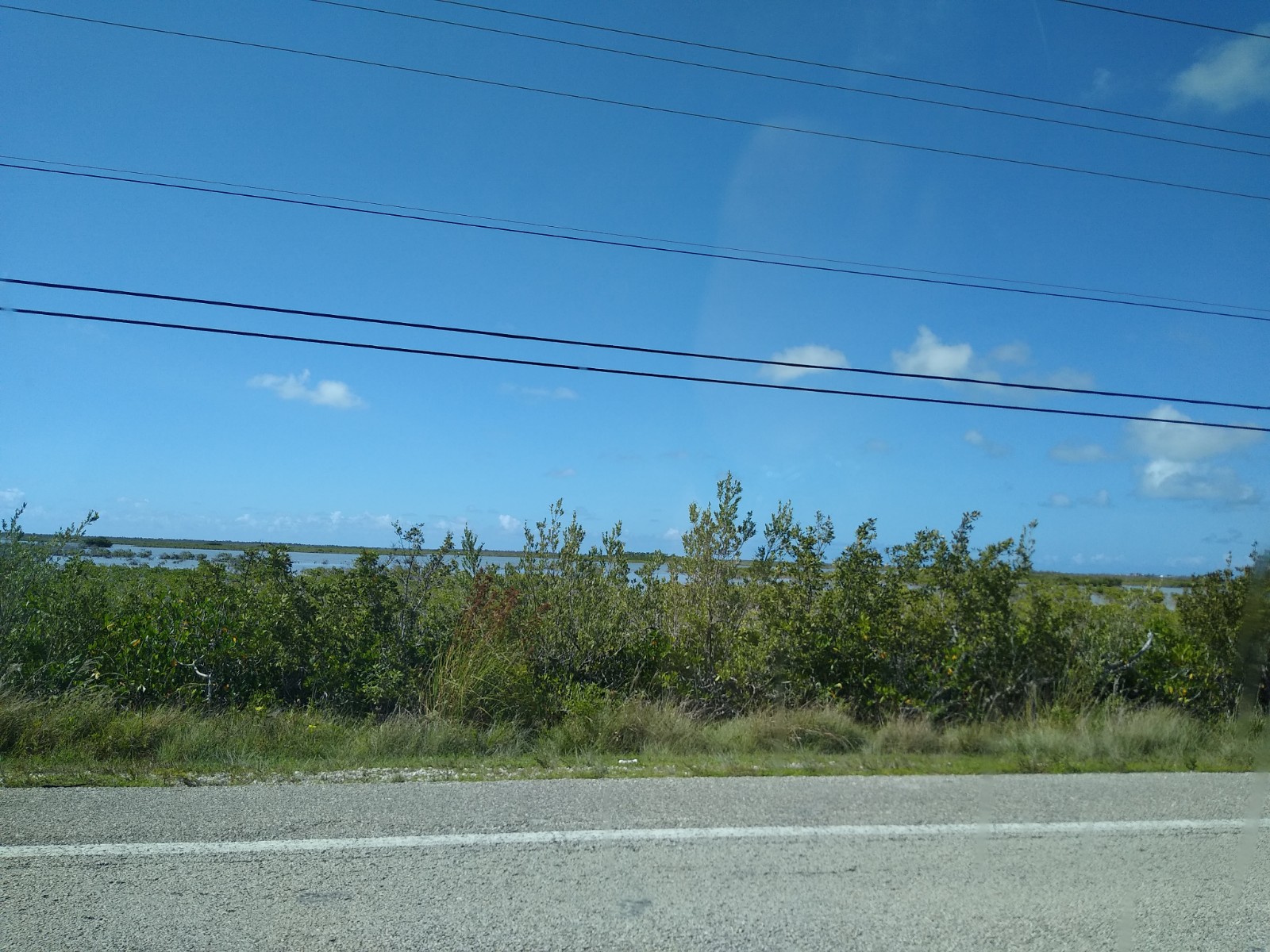 After Islamorada, things were much less built up and we saw more of that wide-open, sea-on-both-sides view that you see in the tourist brochures. There were still power lines and scrub on the many little islands that you pass along the way, and for much of the way we were accompanied by the remains of the Henry Flagler's 1912-era Bahia Honda railroad bridge, which connected the keys before cars were common.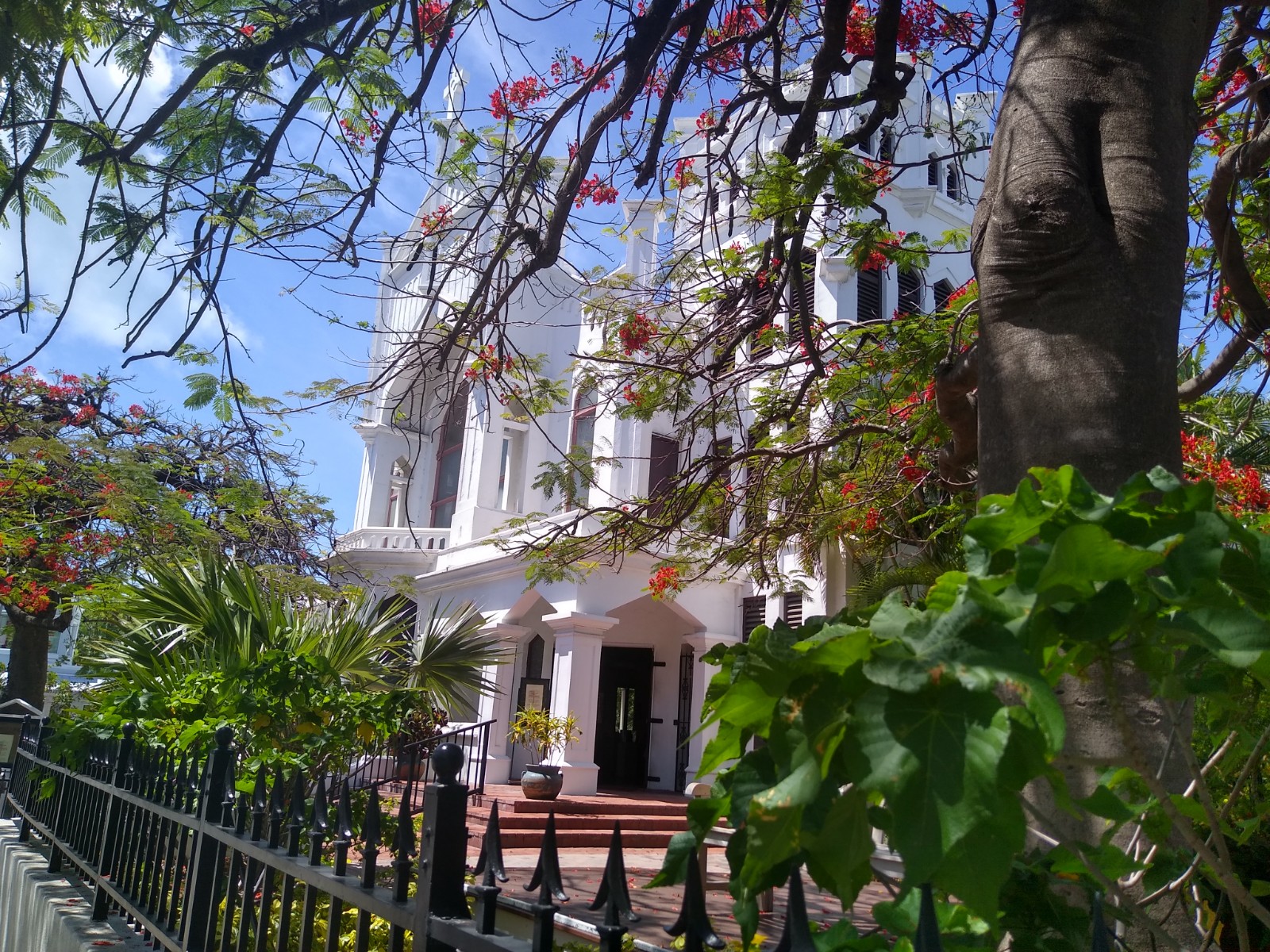 We spent the night and the following night on Marathon Key, a little under an hour from Key West. This got us close enough to have a full day in Key West while avoiding the noise and hub-bub of that celebrated tourist destination. We stayed at Coconut Cay Resort, which was pleasant and inexpensive. It's a family-oriented place, and there were kayaks available in case you want to paddle about the canals there, but I resisted the urge.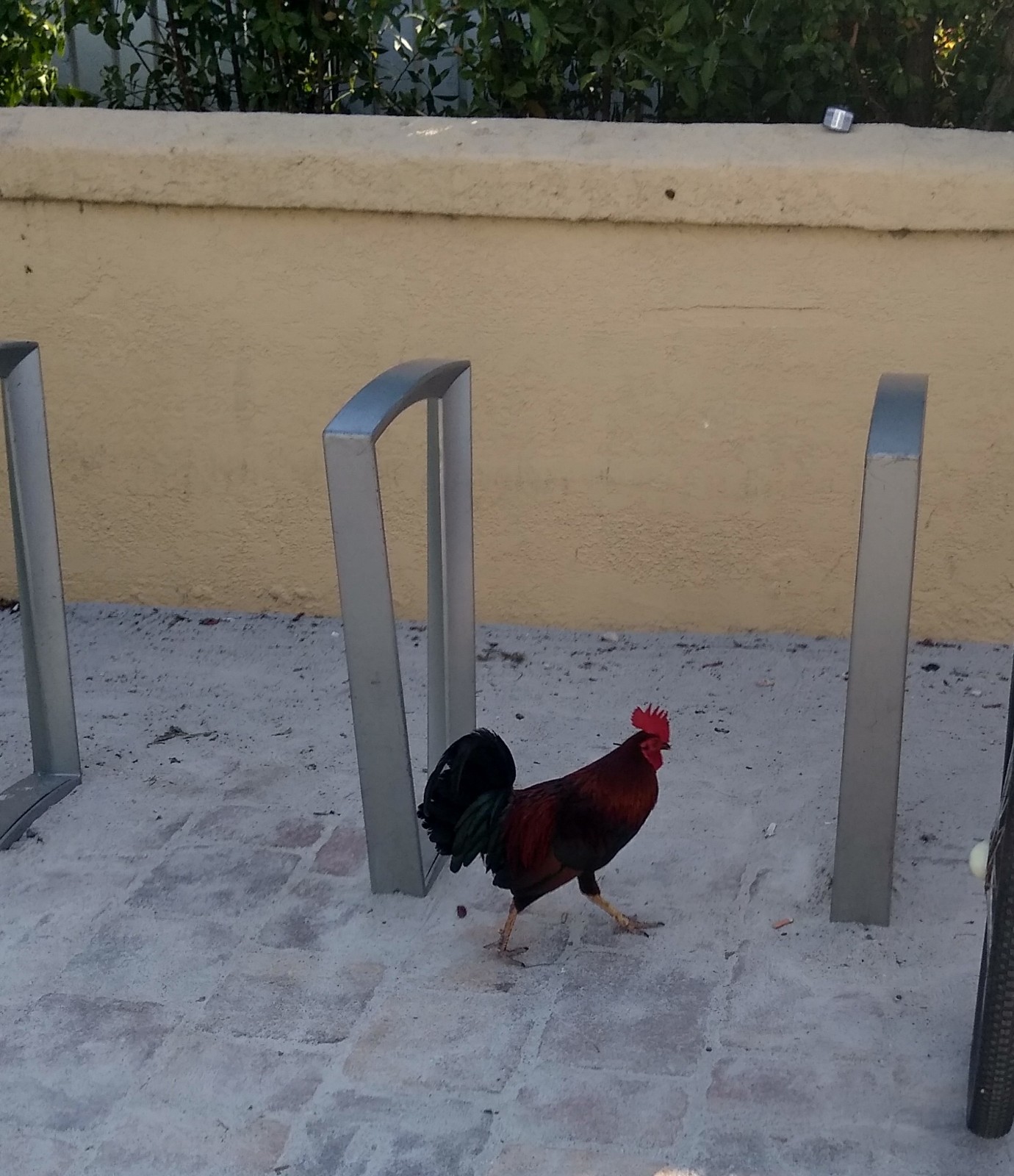 And noise there was! The whole next day in Key West we had small jets and private planes flying in over the town to a nearby airport used by those who could opt not to make the long drive out the Oversea Highway.
Key West is quaint in some ways, and so the unexpected is to be expected from a place so remote. For example, there are chickens roaming freely everywhere, as common as we see pigeons or seagulls. They are so common that they have become a symbol of the town and you can see them on bumper stickers and jewelry and all sorts of souvenirs.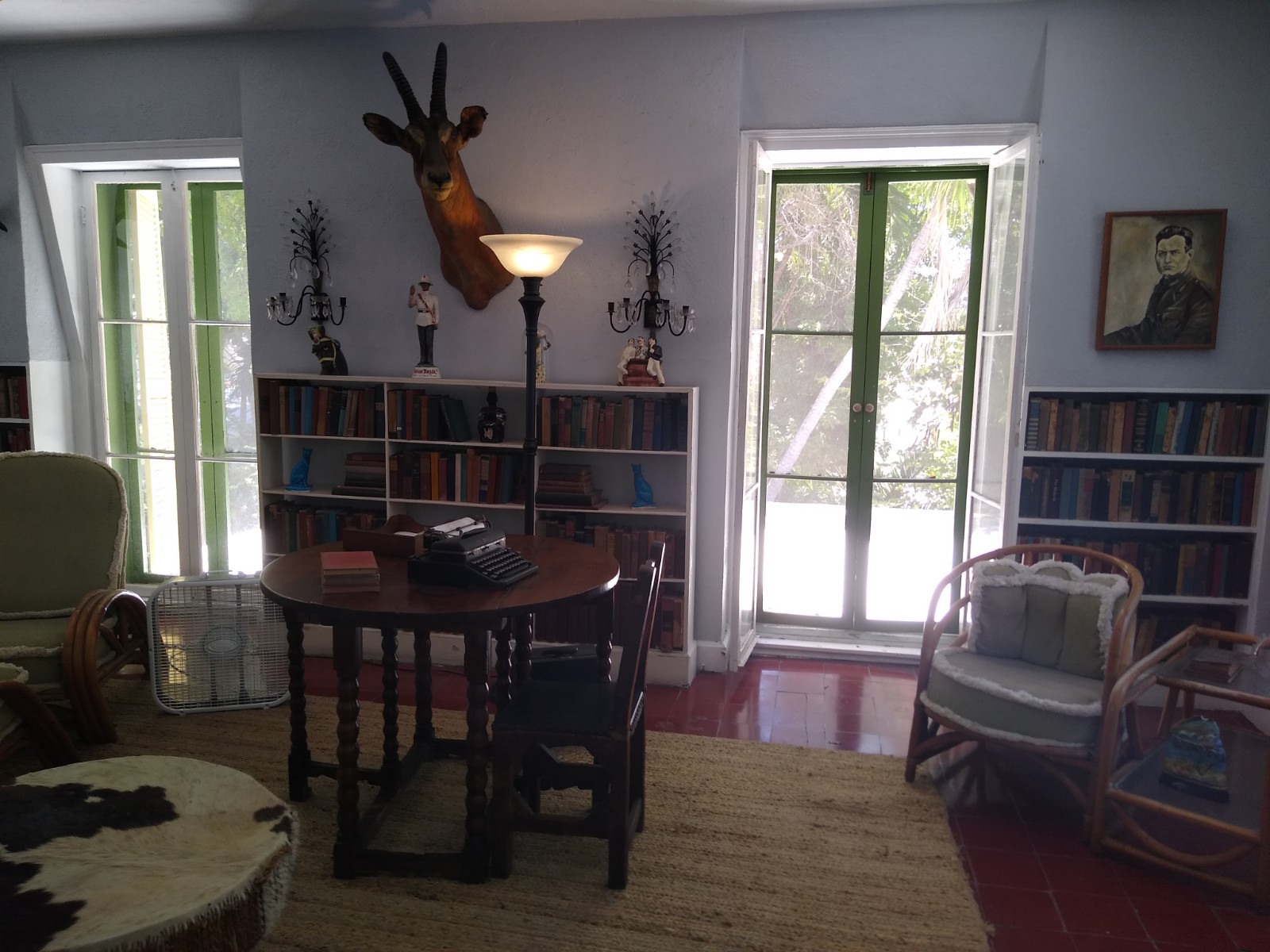 One of our top priorities was to see the 1930s home of Ernest Hemingway, who did most of his most famous work whie living here. He was already successful, so he bought one of the finest properties in town, on a (relative) high point just a block from Duval Street, today the main shopping district. This is his writing office. I use this photo as a virtual background for meetings at work now!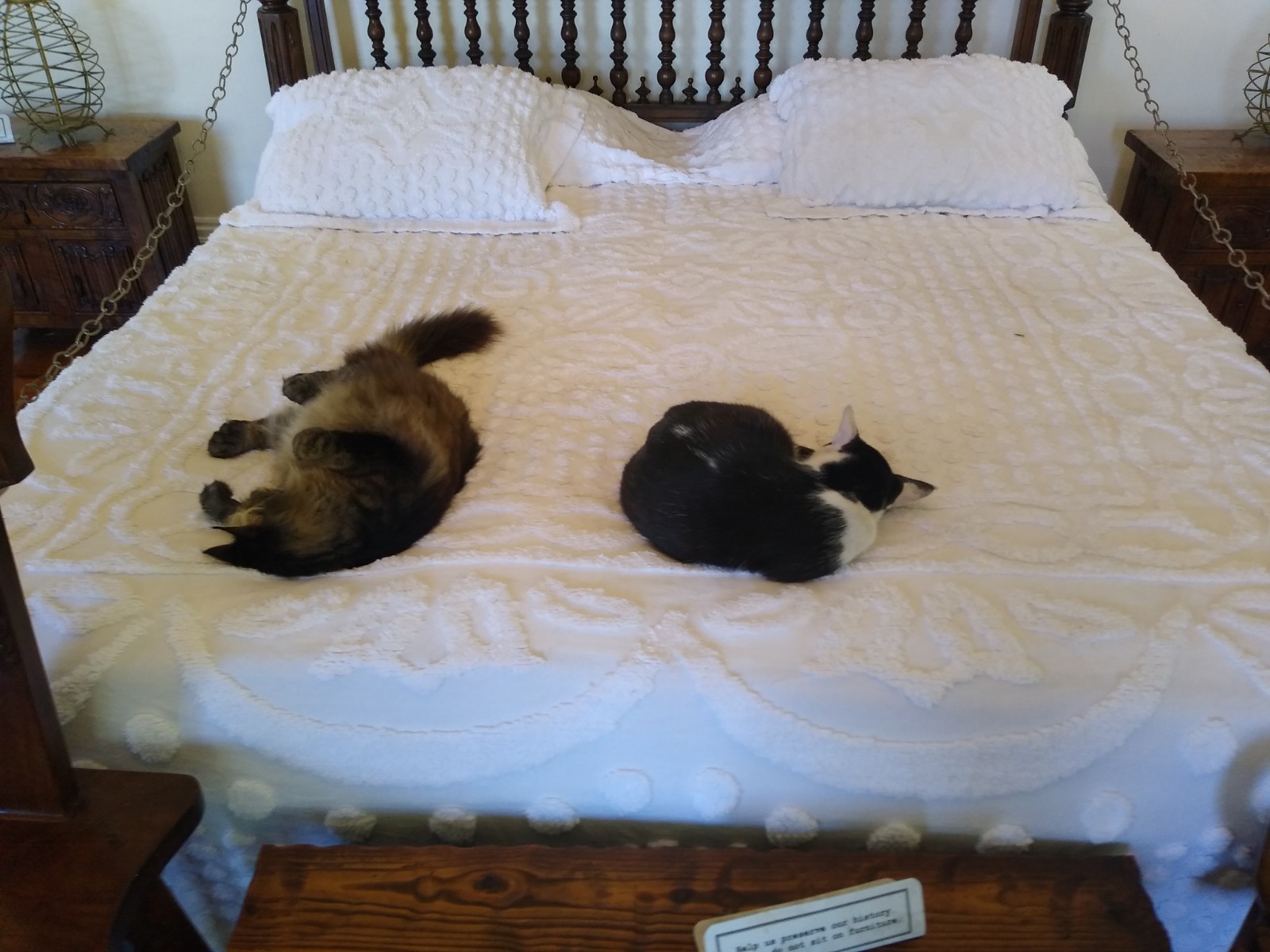 Hemingway was a famous cat lover. He started with one double-pawed cat, but soon had more. He protected them and today the house is a home to many of them. There's a special house for them, and even a little graveyard for his personal cats. The gift shop has "literary cat" themed souvenirs alongside books by and about him.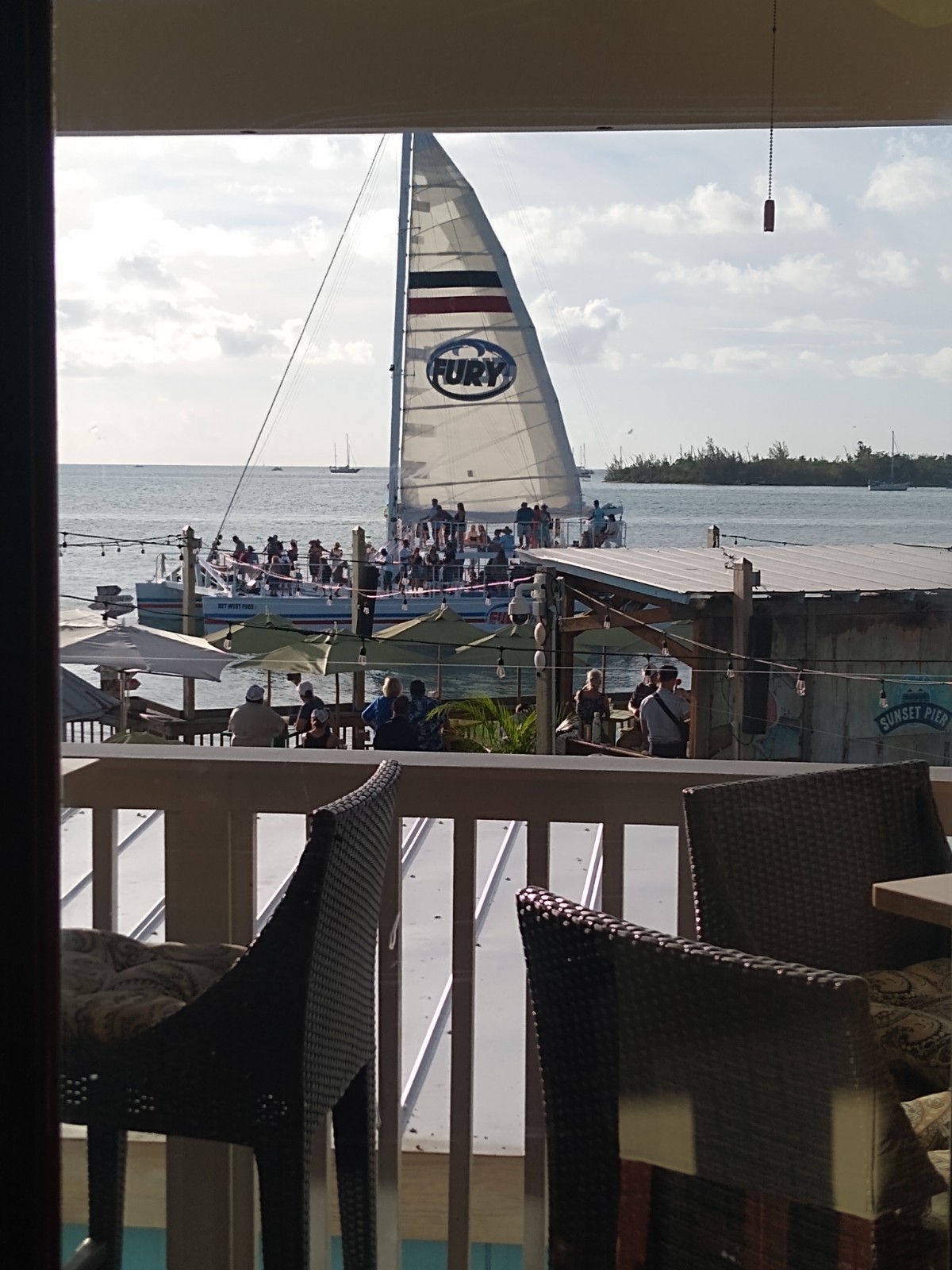 Our (well, my) other priority was exploring the food and drink of the Keys. We worked quite hard at it, and it wasn't always fun, but all's well that ends well, and our sunset dinner was excellent. We dined at the Hot Tin Roof restaurant attached to a fine resort hotel; this was the view from our table when we sat down! 
(Hot Tin Roof is not as uncomfortable as it sounds. It's named for the famous play by Tennessee Williams, who lived in Key West for the last 42 years of his life, and to whom there is a museum not far from the Hemingway house.)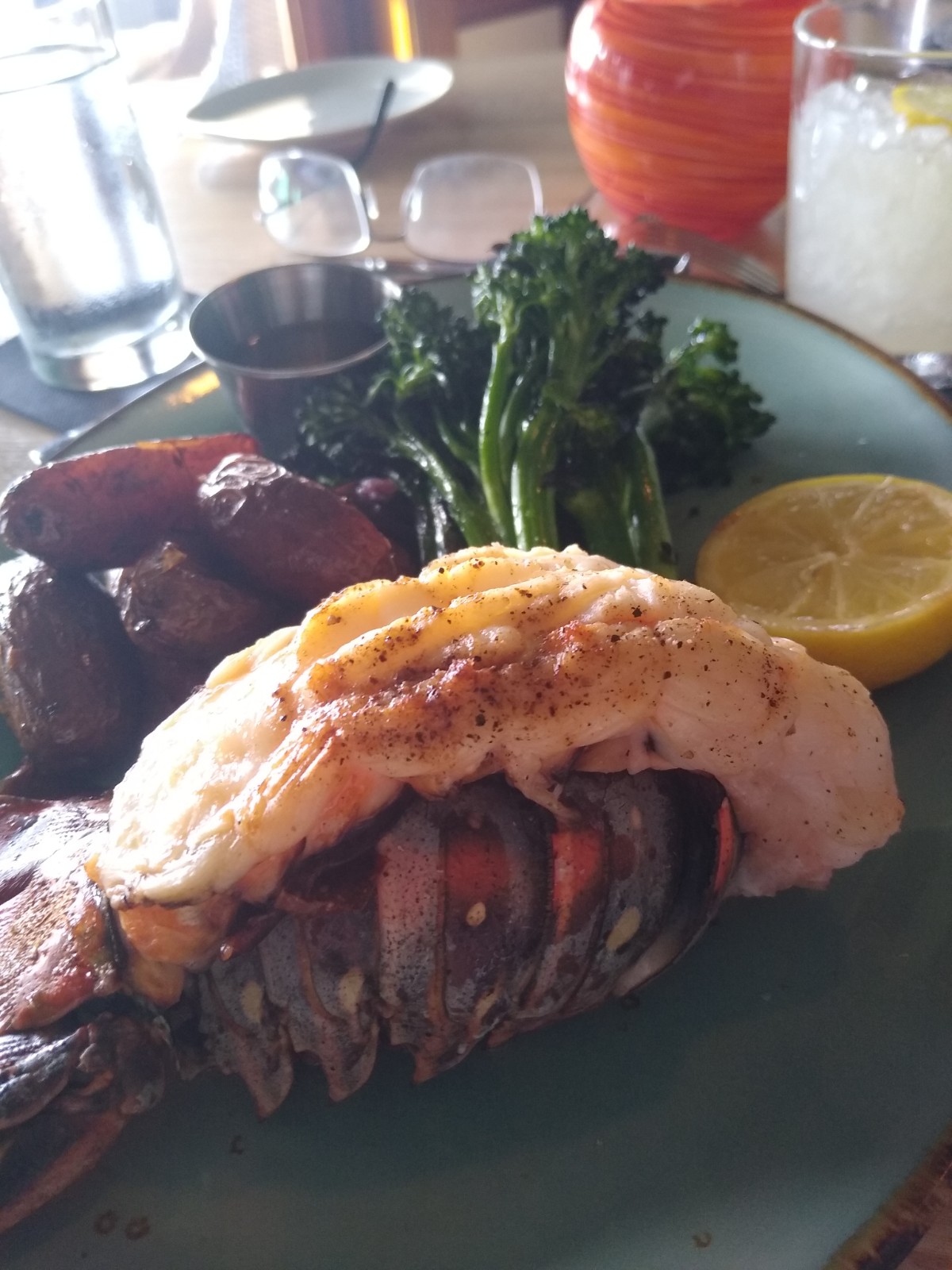 I had seen Lobster on many menus in Florida. I knew it would not be the same as our New England lobster, but rather the clawless Spiny Lobster seen in Italy and other places with warmer water. I wanted to try it at a place that would prepare it well, and the way it should be prepared rather than copy-catting our New England style in an effort to reach Yankee tourists. It was delicious and fresh, but I still prefer our local variety!
Overall, we were disappointed in Key West. Again it's our own fault that we went in June, but beyond that, we'd heard it described as like Provincetown, which it is definitely not. There's a deep party-and-drinking vibe, but it's not balanced by the quality of scenery, food, and shopping that you see in P-town or in so many other New England seaside towns. I saw no independent bookstores, no gourmet shops or shops catering to cooks, few local coffee roasters and comparatively few local breweries and distilleries. The food was in many cases completely secondary to the bar, which was usually huge drinks made with mediocre booze. Finally, the constant airplanes overhead made us glad that we were staying an hour east in Marathon!