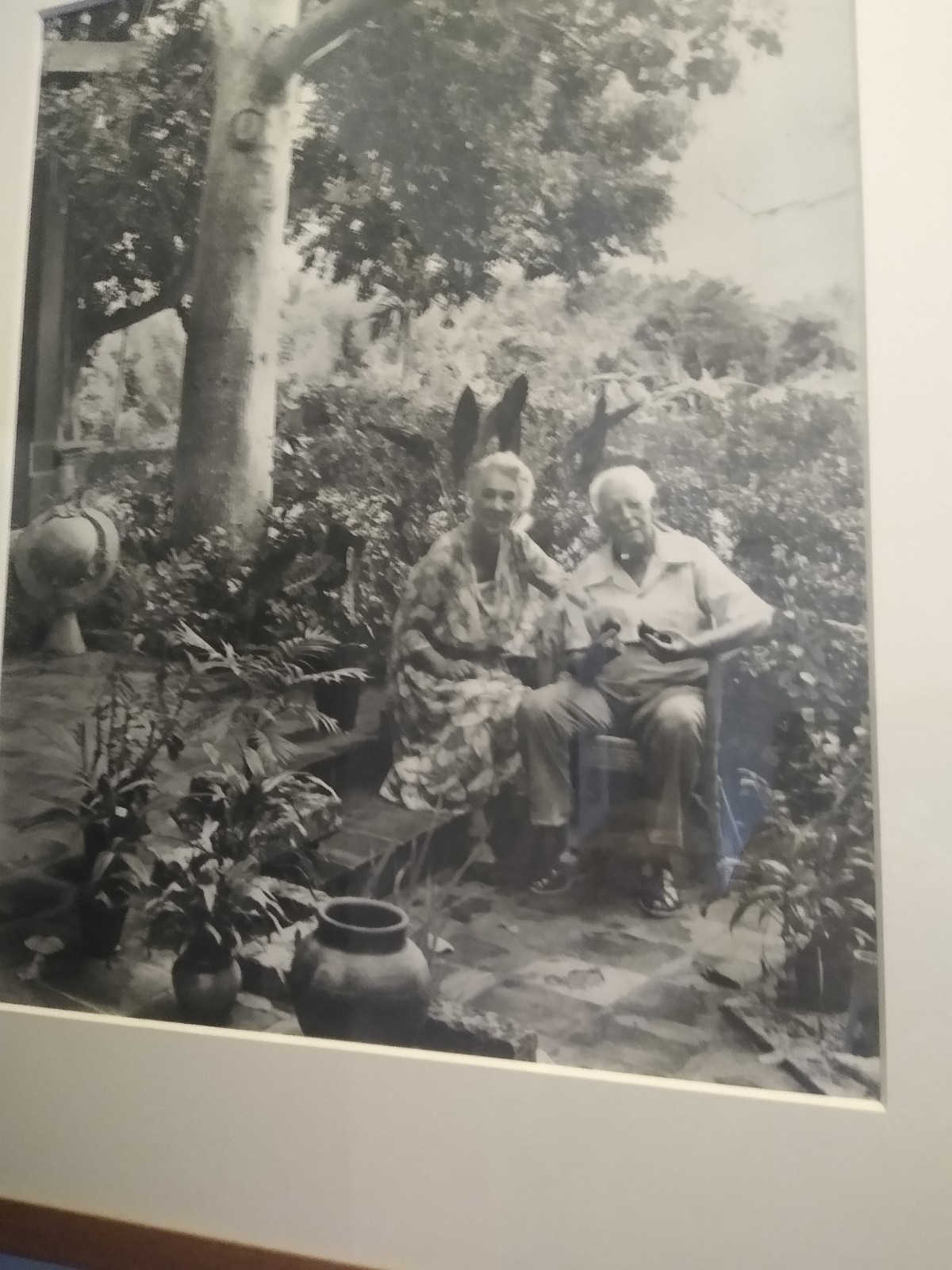 Do you like mangoes, avocadoes, dates, nectarines, pistachios, kale, quinoa, soybeans, winter wheat, cherry blossoms, bamboos, or pima cotton? Thank the brilliant early 20th century botanist and plant explorer David Fairchild. Here he is in his later years with his wife Marian (daughter of Alexander Graham Bell) at The Kampong, their garden-home in Coconut Grove.
Fairchild wrote Exploring for Plants, The World Was My Garden, The World Grows Round My Doorstep, and Garden Islands of the Great East, memoirs of his travels, discoveries, and work building the USDA Plant Introduction Service. I have read and enjoyed them all. Today was my long-awaited day to explore palm trees and mangoes as brought to us by Dr. Fairchild.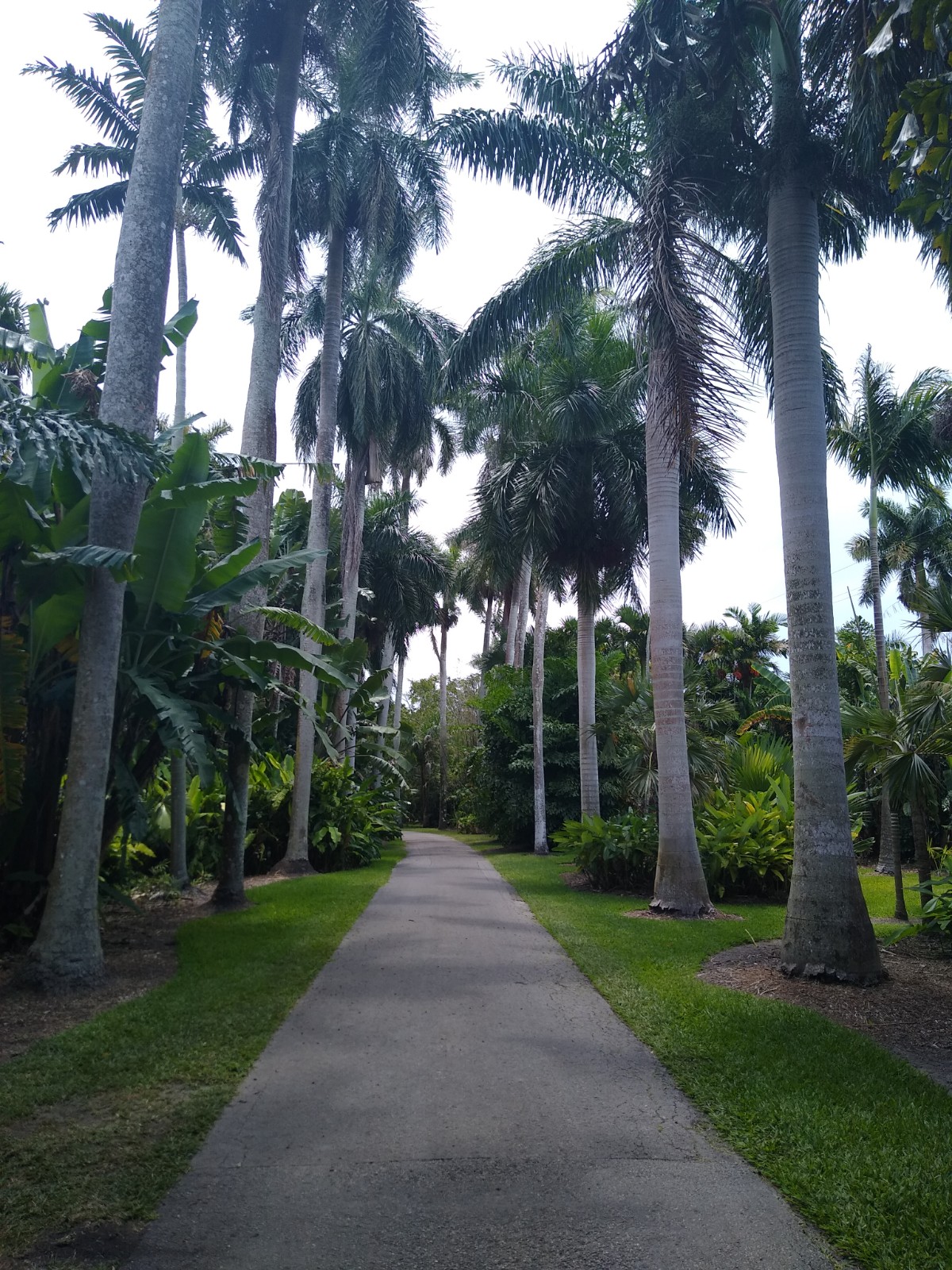 In his retirement years, the society folk of Coral Gables put together the Fairchild Tropical Botanical Garden in his honor. After his death, the Kampong was made one of five National Tropical Botanical Gardens in the USA. Of the two, we both preferred the more intimate, natural setting of The Kampong to the more formal and impersonal grandeur of the Fairchild Tropical Botanical Garden (which now includes even small satellite gardens in the Lincoln Road Mall in Miami Beach!)
The Fairchild Tropical Botanical Garden is a bustling concern now with beautiful views, families, weddings, and not much mention of Dr. Fairchild. It is a beautiful place, to be sure, but I was disappointed that they didn't do a little more to honor the scientist who had made such a difference to the economy of Florida and the USA. I did at least get a few books at the gift shop!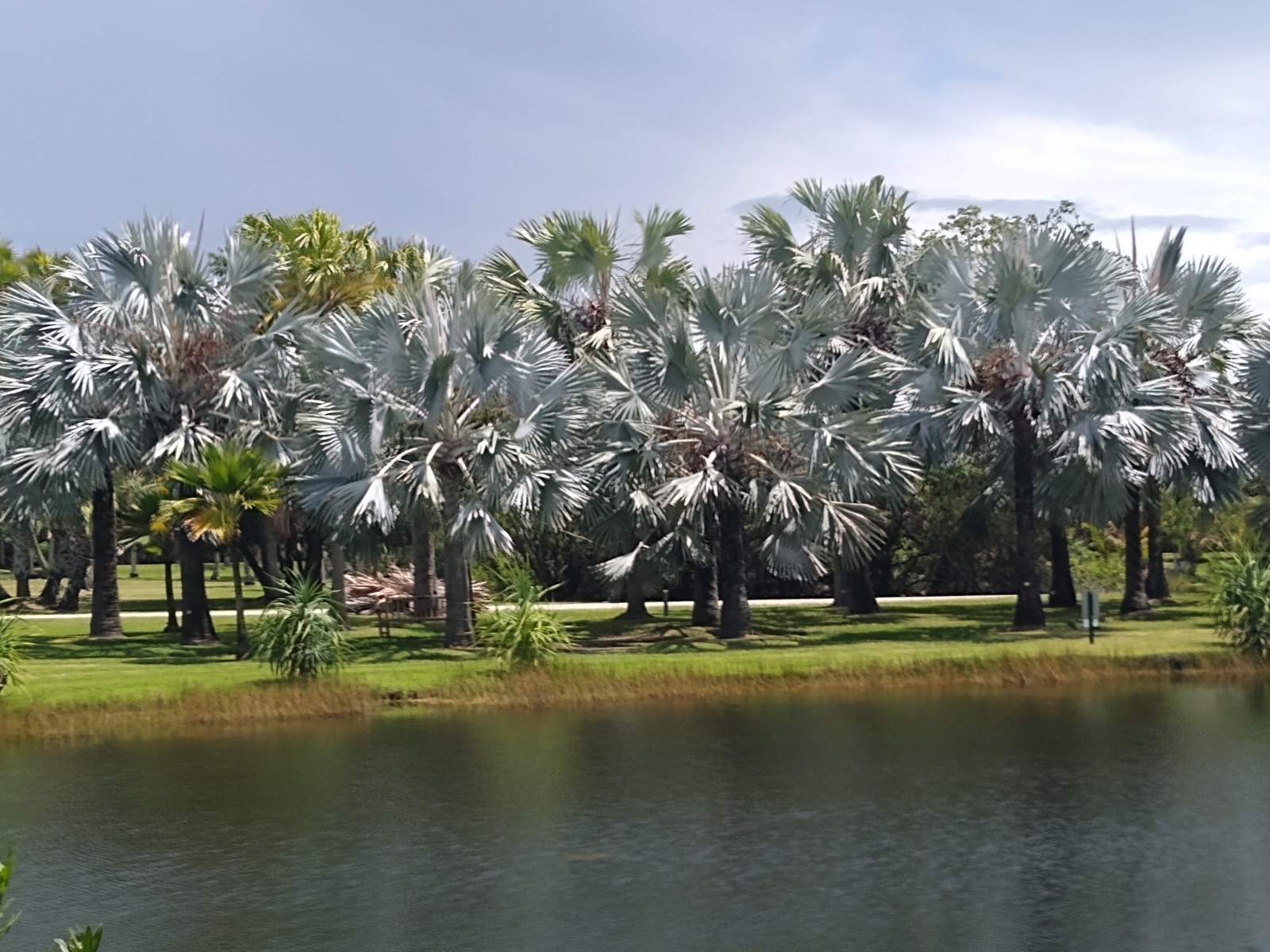 It was a hot day, so we ambled along the paths at a leisurely pace, observing the many varieties of palms and other tropical plants. I had known that there are many, many varieties of palms, but it's different seeing them in person.
We ambled, that is, until we saw the sign about crocodiles. This part of the gardens is near an inlet and the water is brackish. There are no alligators, but there are saltwater crocodiles. A woman who works there confirmed that there are indeed 5 resident crocodiles in this part of the gardens, but they never hurt anyone. Nevertheless we walked a bit faster after receiving that information!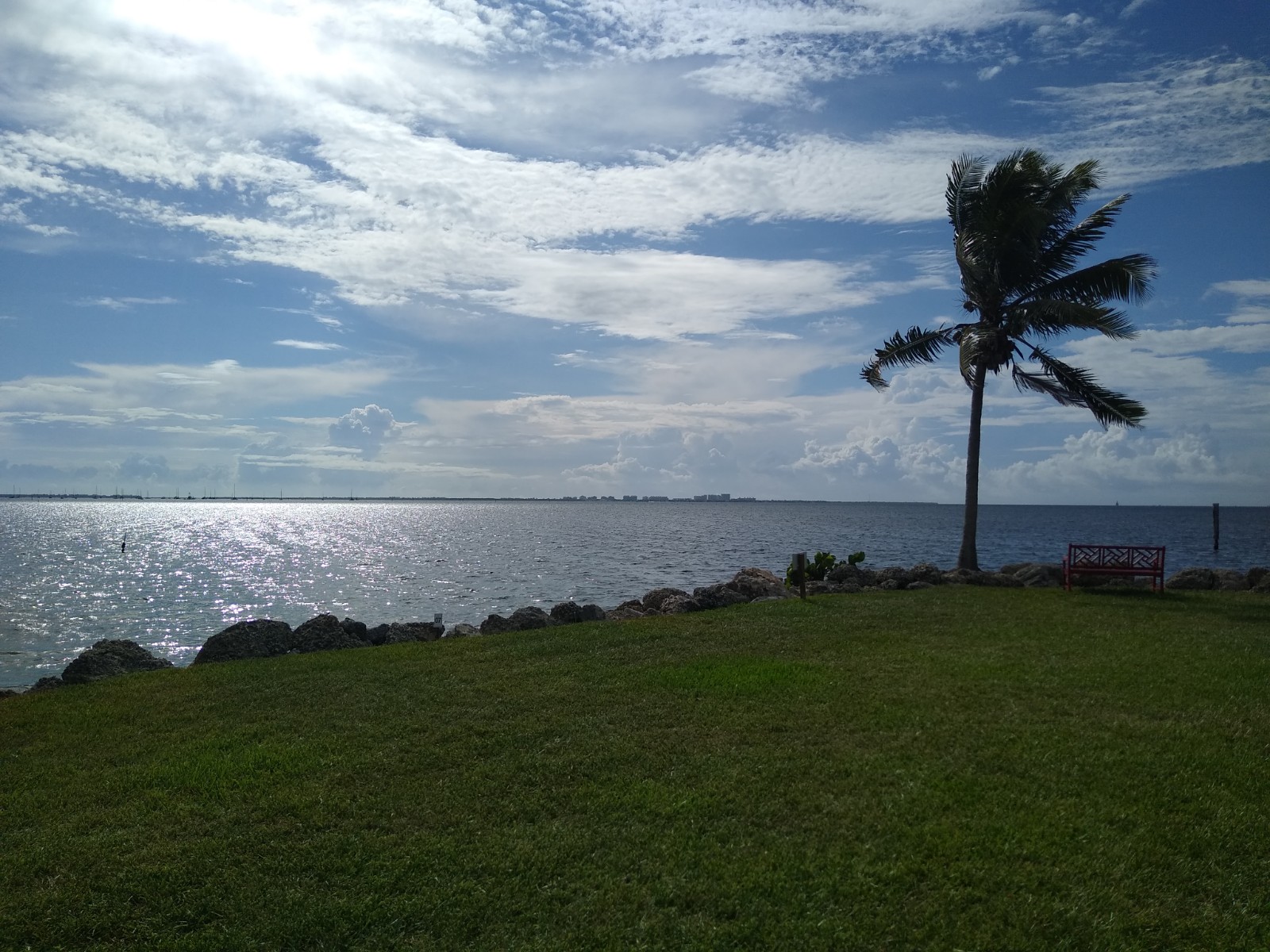 We also visited the Kampong. It's a long, skinny 8-acre parcel extending from Old Cutler Road to the sea, with a house about midway and cultivated palms, mangoes, and other trees growing in a more naturalistic setting. It was just as he'd written about in The World Grows Round My Doorstep. The Kampong is not publicized like the Fairchild Gardens is, and you have to reserve a time to visit so they can protect the fragile environment.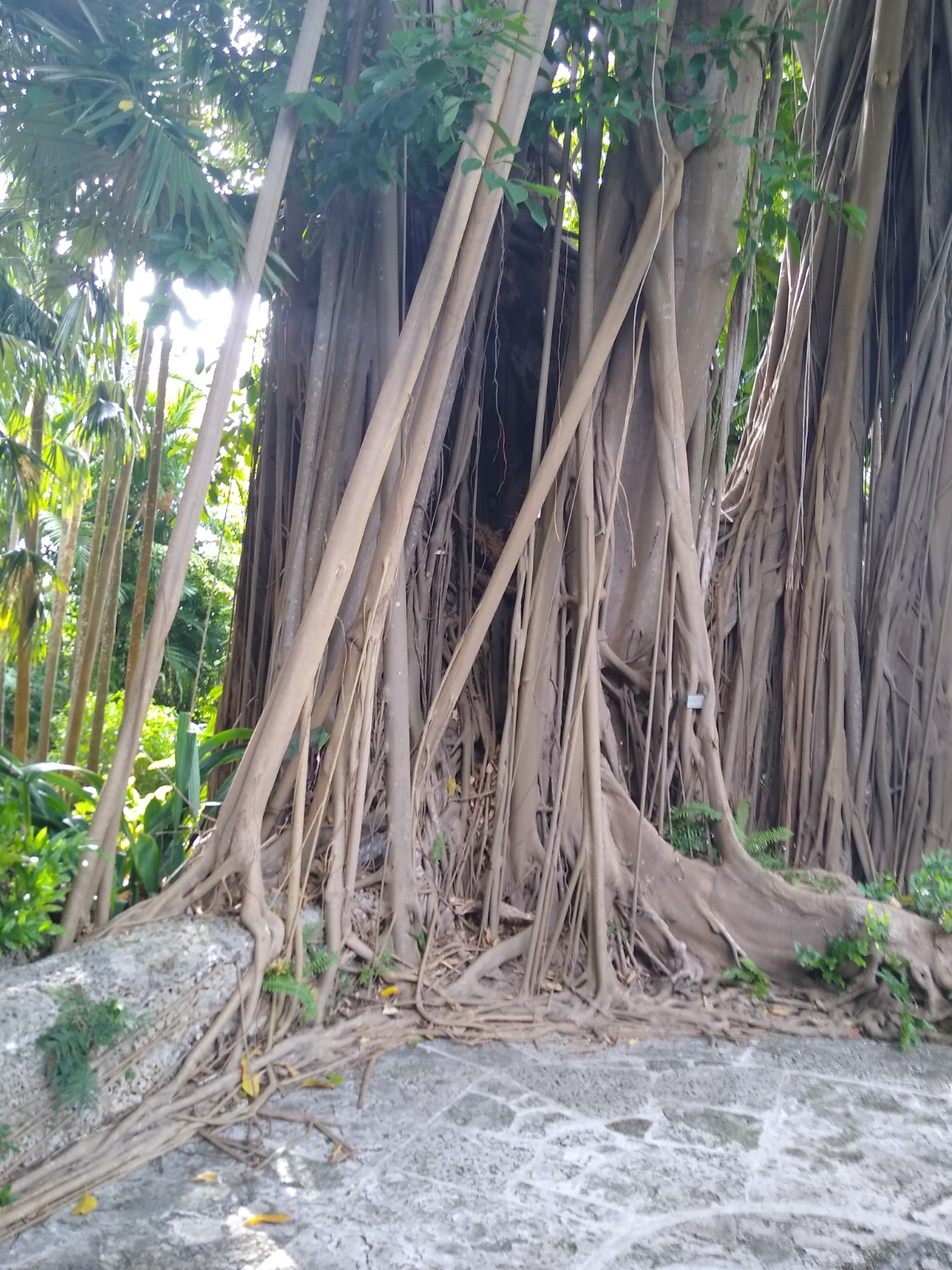 This was a much more satisfying experience to me. It was a chance to see what Fairchild had envisioned and executed on his own property, presented the way he wanted it. Here is a magnificent fig tree that he describes in the book.
There are also many mango trees. He loved mangos, and he planted enough of a variety to maximize the time that they would be bearing fruit. A worker there gave us one of the three he had picked up under one of the trees, and he told us about Dr. Richard Campbell, a mango specialist who grows many varieties just to the south in Homestead.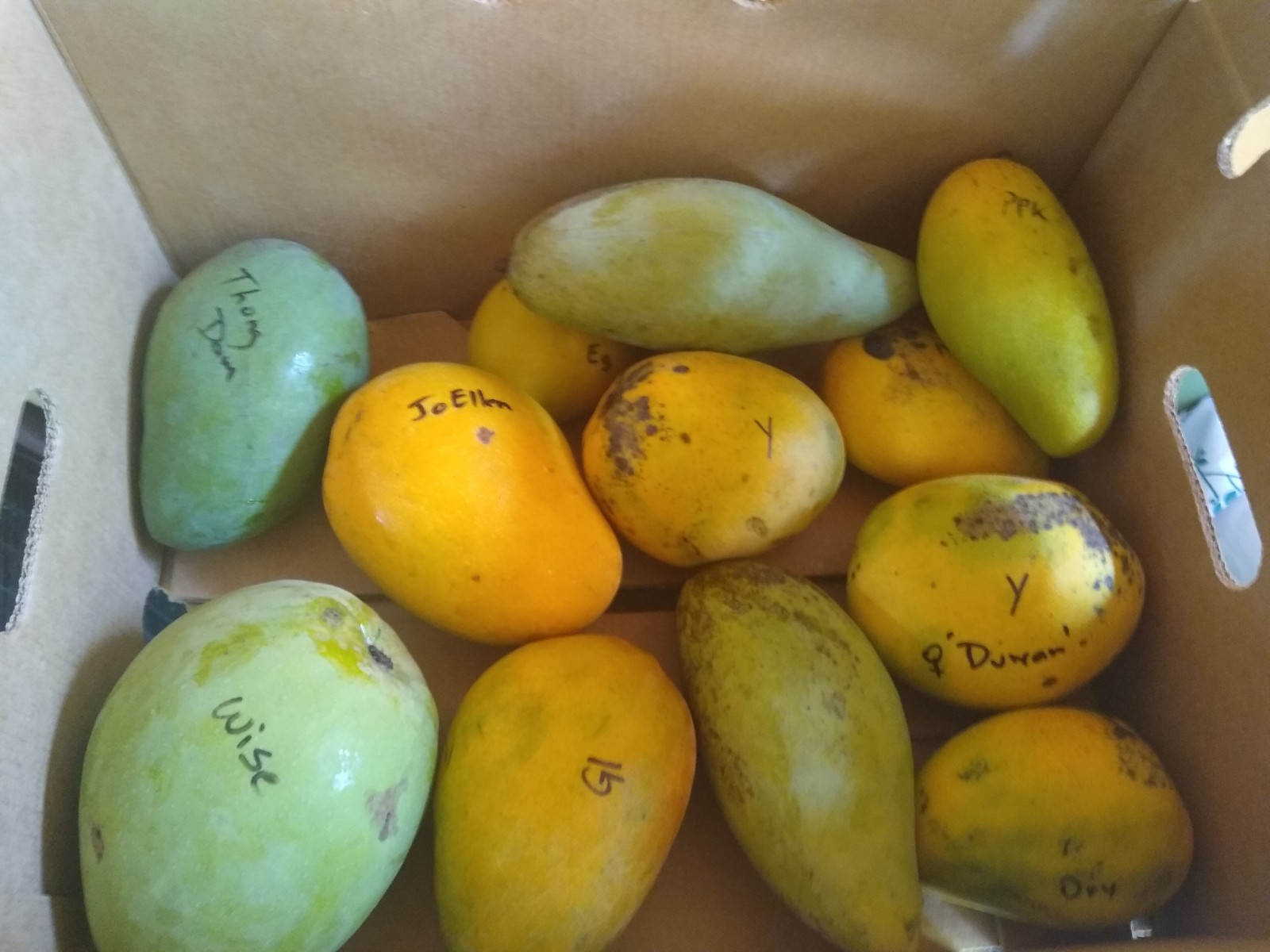 So we knew the next stop on our adventure! I looked up the Homestead Mango Men on Facebook, got the address, and went to visit. 
That visit was the high point of the whole trip for me. We're both talkers, and he was happy to talk about Fairchild and mangoes. Dr Campbell's father worked for Fairchild, and Campbell has walked in Fairchild's footsteps in many of the tropical places that are in the books. As we talked, he filled a box with a dozen different mango varieties, writing on their skins their names and when they would reach peak ripeness. A few days later back in Palm Coast we had a heck of a mango tasting with Melissa and Bob!