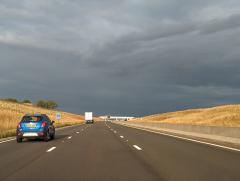 Our last full day in Britain was a busy one. We drove from York south to Cambridge and finally to our last hotel near Heathrow Airport. It took all day, because we were late getting out of York, and because we still had exploring to do.
The drive south was easy and nearly as boring as the northward drive had been, but it was only three hours, less time than it takes to drive from Plymouth to Boothbay Harbor. Besides, we broke it up with a really fun visit to Sherwood Forest, the legendary home of Robin Hood and his merry band of outlaws.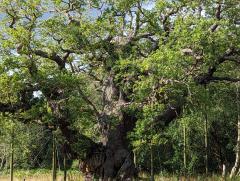 The Robin Hood stories seem to be based on some factual basis, but it was a thousand years ago and so no authoritative records survive. Many of the songs and tales from the period and succeeding centuries agree that there was a person or persons who lived outside the law in Sherwood Forest, and that they used the "Major Oak" as their gathering place. This photo shows what the park calls the Major Oak, which is between 800 and 1100 years old and quite enormous. The park includes hundreds of other huge ancient oaks over 600 years old that you can wander among along easy walking trails. There is a visitors center, some shops, and plenty of activities for children, but those magnificent trees are for everyone and we were glad that we came.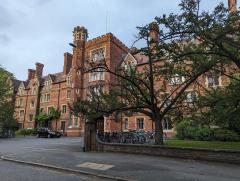 Our next stop was to see Cambridge, particularly the famous University of Cambridge, founded in 1209 AD, around the same time as its sibling to the west, University of Oxford, and younger only than the university in Bologna, Italy. Cambridge is a beautiful town, and the university is everywhere with its 131 colleges, 116 libraries, and eight museums along shady streets and the tributaries and canals of the River Cam. I had a deep feeling of the immense concentration of both tradition and wealth that comes from long-established stable institutions. If you've explored the grounds of Harvard or Yale, you get only a hint of the awesome enormity and age of Cambridge.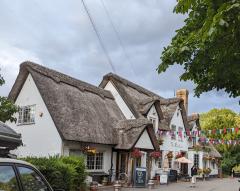 We hadn't eaten since York, so we needed to find some dinner. I work with a friend who studied at Cambridge and who had given me some suggestions, but the top two of the three were closed when we got there. Fortunately we were seated at The Red Lion in neighboring Grantchester, where we had our last good meal in England. I had a steak, Melissa had a vegetarian platter that was quite ample, and of course Lorna had the fish and chips! They also got traditional English desserts, a Sticky Toffee Pudding and an Eton Mess (strawberries and meringue). We were all happy with our food, the service, and the setting.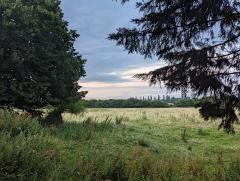 The Red Lion has outdoor seating in a garden behind the building, and the garden borders the Grantchester Meadows, which was the subject of a pensive 1969 song by Pink Floyd that I remember listening to in high school and in college some years later.
It's a pretty place on the banks of the River Cam, and the protected open space was a welcome change from the university's sprawl (800+ years of development will do that) that characterizes the city of Cambridge just on the other side of the meadows from where we were dining.
After dinner, dusk was upon us and we still wanted to get a quick look at the old town of St Albans, hometown of our long-time neighbor Valerie. We were into the suburbs of London and traffic was heavier, so it was dark when we got there, so I have no photos. We could see that it has much to offer, including an excellent site of the original Roman town, so it's another place to return to on a future trip.
That night we stayed at The Olde Swan, an inn and pub in Chertsey near London Heathrow Airport. it's a quirky place, and Phil the proprietor was very helpful in getting us situated with plenty of light so we could repack everything for the flights home. I thought The Olde Swan was a great example of how the charm and hospitality of an old inn could still survive in a day of large-screen television and social media reviews.