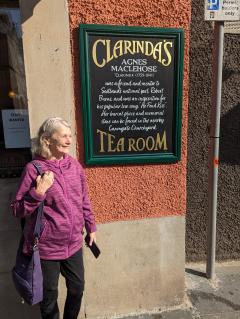 The next morning we returned to the Royal Mile for breakfast at the long-anticipated Clarinda's Tea Room. Remember that we'd never actually eaten there, it had caught Lorna's attention 30 years previously, and they found it again last night, but today would be the first time we could dine there so we really had no expectations, only anticipation. But it looked nice enough so that was the plan.
That's part of the charm of these adventures, like finding Ashton Lane in Glasgow based upon a painting in our living room, we find a mix of historic and cultural sites that are visited my many tourists every year, but then we also find oddball places that wouldn't mean anything to anyone else but that have some personal significance for us. 
We loaded up the car first, so we could head out of Edinburgh as soon as we were finished because we had a three hour drive to the Yorkshire coast and then another hour to get to York city.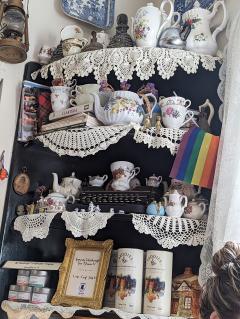 Clarinda's lived up to the anticipation! It is a charming place, neat and attractive, with creative decor. It's popular; we were in a short line of people waiting to get in as they opened.
The food and service were both excellent, and they are vegetarian-friendly. In fact, Melissa had hot chocolate and a vegetarian version of the Full Scottish Breakfast, with a vegetarian form of breakfast sausage and a serving of vegetarian haggis... who knew there was such a thing? She declared it all excellent. Lorna had tea with scrambled eggs and toast. The two of them shared a cream tea  (scones with clotted cream and strawberry jam), and I opted to open my last breakfast in Scotland with tea and a very good oatmeal drizzled with honey. Oatmeal is not my favorite breakfast in July, but Scotland is famous for oats and so it was part of my foodie survey of the country, and it was delicious anyway.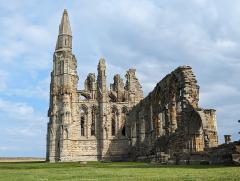 From Edinburgh, we headed south to England to see Whitby Abbey on the Yorkshire coast, and then to York city. The drive down the coast past Berwick and Newcastle was uneventful, a good opportunity to debrief ourselves on the past few busy days. 
Whitby Abbey is a spooky old place, known in literature as the place where Count Dracula entered England in Bram Stoker's novel Dracula. I was re-reading the novel on this trip, so the site had more meaning for me. It is indeed a dramatic place, perched on a sea cliff facing out to the North Sea, overlooking the cute little town of Whitby.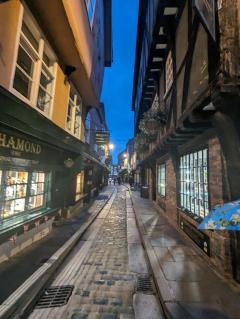 From the coast we drove an hour west to the ancient city of York. It was largely built by the Roman legions and the old Roman walls are among the best-preserved in Europe. The downtown area is a busy hub of shops and pubs and architecture, and it includes a large public market and a really interesting section called The Shambles, shown here. The Shambles is an old medieval street with modern shops occupying centuries-old buildings.
Melissa was particularly taken with The Shop That Must Not Be Named, a Harry Potter themed gift shop. She remarked that the whole street looked like it came right out of the Harry Potter books, but I suggested that perhaps the Harry Potter books were inspired by this street. Much of York has a strong medieval theme as a part of a deeper historical theme; they clearly take great pride in their long history and actively use it as a valuable asset.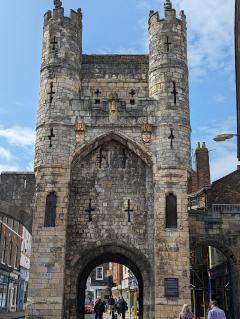 One of my favorite parts was getting a close look at the Roman walls, and at the medieval gates that were built into them. They are still used. You can see this year's cars driving through gates that were built centuries ago in walls that were built two thousand years ago!
Over a thousand years ago, after the Romans left the city and before it became English, York was captured in a Viking raid. It became an important center of Norse commerce called Jorvik, and there is a museum of Viking Jorvik in the downtown area as well, a short walk from the Shambles. 
That evening I was able to have a pint with an old friend who lives near York, so Lorna and Melissa dined together elsewhere while I caught up with Alun at the wonderfully named House of Trembling Madness at Stonegate. It's a sprawling place with numerous rooms and all manner of chairs and couches and tables... it resembles one of those places you might dream about, where you go from room to room and find mysterious corridors and strange inhabitants.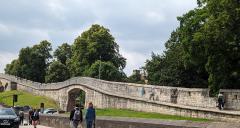 Our hotel, the Middleton's on Cromwell Street, was excellent. We had half of a cottage a short distance from the main hotel. It was quite spacious, with a king bed, a full bed, and a set of bunk beds, so it was enough for a small family and plenty for us. The location was great, too, with enough off-street parking but only about a block from the bridge that leads into the downtown shopping area. The breakfast was also very good.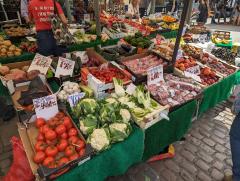 The following morning I explored the Shambles public market. York has had a market here for a long time. According to a sign I saw at one of the entrances, it was first licensed in 700 AD! It's a big market, with lots of local produce, including some things that feature in British cuisine but that we don't see often at home, like fresh watercress and black currants. There were also vendors with local cheeses (I bought some Wensleydale that was far superior to the sweet supermarket variety that we usually see), butchers and fishmongers, various crafts, clothing, and all sorts of goods. I was happy to see a Turk selling excellent Turkish coffee that came with a little piece of Turkish delight, the soft sweet mastic-flavored confection that my mother loves.