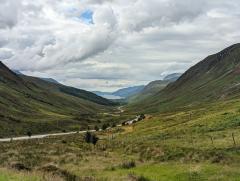 This day got off to a very late start due to the flat tire and subsequent replacement of the red Citroen, but the high latitude was in our favor as sundown would be after 10pm, so I phoned the Hotel Cruachan while I still had signal and told them we'd be checking in late, and we set out for what became a memorable day indeed!
Plan A had been to head northwest from Inverness to Loch Maree, then south to Torridon, a loop around the Isle of Skye, and ultimately to Fort William. Due to the late start we had to cut out remote Skye, but we did the rest of the plan, despite running into another unexpected delay.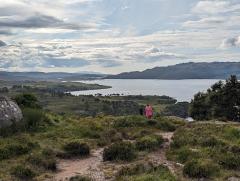 This route included some of Lorna's happiest memories of her 1991 trip, and Melissa and I could see why - it's spectacular! Everywhere you turn are broad vistas with mountains and water and sky, very few buildings, and no highways. Much of Scotland was deforested ages ago, between clearing for agriculture, heating and cooking, and the immense demand for timber to build the thousands of ships for commerce and for the Royal Navy. Trees are being replanted in some places, but there remain huge areas of open space now covered with sturdy heather and gorse. It looks wild and lonely, but beautiful.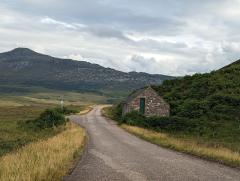 The roads out here are about the bare minimum for driving in a civilized country. There are no breakdown lanes or even shoulders, no lines to separate oncoming traffic or to mark the safe edge of the road, and in fact for miles and miles many roads are a single lane with occasional wide spots where you can pull aside to allow an oncoming car to pass. Without those, you would be off the road in an area that is not suitable for a car. You can see one of those pulloffs opposite the cottage in this photo.
Fortunately, at least while we were there, traffic was quite light so you can get around easily enough, but you must be alert.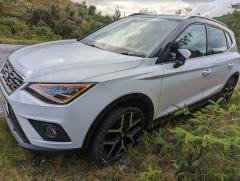 South of Torridon it was getting late and we still had miles to go, around Loch Carron and past the famous Eilean Donan Castle to get to Fort William. We were moving along pretty well, past the tiny towns of Lochcarron and Strathcarron (on either side of the long lake Loch Carron), and up over a mountain when three cars came around a bend with no place to pull over. That's how we got our second flat tire in less than 24 hours.
What a sense of despair came over us! We were broken down in Wester Ross, about as remote a place as we'd ever driven, still an hour from our hotel.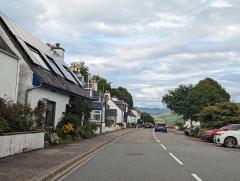 Luck was with us that evening. All the way from Lochcarron we had been followed by a gray Mercedes. The driver stopped to see if we needed help. His name was Lyle, owner of an engineering firm building a salmon farm in the loch, and he absolutely saved the day. He phoned his friend Vaclav, the owner of the Lochcarron Garage in tiny Lochcarron ( population 923). It's the only garage for miles around. Fortunately Vaclav agreed to send a flatbed for the car. Lyle brought us back to Lochcarron and set Lorna and Melissa up in the dining room at the Lochcarron Hotel while I worked out the car situation. 
Of course, there down the street from the new salmon farm, Lorna had to settle once again for fish and chips.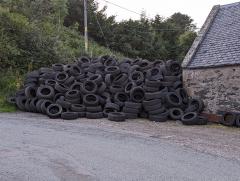 Vaclav is a Czech fellow, married to a Czech woman. How they got to Lochcarron I never found out. It was already 7pm and past closing time, but he cheerfully helped us. I had no intention of wasting any time or energy on Avis and the BAA, I just paid out of pocket to get back on the road. Unlike the big, modern tire shop Inverness, Vaclav had a tire for us. In fact, he had the most astonishing selection of tires I had ever seen in a private garage. He explained that I was far from the first flat tire in these parts, and he remained prepared for all of the common rental cars. Then he showed me his Tire Mountain, made of all tires destroyed on the local road!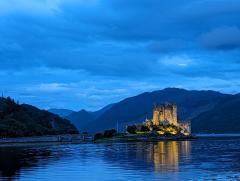 We were fed and on the road again in under two hours. By this time it was getting dark and we still had miles to go. When we got to the always-scenic Eilean Donan Castle, dusk was setting in and the ruined castle was lighted up like something from a dream. I was secretly glad for the delay that had made this moment possible, but it wasn't the time to say such a thing to Lorna and Melissa, who were increasingly anxious to get to the hotel. 
We arrived at the Hotel Cruachan in Fort William around midnight. Our room was waiting for us and the night desk-clerk/porter helped us to get settled for the night. After our adventure, we all slept like the dead!