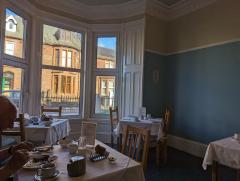 Lorna and I both went to Scotland in 1991, but we were not yet together and we saw different things. For over 30 years we had wanted to return and to show each other our favorite sites. 
Our first order of business was to get to Glasgow. Scotland has a southern "Borders" area with more population, commerce, and English influence, then there are the deep inlets of the Firth of Clyde and the Firth of Forth, with Glasgow and Edinburgh on them. North of there you get into the more traditionally Scottish area, large and beautiful, and much less populated once you get beyond the suburbs of those two cities. Glasgow is about the size of Boston, and Edinburgh, the capital, is a little smaller. Beyond them there's really only Inverness, which is smaller than Plymouth, and countless remote tiny villages and castles of the Highlands and Islands.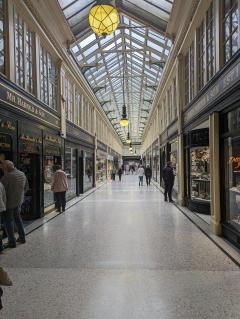 It was an easy drive on the highway to Glasgow. We had three specific points to see there aside from just exploring. There's an extensive downtown pedestrian-only shopping area called Buchanan Street, with a large mall at one end. Lorna remembered somewhere in the Buchanan Street area the Argyll Arcade, a smaller mall of only jewelry boutiques that had in 1991 much newly-made high-quality jewelry in Victorian styles. Naturally she wanted to find that again.
We found it, and it's still all jewelers, but the Victorian styles were no longer being sold there, maybe no longer being made. That was disappointing but it was nice to have found the place after 30 years.
On a more practical note, Melissa also needed a new pair of pants or socks or something, so they went to that big anchor mall and accomplished their objective while I explored Buchanan Street.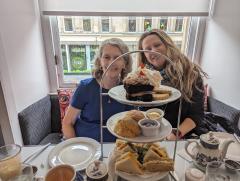 That was also productive: While looking for a cup of coffee, I found the Willow Tea Room, which became one of the best stops of the whole trip! I grabbed a table and texted them to come find me. Our lunch was delicious and the tea room was decorated in a Charles Rennie Mackintosh theme, and it had a little gift shop stocked with Charles Rennie Mackintosh designs. I got to try the old Scottish Clootie Dumpling, a sweet of the boiled pudding family for which I have long had a recipe but that I had no idea how it should look or taste - now I know and I plan to make it this winter. Lorna and Melissa were very happy with the grand cream tea and they still talk about it and about the Willow Tea Room.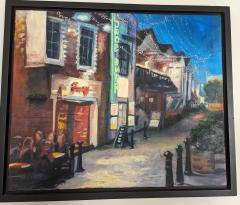 After that we returned to the car and went in search of two more sites. On our living room wall we have a painting that Lorna found of a romantic night scene of people dining outdoors under lights. We know that the painting is from a real location in Glasgow called Ashton Lane, so we went to find it.
As was the case throughout the trip, Google Maps did the job and we found it looking exactly as in the painting at home, except that we were seeing it on a sunny afternoon instead of a romantic evening. It was a really strange through-the-looking-glass sensation seeing in Glasgow the same image from the same angle that we see every day at home.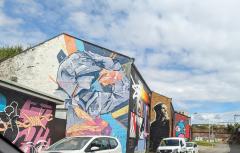 The other site that I wanted to see was what my mother used to call a Lucky Strike Extra! While perusing Google Maps in planning for the trip, I had seen a point of interest called Galvanizers Yard, which is now a site for large, excellent murals and other public art. We drove there on the way out of Glasgow, but we were eager to get back out on the open road (we still had to get to Inverness via a long scenic route) so we did not get out of the car for a closer look. This happens all the time when I am planning our routes for a vacation: some point of interest appears on the map and I click out of idle curiosity, and it becomes a memory of the trip!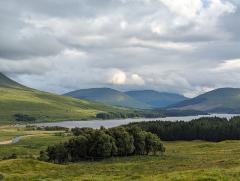 We spent the rest of the day driving along Loch Lomond, Glen Coe, and Loch Ness to Inverness. The direct route would have been about three and a half hours, but we took this incredibly scenic route through some of the prettiest areas and it added only a little over an hour, so we were still in Inverness for supper. As fate had it, we ended up with plenty of time for Lorna and Melissa to explore Inverness! 
The roads north of the Glasgow-Edinburgh metro area and south of Inverness and Loch Ness are smaller and less congested than those nearer the border, but they were well-maintained and the drive was a pleasure. As you can see in the photo of Loch Lomond, there's still a lot of open space with few trees compared to New England, so you get long view to the mountains and other lakes.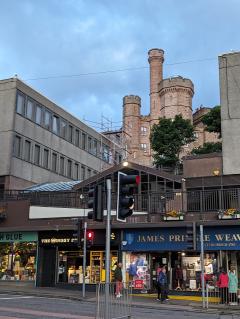 I had happy memories of Inverness from 1991, and I was not disappointed. It's a quaint little city smaller than Plymouth in population, but it has a long and bloody history as a key port and the last real city before the wild Highlands, where the River Ness drains Loch Ness into the Moray Firth and the North Sea. The castle is visible from all over town. It's a very vertical city, like so many of the towns that we explored in Italy, so your legs get a workout. 
One of the most notable things about Inverness for Lorna was that it was the only place in Scotland where she actually was able to order Scottish salmon for dinner! That was at the River Grill at 1 Castle Road, by the River Ness.
Inverness is far north (about the same latitude as Oslo and Anchorage), so in the summer it stays light late. We were able to check into the Beaufort Hotel, get dinner, and still take a quick 15-minute drive out to the lonely, haunted Culloden Moor Battlefield where Melissa wanted to get a sense of the ghostly energies remaining from that awful, fateful battle.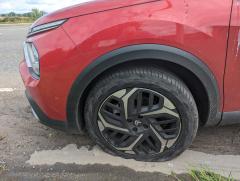 Alas! The drive back took 18 hours if you don't count the taxis that brought us back to the Beaufort. A pothole in the road was more than our overloaded Citroen could take. I got the car to a safe place and we took a taxi back to the hotel. Although they were very helpful, it still took hours to get help through Avis and the British version of AAA, and then we discovered to our dismay that the local tire shop did not have a tire to fit the Citroen! I rode in the flatbed to the airport where we delivered the Citroen and replaced it with a white car of similar style but somewhat older. It was 4:00 pm before we were finally on the road again for our decades-anticipated trip to the Western Highlands.