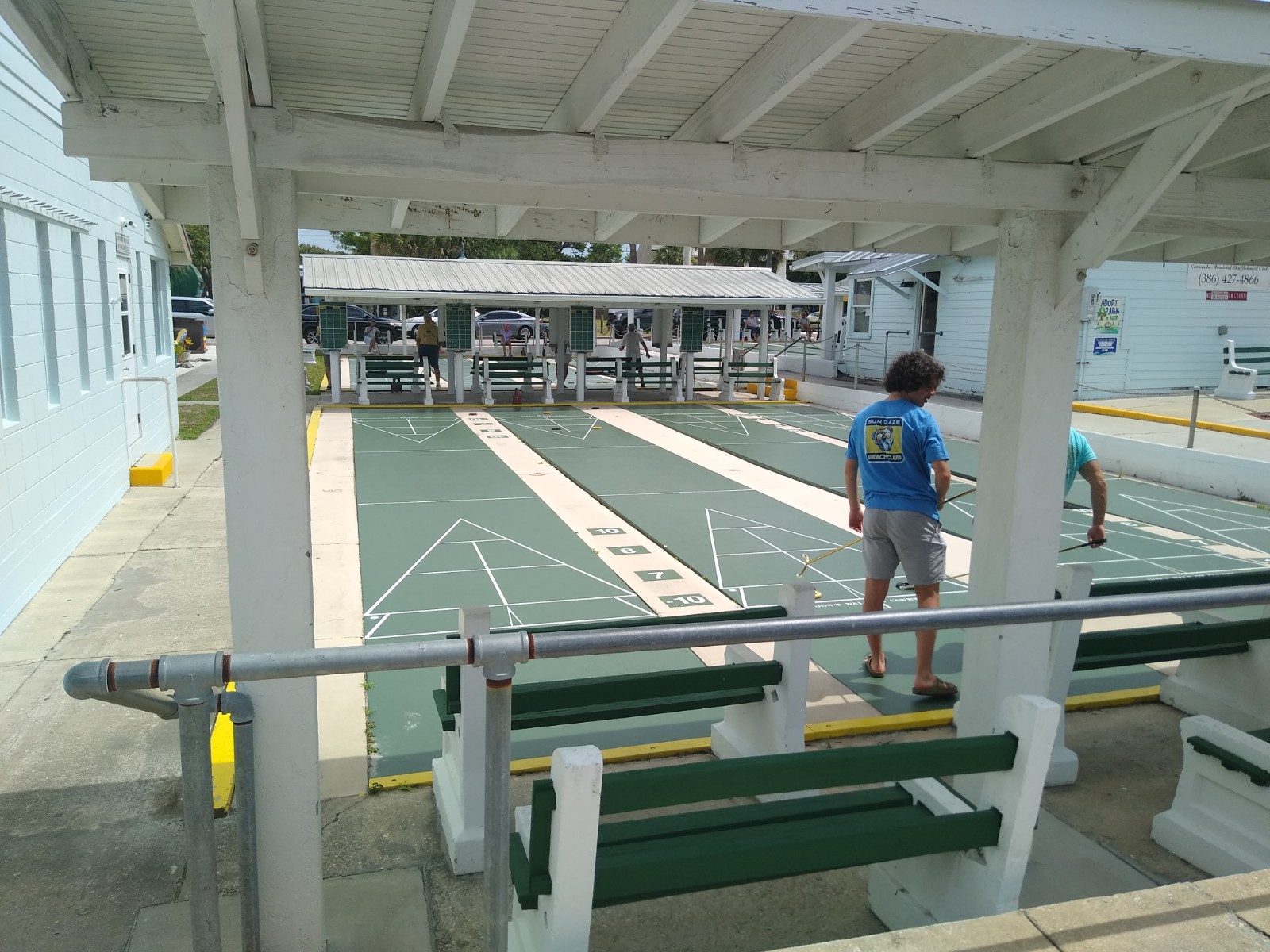 By Thursday we were winding down from our sprint along all of Florida's Atlantic coast. We joined Melissa and Bob for a leisurely drive to New Smyrna Beach for the afternoon, and then up to a Big Cat sanctuary north of Jacksonville to wrap up this adventure.
New Smyrna Beach is a nice town, with far better shopping (per Lorna) and coffee (per me) than we had seen in Key West or even in Miami Beach. I was surprised to see ten public shuffleboard courts, all well occupied with even young people playing.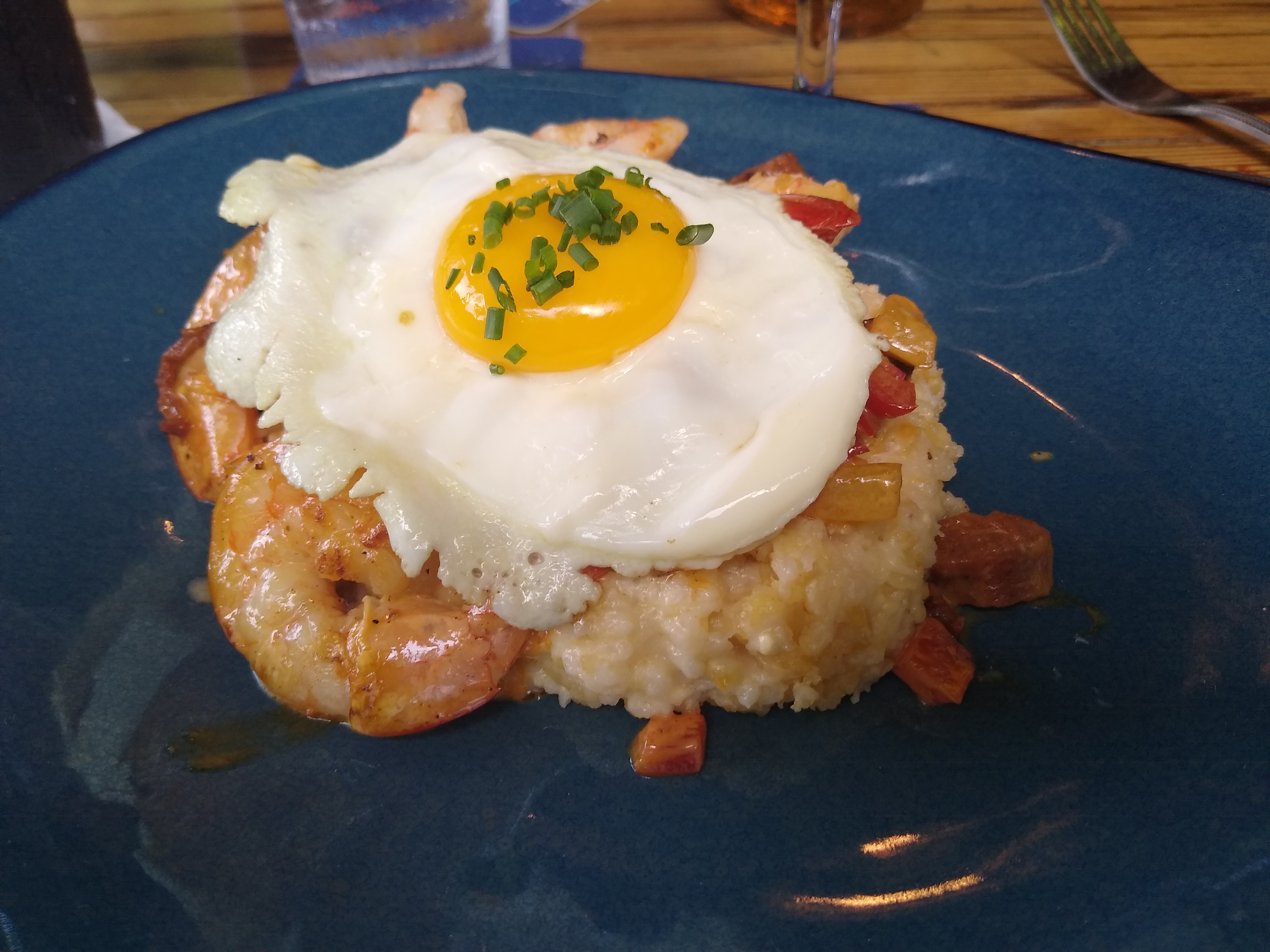 After they finished shopping and I had caught up with note-taking and coffee, we had a fine lunch at Third Wave, where I got to try another celebrated southern specialty: shrimp and grits. We dined outside in a shady courtyard with a pleasant breeze and no street noise.
As evening approached we returned to Palm Coast and split into two cars so Bob could join us to see the Big Cats north of Jacksonville, near the airport hotel where we'd be staying that night.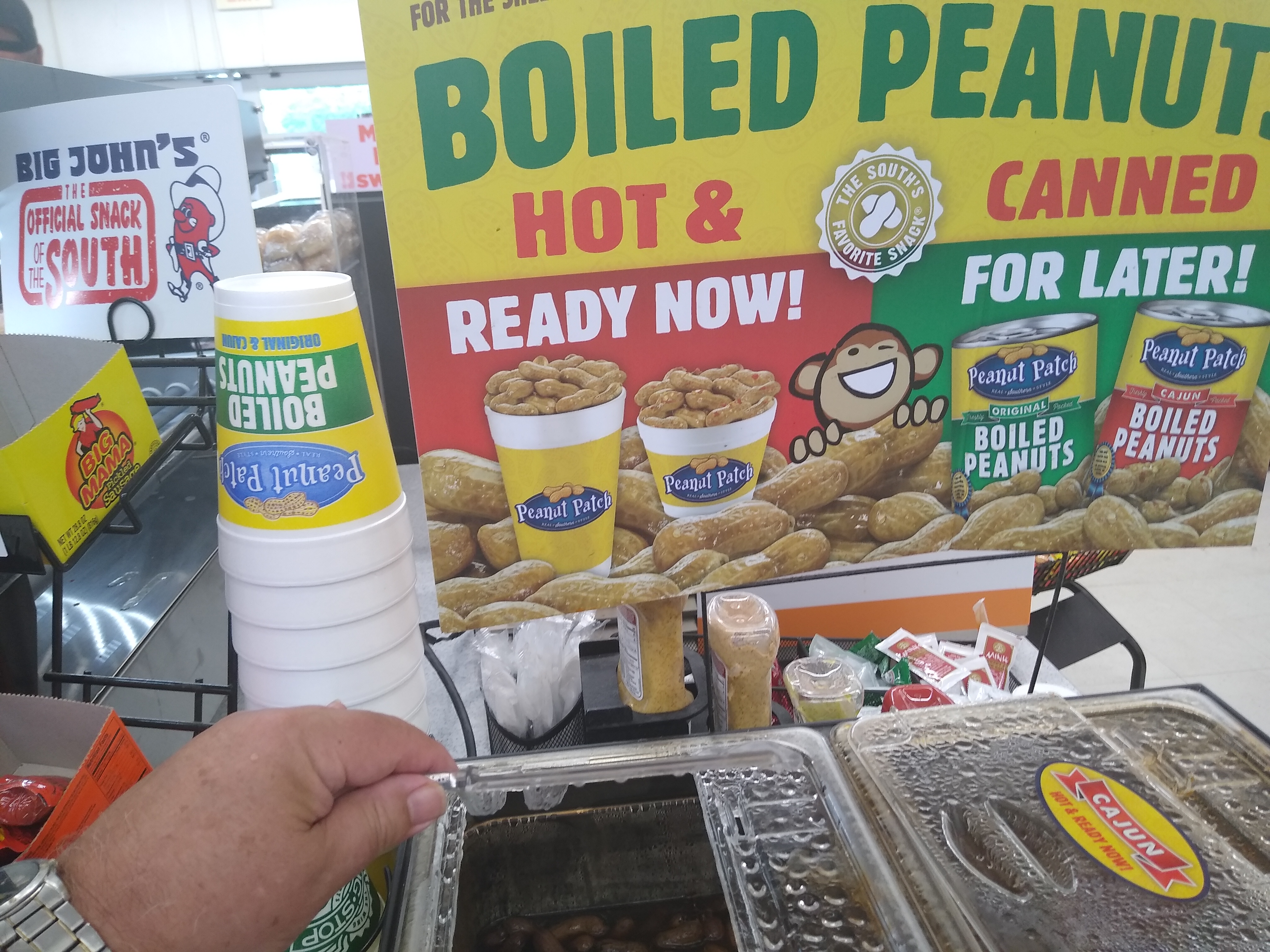 On the way to the cat sanctuary I stopped to refill the rental car with gas, and found yet another favorite of the Deep South: boiled peanuts. These are whole peanuts in the shell, boiled in brine (sometimes with Cajun spices). The shells become softened and leathery, and the peanuts are quite salty. I cannot say it was a culinary high point of the expedition, but I couldn't let the opportunity pass. Of course, the gas station variety are probably inferior to those made by someone passionate about this particular article, but I didn't get to try that variety.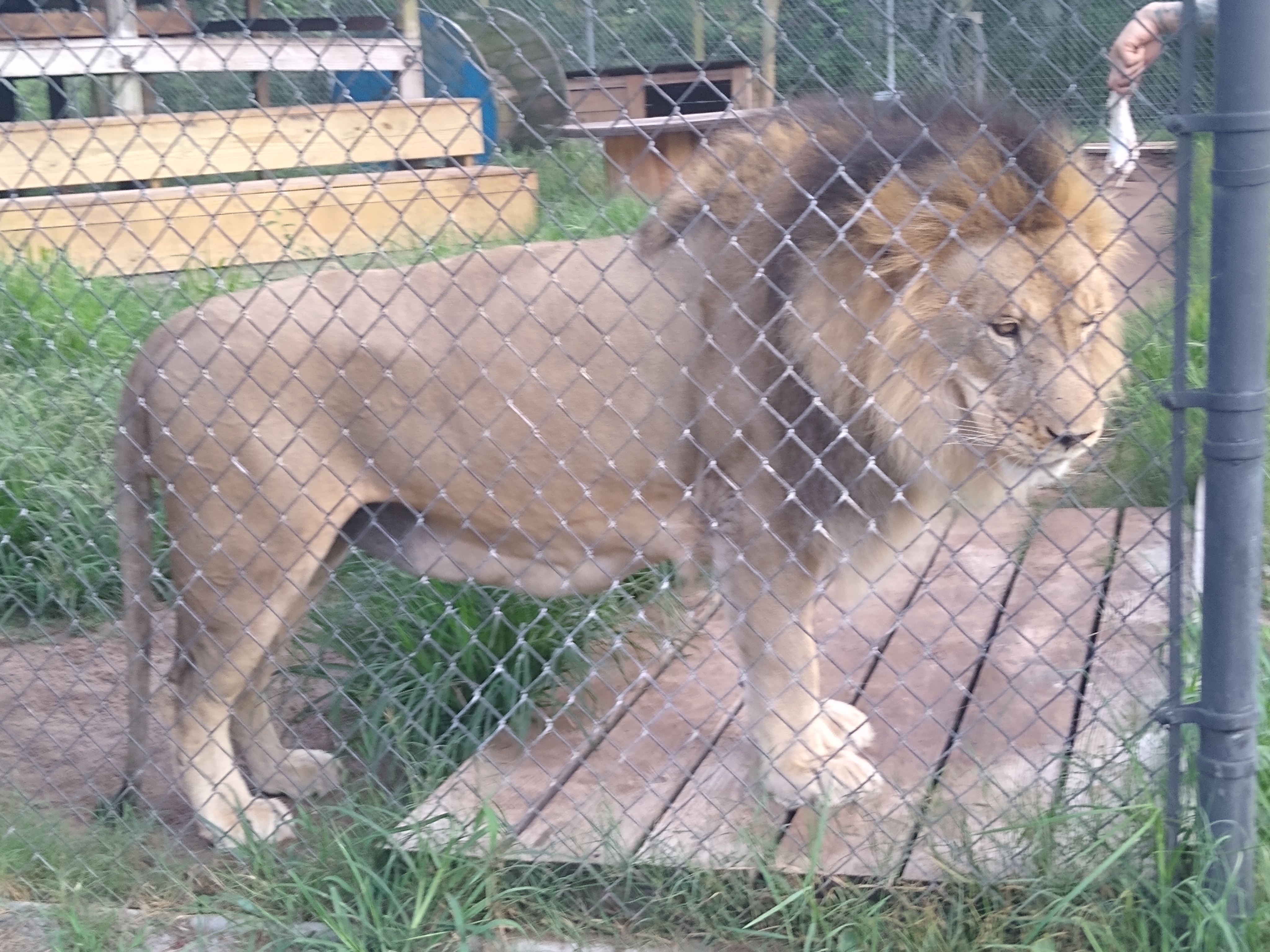 The Catty Shack Ranch Wildlife Sanctuary was fun. It's a big place with many tigers and other big cats rescued from private owners who never should have had them in the first place. We were there for the 6pm feeding, when the owner and his helpers go from enclosure to enclosure feeding the cats raw chicken spiked with essential nutrients and minerals.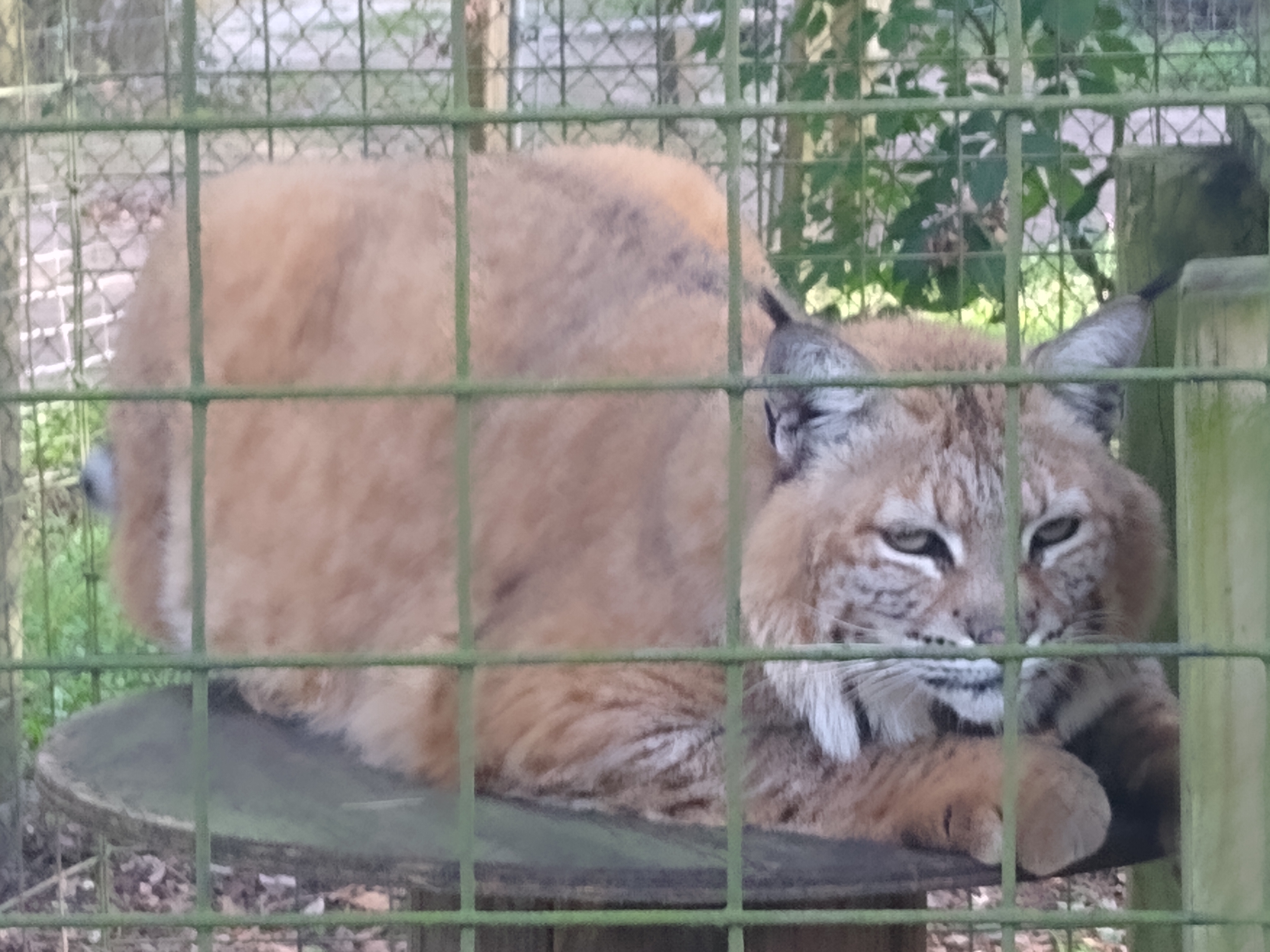 The enclosures are mostly very large with what seems to be ample room to run and play, pools to cool off in, and covered areas for shelter from rain and sun. We saw different groups of tigers playing, chasing each other or slipping into a pool to cool off, only to dart out after a surprised companion. It was strange to see these huge cats acting like our own Fergus and Violetta at home!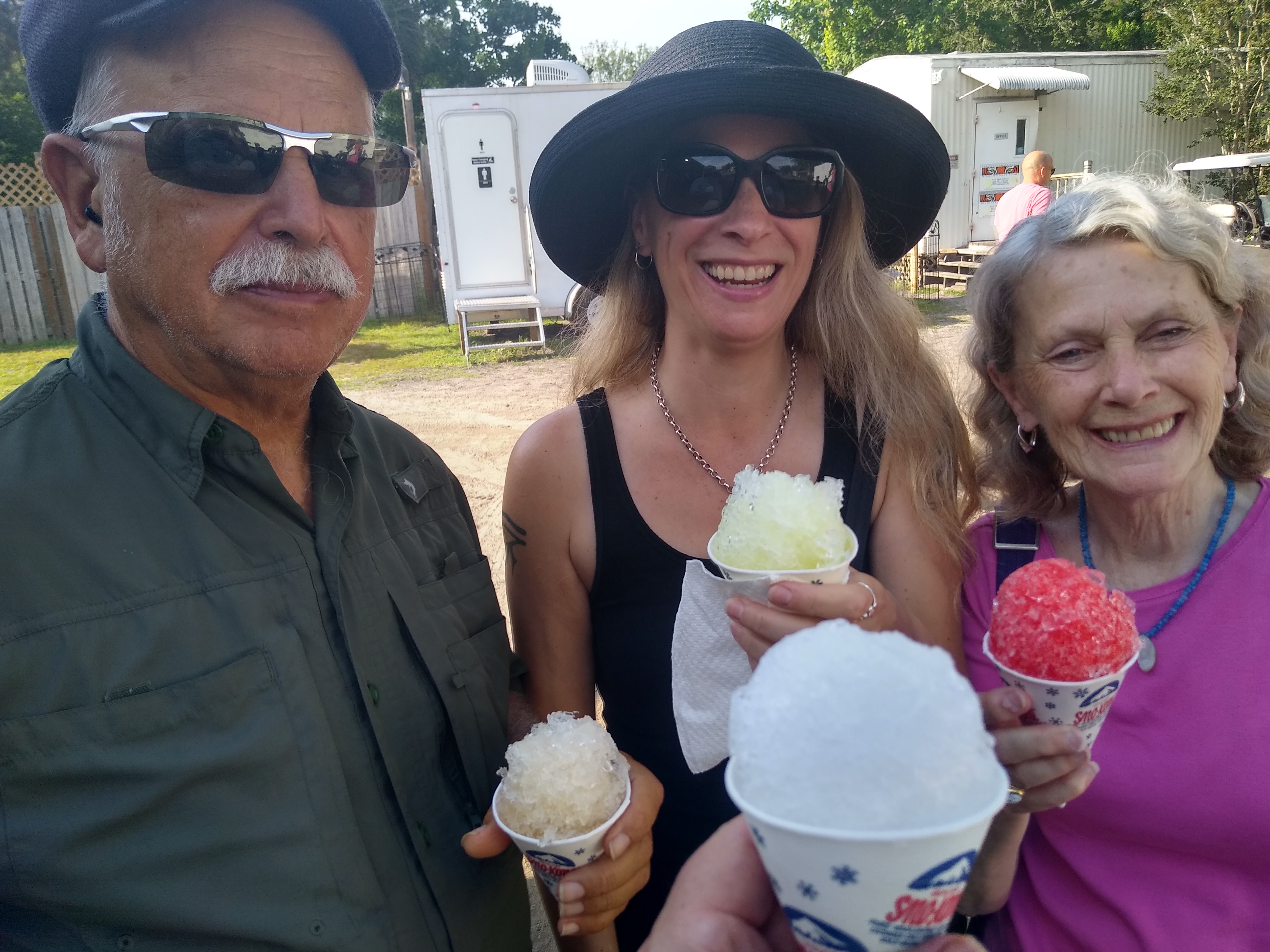 In addition to the biggest cats (lions, panthers, and many tigers) there were smaller wild cats like this bobcat, a serval, and others, but the smaller cats had been fed earlier in the day so they tended to just sit and watch us gawkers as we walked past in wonderment.
It was a fun way to wrap up the vacation. After the cats, Bob went home to Palm Coast and we went to a chain steakhouse for a mediocre dinner followed by a stay at a nondescript airport hotel and a perfectly routine flight home. That, of course, was as it should be after a week of tropical adventure!