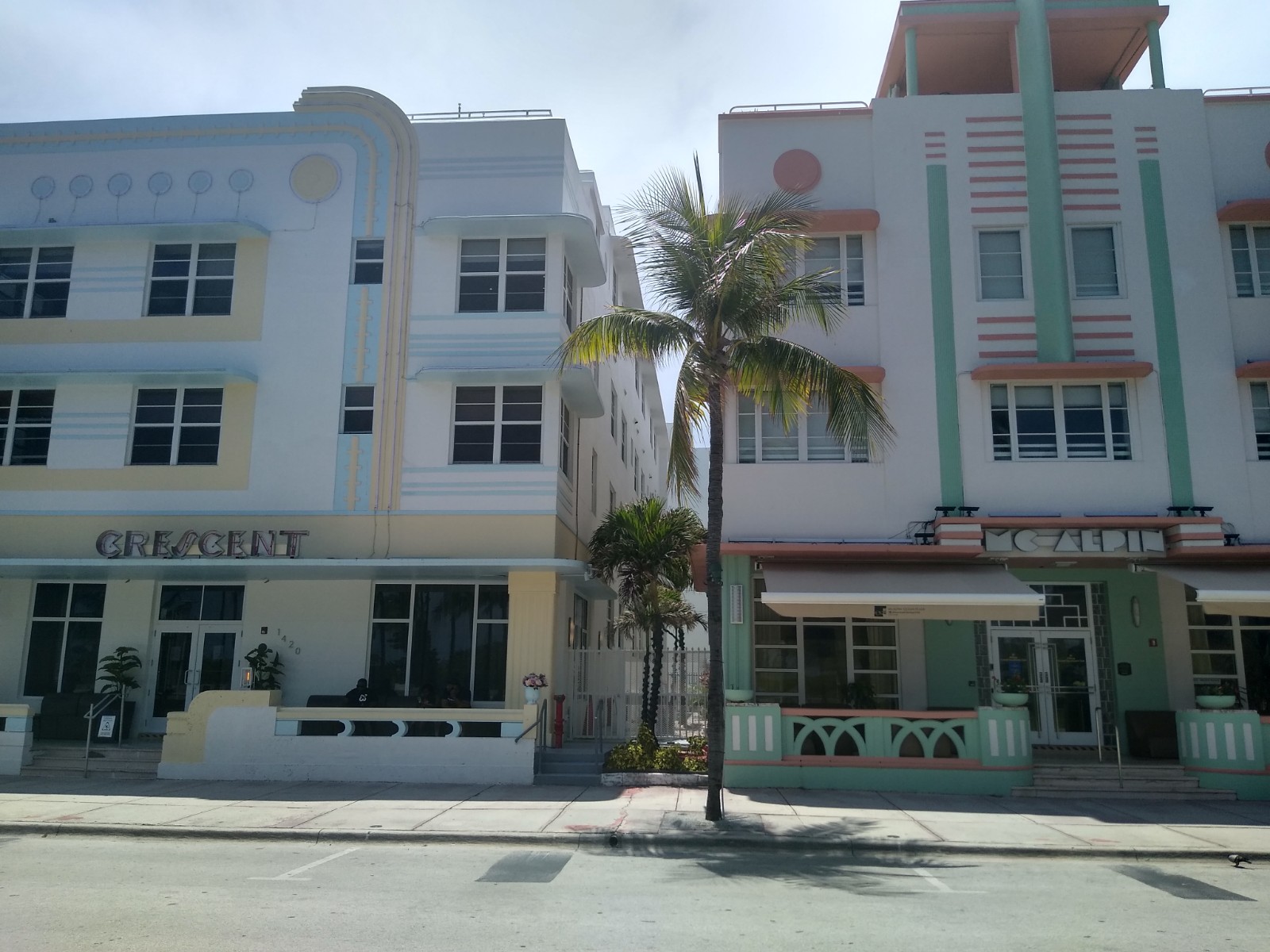 Miami Beach did not thrill us. Its heyday was back in the 1920s, '30's and '40s, even into the '50s. The long waterfront was developed in those days, and the structures, mostly hotels, are fine examples of Art Deco architecture. But toay Ocean Drive is just a fancy setting for partiers and beachgoers. The shopping was disappointing and good food is there to be found, but you have to look for it. Of course, I might have been more charitable if I'd had the sense to go in January...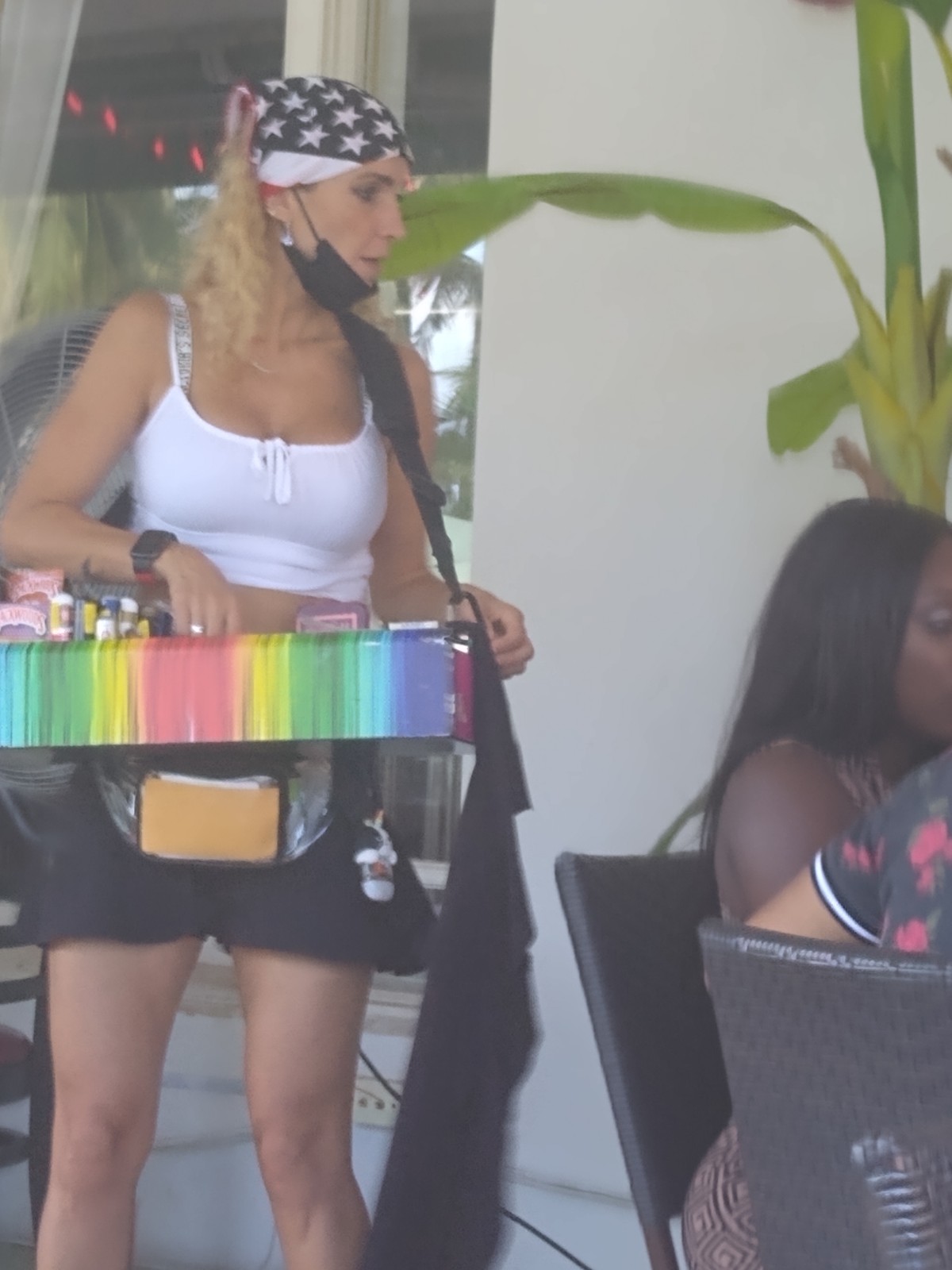 Some of the places do try to maintain a sense of "another time", especially 1957, the last year of pre-revolution Cuba. Here we have an authentic cigar girl, going from table to table hawking cigars, cigarettes, and more modern versions of the combustible vices. Naturally none of the cigars are actually from Cuba, but they all play to that forbidden fruit mystique by claiming to be made from tobacco grown from Cuban seed, or using names like Havana Especial (made in Honduras). If she sold a cigar, she would open it and cut it for the customer and lend him a lighter so that he could bless us all with his romantic vaporous exhalations.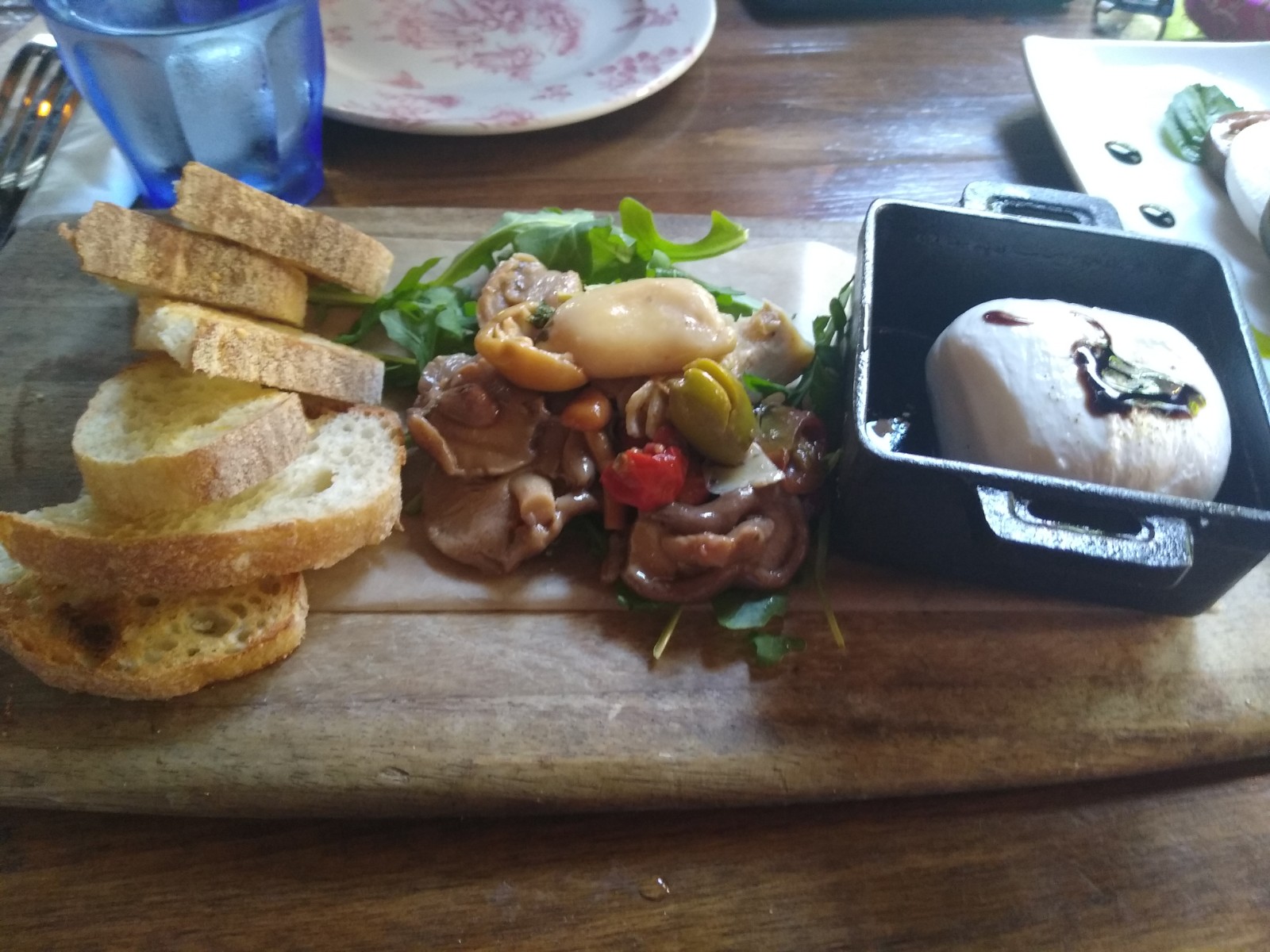 In from the waterfront a couple of blocks there's Espanola Way, a pedestrian street full of restaurants where did did have a good dinner at the Mercato della Pescheria, thanks to hours of pre-vacation searching. We ducked in there in midafternoon to cool down, even though we had a dinner reservation for much later. They made room for us and we had the burrata shown here with a wonderful salad of mixed mushrooms, a Caprese salad, and an Aperol Spritz.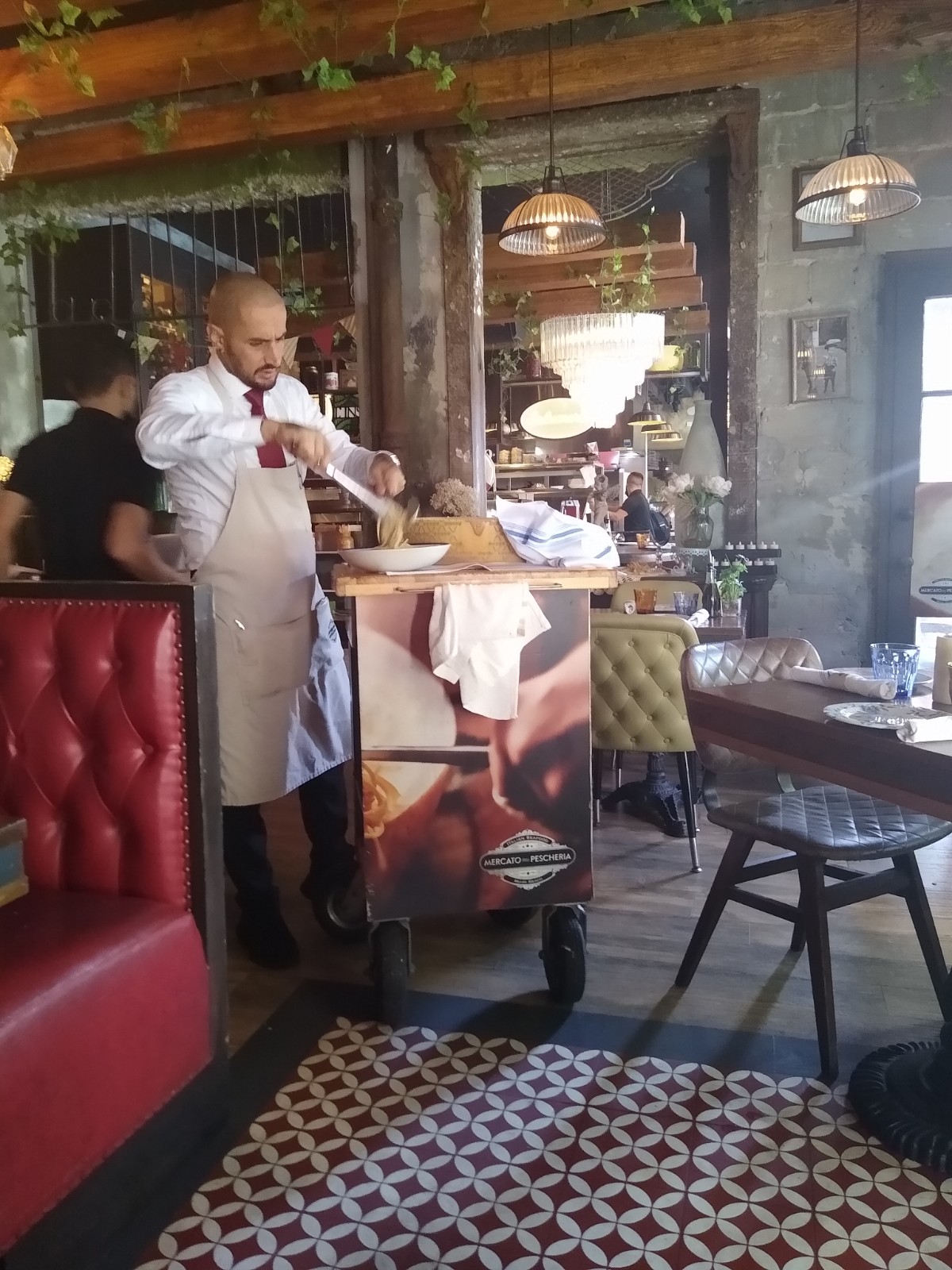 A little north of there is the Lincoln Road Mall, another outdoor pedestrian-only area well-promoted in the tourism materials, but alas! It's pretty much like any other mall.
So we returned to the Mercato della Pescheria for supper. I knew already what I wanted: earlier in the day I had seen a server preparing the Bucatini Cacio e Pepe (pasta with cheese and pepper), which I had read about and which I had enjoyed in Rome in 20018. It's a dish with simple ingredients but a specific technique that I wanted to see firsthand. It was delicious, and I have made it successfuly at home, so the recipe will be posted soon.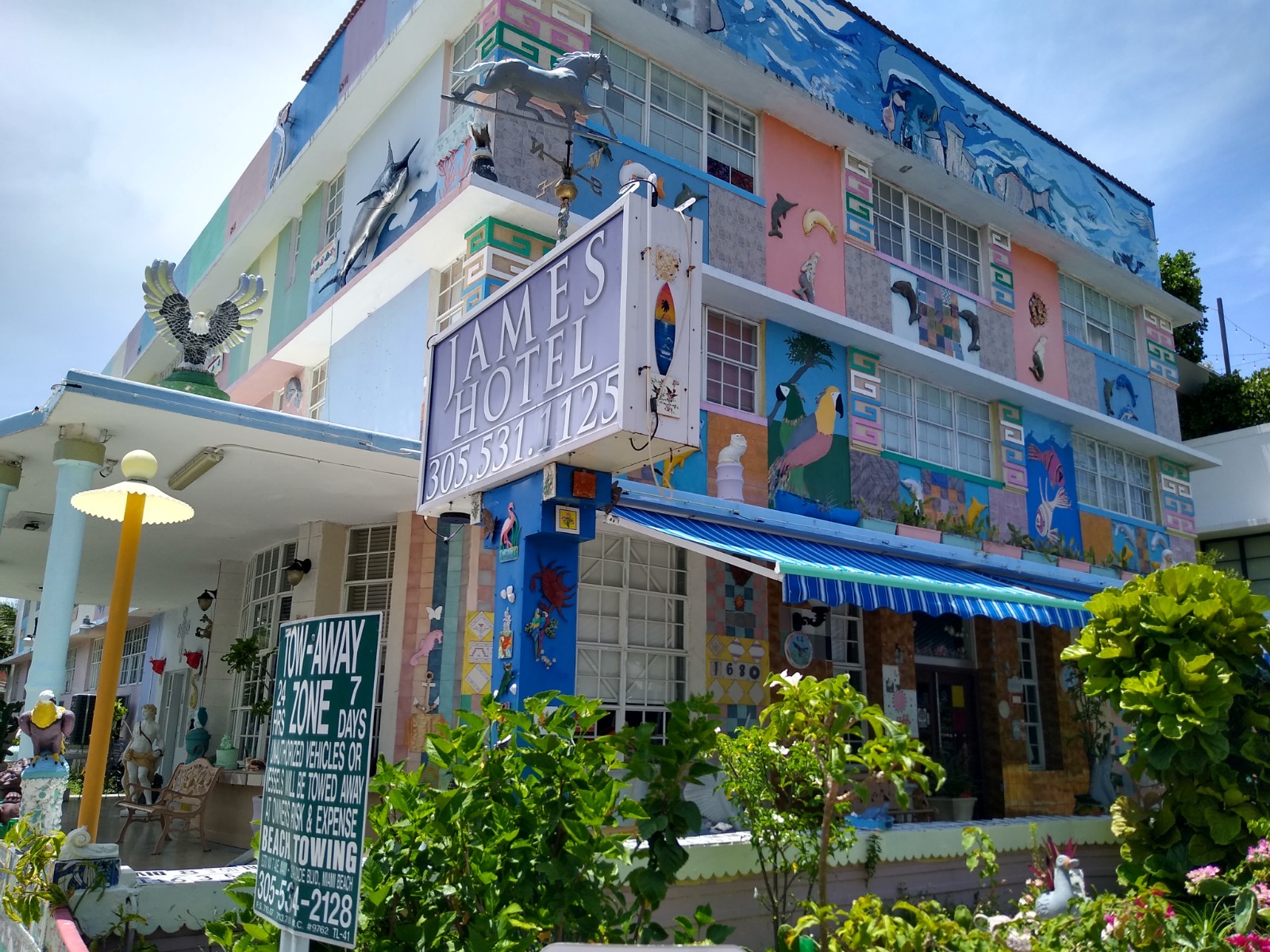 After dinner we were exhausted. We considered a taxi back to our hotel, but it was just a few blocks and the air had cooled to a more tolerable degree.
We were staying at the James Hotel, on James Street, a quirky colorful place that would fit fight in in Provincetown. It's old and more than a little run-down, but the owners keep it charming and we slept well.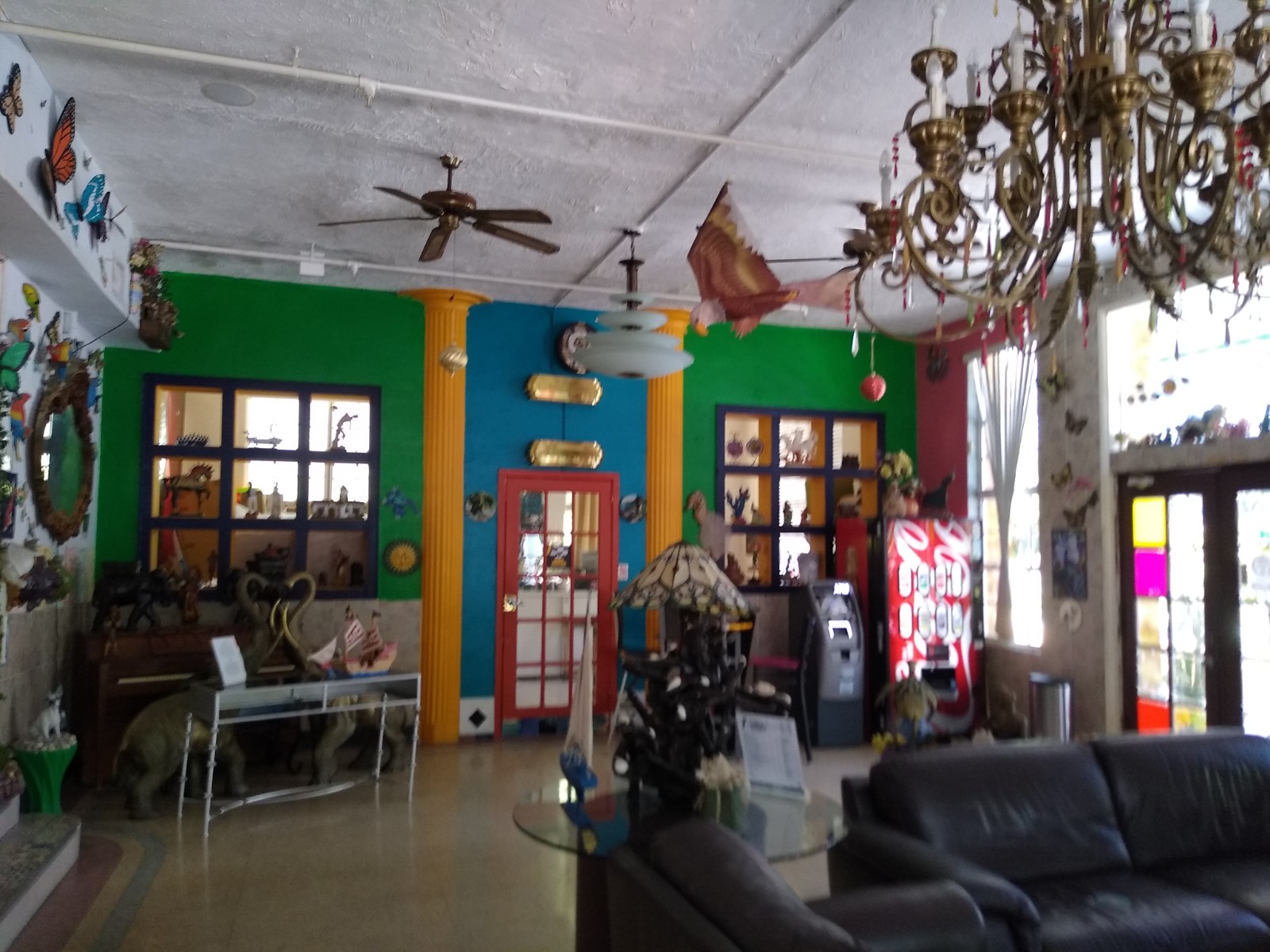 We considered the taxi because Ocean Drive, Espanola Way, and Lincoln Road are all islands of investment in an otherwise dirty, crummy neighborhood. We did not feel imperilled (although we and the fellow walking near us both crossed the street at one point to avoid a gang of tough-talking youth on a street corner), but it wasn't a pleasant walk, and the shopping, as it were, included an all-night liquor store and a strip joint. So no, we're not in a hurry to go back to Miami Beach.