Description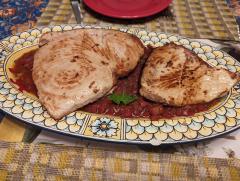 This is how Lorna likes swordfish, very plain and simple, and cooked through with no translucency.
Preparation time
5 minutes
Instructions
Salt and wipe fish dry with a paper towel.
Heat olive oil in big skillet to quite hot.
Sear swordfish about 5 minutes/side, depending on how thick the slices are and your desired degree of doneness.