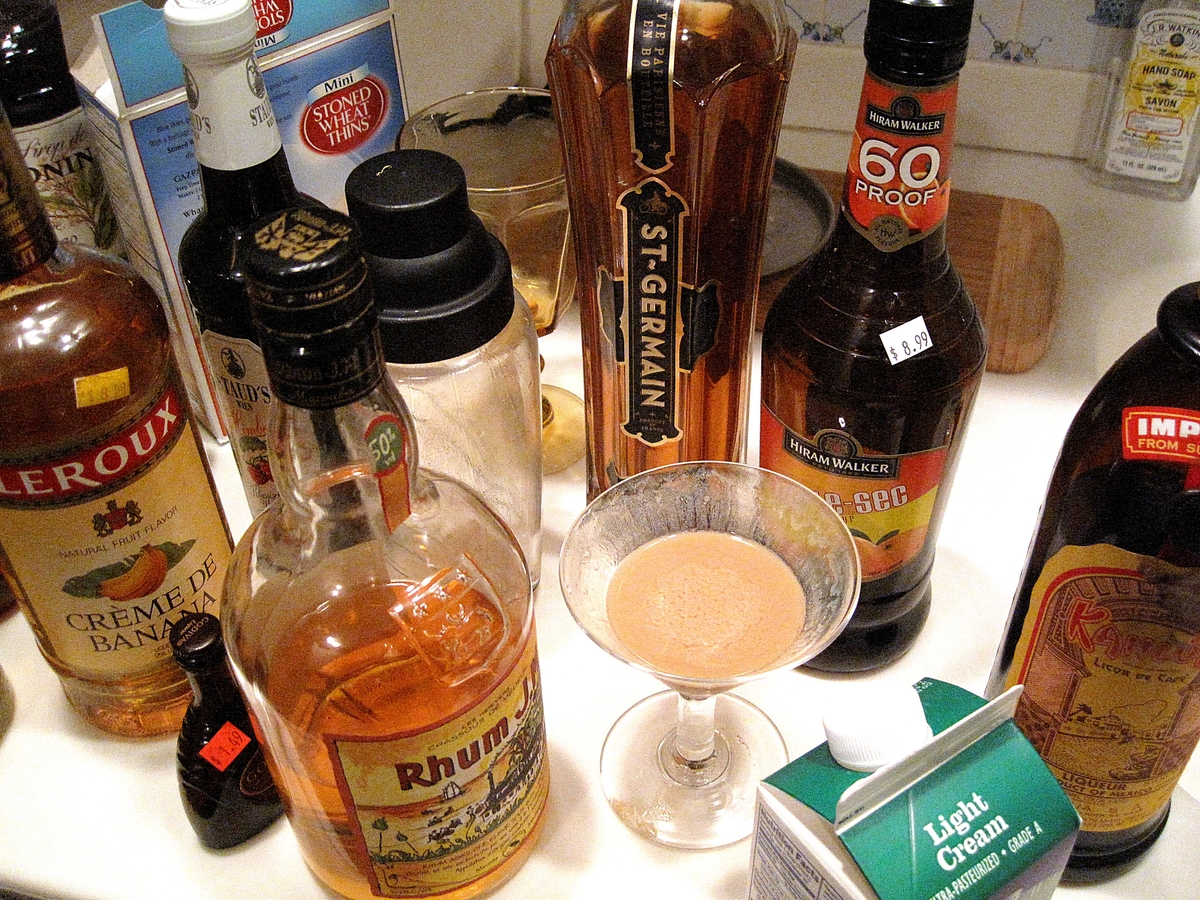 You have to try new things or your life goes stale.  That's why I bought the bottle of Rhum J.M. I knew it could be a mistake, but it was made in Martinique, which is actually a Department of France, where they make Cognac, Champagne and paté de foie gras, so why, on a Caribbean island, wouldn't the French make wonderful rum?  And it's an AOC (Appellation d'Origine Contrôlée) Rhum Agricole, made from fresh-squeezed sugar cane juice, not molasses. It sounded very intriguing!
I squeezed a lime, measured out the Rhum J.M., got the simple syrup and, ice, and shook up a couple of daiquiris. I tasted mine and said, "This is terrible!" and my wife, Annette said, "You're right." We needed an able mixologist, so the next evening we invited John Sgammato to come to the rescue. You can always depend on John to help a friend in need.  When he arrived, I made a daiquiri to demonstrate the problem.  
I must become a little nonlinear in my story and take you several years back and a lot of miles away to the island of Bermuda.  Annette and I were staying in a hotel called Silver Sands.  It was run by a family of white Bermudians, and their idea of food was so English and so bloody awful it could almost be called quaint. I'll give you one example from which you may extrapolate their entire cuisine.  There was an appetizer on the menu called cold ravioli.  Being a man of daring palate, I like to try peculiar-sounding foods, so I ordered it.  I was solemnly presented a plate bearing a lettuce leaf upon which there was a single patty of Chef Boyardee ravioli right out of the can.  
The hotel was not without a redeeming factor. The bartender was a black Bermudian named Wellington.  I asked him if he had a special drink all his own, and he did.  The concoction was delicious.  I asked for the recipe, but he gave me his genial smile and told me he didn't reveal his secrets.  But of course he worked right in front of me, so the next evening, sly of intent and sharp of eye, I ordered it again.  Wellington was deft with the bottles and fast with his pours, but the problem was he didn't make the same drink. He kept changing his specialty every night we were there. He admitted he was doing it, but his tropical libations were so delightful, I had no cause to complain.
I never discovered Wellington's secret recipe, but I learned his technique.  His drinks had a base of rum, a mixture of fruit juices, and a flavoring of a fruit-based brandy.  Two that I noticed he used were apricot brandy and crème de banana.
To return to the present and the problem of the horrible daiquiri, John and I were in my kitchen trying to mend the sample drink.  I added an ounce of apricot brandy.  It was no better.  I colored it red with a drop of grenadine syrup – no improvement.  Together we agreed  upon  a drop of coconut syrup.  Annette thought I might be getting somewhere, but it needed something more.  Wellington's fruit juice had been poured from an unmarked bottle, so I never discovered what he used, but I've been experimenting for a long time.  I find pineapple juice makes a good base, but I didn't have any.  I squeezed an orange and added the juice to the failed daiquiri.  Bingo!
Ruhm J.M is 100 proof and stands up well to the fruit juice base of a tropical drink. Recipes abound, but I prefer to create my own.  There's much to be done, and already the level of Rhum J.M. is beginning to dwindle.  I'm going to call my masterpiece a Wellington, and the distinguishing factor will be that the drink will never be made the same way twice.
I had my inspiration, and John set off on a different tack.  He asked if I had any crème de cacao.  I didn't, but I had Kahlua. He mixed some with the rum.  The flavor was promising.  He added some Godiva chocolate liqueur.   Annette sipped it and thought of a Brandy Alexander.  "There's some cream in the door of the refrigerator," she told him.  He shook the mixture with ice, poured it into a martini glass, and the Annette Cocktail was born.  I suggested the next time it might be nice to rim the glass with cocoa powder.  
These are the discoveries of an evening of creativity punctuated with stories, laughter, and happy sipping. We're delighted to share them, but we recommend you have your own sessions of invention from time to time. Any sort will do, but if you come up with cocktails, your mind will be freed from inhibitions, and gaiety will ensue.